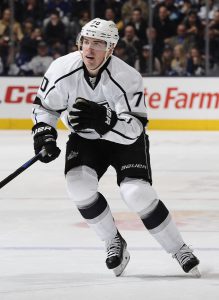 TANNER PEARSON
This season: 42 games, 12 goals, 4 assists, 16 points, 14 penalty minutes, +14 rating, 13:18 time on ice
The good: Tanner Pearson can put the puck in the net. Maintaining an unsustainable (but really cool!) shooting percentage of 17.6% in the 42 games he was healthy, Pearson racked up 12 goals and has now scored on 19 of only 152 career shots in his 92 regular season and playoff games. That's a 12.5% shooting percentage for a player who turns 23 in two weeks and will most likely enter his prime three or four years down the road. And there's really nothing fancy about Pearson's game: he's a north-south player with speed who drives the blue paint, gets in on the forecheck and seems to hit a lot of nets. It's almost hard to differentiate his game from Jeff Carter's and Tyler Toffoli's when they're in the offensive zone together. They're not always aligned, but often they are, and they've clearly developed an excellent report and similar roles. They all drive the net and dig pucks lose and often operate disproportionately with pucks on their sticks deep in the attacking end. Darryl Sutter likes how the trio has scored goals and created opportunities "in different ways." As for more individual notes, Pearson scored seven goals in his first eight games of the season en route to October's Rookie of the Month Award and ultimately was named to the All-Star Game as a rookie (and, in a cruel twist of fate, suffered a season-ending broken fibula the night participants were announced). When Pearson was on the ice in five-on-five play (note: 42-game sample size), the Kings averaged 3.01 goals per 60 minutes and ceded only 1.44. While on the ice with Toffoli, the Kings averaged 4.02 G/60; on the ice with Carter, the Kings averaged 3.70 G/60. His possession metrics were in the black (both league-wide and comparatively, to his teammates) across the board.
The bad: It's no fault of Pearson's, but the valuable left wing collided hard with the boards on January 10 and didn't play again in 2014-15, a moment that proved pivotal in a disappointing season. As for his on-ice challenges, Pearson hit a bit of a rut shortly after his red hot start to the season. That happens to all players, but the sophomore's skid was somewhat pronounced and was associated with a few less-than-stellar Darryl Sutter reviews, including one that he needed to be better at the "three-zone thing;" these words came one week after Pearson saw a heavy amount of the bench during a 6-5 shootout loss at Anaheim on November 12. Again, who cares? All players go through peaks and valleys over 82 games, and Pearson, a 22-year-old, is surely subject to such oscillations in play. There had been references in the past towards Pearson needing better conditioning and practice habits, though that goes for most young players, and I don't recall that concern raised much in 2014-15. Though it comes with a small sample size asterisk (and seems to contradict his high shooting percentage and otherwise strong even strength work), Pearson totaled just two goals and one assist during five-on-five play away from Staples Center.
Going forward: Having signed for two years at a $1.4M AAV in April, Pearson should provide the Kings with very good value through 2017 as a second line player who's paid like a third liner. There may be concerns about his grand total of 92 regular season and playoff games, but the 2014 Stanley Cup winner has about as much experience as one could find in a player yet to hit triple digits in games played. Injuries, on the other hand, are of greater concern. Pearson has been hit with untimely injuries, having suffered a broken wrist in the final game of his 15-year-old major midget season, a broken right fibula in his final regular season game with the Barrie Colts in 2011-12, and a broken left fibula in January. But if the worst thing going on in this Going forward section is the speculation of future injuries, then Pearson has a very bright future ahead of him. His ability to hit the ground running (perhaps a poorly chosen euphemism) at training camp after he ran out of time in his recovery in April will be one of the important stories early in the season, when he's likely to saddle up alongside Jeff Carter and Tyler Toffoli once again. As the season develops, it will be interesting to see how he maintains his play over the course of 82 games, a milestone he's yet to reach in his young and burgeoning career.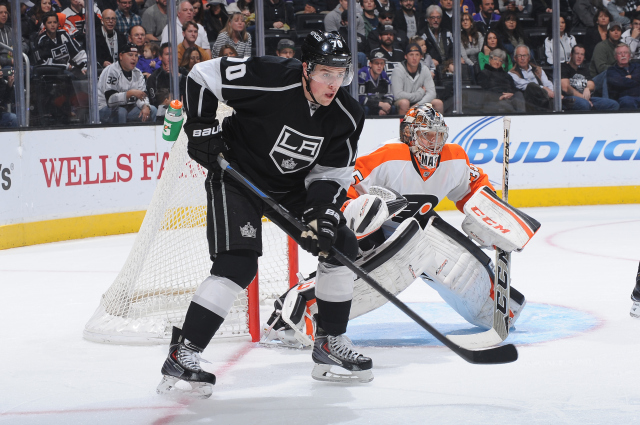 Player evaluations: #2 MATT GREENE | #3 BRAYDEN MCNABB | #5 JAMIE MCBAIN | #6 JAKE MUZZIN | #7 ANDREJ SEKERA | #8 DREW DOUGHTY | #10 MIKE RICHARDS | #11 ANZE KOPITAR | #12 MARIAN GABORIK | #13 KYLE CLIFFORD | #14 JUSTIN WILLIAMS | #15 ANDY ANDREOFF | #22 TREVOR LEWIS | #23 DUSTIN BROWN | #27 ALEC MARTINEZ | #28 JARRET STOLL | #31 MARTIN JONES | #32 JONATHAN QUICK | #37 NICK SHORE | #44 ROBYN REGEHR
Advanced stats via War-on-Ice.com and Stats.HockeyAnalysis.com