NICK SHORE
This season: 34 games, 1 goal, 6 assists, 7 points, 10 penalty minutes, 0 rating, 11:05 time on ice.
The good: The Shore Boy made his NHL debut in mid-January, and, like Tanner Pearson the season prior, recorded his first NHL marker on a game-tying goal at Nassau Coliseum during a come-from-behind win over the Islanders. While Shore doesn't have the type of offensive ceiling as Pearson, a fellow 22-year-old, or 23-year-old Tyler Toffoli, he does have acute hockey instincts and is an intelligent, playmaking defensive center who despite minimal experience at the NHL level occupied important depth roles down the center of the ice during a tense playoff dogfight. His temperament suited his debut NHL opportunity well; the coachable and responsible Shore is not inclined to experience waves of extreme highs or lows. As for the tangible, he won 53.8% of his faceoffs, a team-high mark amongst those with any real sample size, and closed the season by winning 84 of his final 137 draws (61.3%). Of the three forwards Shore saw the most ice time with during five-on-five play, Jordan Nolan (+5.1%), Kyle Clifford (+2.8) and Dustin Brown (+0.9%) all registered higher even strength Corsi-for ratings with Shore than without him, so there was a positive effect on his teammates despite his sheltered and limited minutes. He was also quite good at limiting shots against and scoring chances; to go along with only 1.6 goals against per 60 minutes during five-on-five play, Shore's 22.3 scoring chances against per 60 minutes ranked second amongst team forwards, and between two of the best defensive forwards in the league in Trevor Lewis (21.4) and Anze Kopitar (22.4). As with any player who appeared in only 34 games, there's the obligatory reminder about small sample sizes. After joining Manchester upon the end of Los Angeles' season, Shore totaled four goals, 18 points and a plus-12 rating in 19 AHL playoff games en route to a Calder Cup championship.
The bad: Shore scored one goal, which over 82 games prorates to about two or three total goals. If we're to assume that he's the leading candidate for the third line center position this coming year, that rate must improve significantly. His possession metrics were underwhelming; amongst team forwards, he led only Mike Richards, Andy Andreoff, Jarret Stoll and Jordan Nolan in Corsi-for percentage (52.9%) and shots on goal per 60 minutes (5.39). He produced these numbers despite starting a greater percentage of shifts in the offensive zone (41.5%) than any other King. Though he comes off mature and intelligent, he's only 22 (until September, anyway) and has just 34 games of NHL experience. He has been around for the last two L.A. playoff runs, but he's never gotten into a playoff game beyond the level of the Calder Cup Finals (though that championship experience does count for quite a bit).
Going forward: There was an interesting development late in the season as Shore became more comfortable and adjusted around his teammates and appeared to develop some off-ice chemistry with Dustin Brown. It's all anecdotal and based heavily on interactions within the dressing room and while in transit with the team, but Brown, now 30, appeared to take on not only a liking to but also a little bit of a mentorship role around the rookie. It will be interesting to see that type of a relationship develop, because Shore is the most likely player to slot in a third line center spot between Dwight King and Brown when the season starts. Though starting a player with minimal experience in such an important role may give some pause, it would be highly unlikely for anyone to drag down their linemates to the extent that Jarret Stoll did in a similar role last year. But Stoll, also a strong defensive center, appeared on special teams, a responsibility that Shore, so early in his career, is yet to take on. The impact that Shore has on the Kings this season may not be determined as much in goals or points as it is in how much broader of an assignment that he absorbs. Surely, as such a positionally sound center, he could take on additional penalty killing duties, right? Is he capable of evolving from a zone-protected forward with 11 minutes of ice time per game into a player with more chiseled of a role who receives teen-minutes? Can he chip in with secondary offense? There are questions to be answered for the upcoming year, and despite a set of tools that doesn't scream high-end skill, Shore will continue to grow into an intelligent, two-way center capable of making plays and players around him better. He is eligible to be assigned to AHL-Ontario without having to clear waivers but should not be expected to have to do so.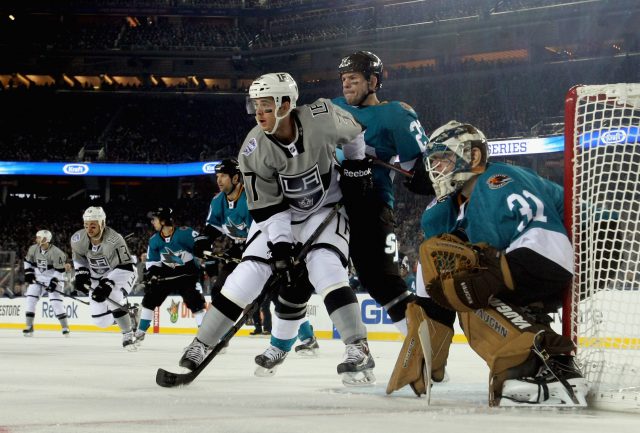 Player evaluations: #2 MATT GREENE | #3 BRAYDEN MCNABB | #5 JAMIE MCBAIN | #6 JAKE MUZZIN | #7 ANDREJ SEKERA | #8 DREW DOUGHTY | #10 MIKE RICHARDS | #11 ANZE KOPITAR | #12 MARIAN GABORIK | #13 KYLE CLIFFORD | #14 JUSTIN WILLIAMS | #15 ANDY ANDREOFF | #22 TREVOR LEWIS | #23 DUSTIN BROWN | #27 ALEC MARTINEZ | #28 JARRET STOLL | #31 MARTIN JONES | #32 JONATHAN QUICK
Advanced stats via War-on-Ice and Stats.HockeyAnalytics.com