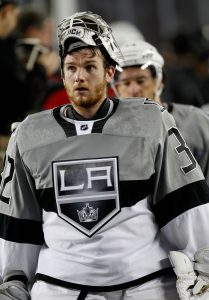 JONATHAN QUICK
This season: 4,184 minutes, 36-22-13 record, 2.24 goals-against average, .918 save percentage, 6 shutouts
The good: Jonathan Quick was the Kings' workhorse in 2014-15, and by virtue of his dominance early and the Kings' tight playoff race late, hardly ceded any consistent swaths of opportunity for back-up Martin Jones. All-in-all it was a mostly positive season for Quick, who raced out of the gate, dealt with mid-season inconsistency and an incongruous proportion of goals admitted off of tips and deflections before rallying with a strong stretch of play from mid-February on. In the end, his 4,184 minutes ranked second in the league to Brayden Holtby, as did his 72 games and 71 starts. His goals-against average ranked sixth amongst goaltenders who played a minimum of 25 games, and he tied for fourth in the league with six shutouts, surpassing Rogie Vachon's franchise-best 32 in October and setting a new team mark of 37. While the Kings were vulnerable early due to Willie Mitchell's departure and Slava Voynov's suspension, Quick was at his best as he posted a .938 save percentage and a 10-3-4 record through his first 17 games. "He's just a great competitor, and when he says, 'it's just about the wins,' he means that, and you wish everybody had that attitude," Darryl Sutter said in a revealing look at Quick's team-first embodiment.
The bad: Though many of Quick's primary numbers suggested a fine season, one statistic did not: save percentage. With a mark of .918, he ranked 17th in the league amongst goalies with a minimum of 25 games played. With that in mind, I guess it's time to revive the familiar and useless conversation towards how good Jonathan Quick actually is, and how much his numbers are affected by Los Angeles being one of the league's top checking teams (and the top shot suppression team). It doesn't really matter; Quick happens to be a terrific goaltender who *also* plays on a team that checks well. Slightly more concrete: War-on-Ice says he wasn't amongst top goaltenders when facing "high danger" shots, having finished 26th in that metric; I'm not even sure of the validity of such a statistic, given that Henrik Lundqvist, Ben Bishop, Semyon Varlamov and Corey Crawford all finished below Quick, and they're all fine goalies. For the second consecutive season, Quick posted an even strength save percentage of .928; in 2014-15, that ranked 16th in the league amongst goalies with at least 1,000 minutes of action. Though more blame should be placed on the shooters, who went 0-22 between November 12 and March 6, shootouts were a slight concern. Quick entered the year with a 36-22 career record in shootouts, having stopped 70.4% of 206 total shots faced, though in 2015-16 he went 2-7 and stopped 59.3% of 27 shots. And that's exactly why Sutter dislikes the shootout. "It's unfair for your goalies, quite honest, because they feel like when they get beat, they feel like they've lost the game," he said in December.
Going forward: Quick is coming off an above-average year as a pro and is in his prime, healthy, and recovered from a full off-season, so he should be of zero concern to the Kings in 2015-16. Could he be of concern once years eight or nine of his massive 10-year contract approach? Sure, that's certainly a possibility, but we're not there yet. 2015-16 will be the third year of Quick's contract, and there are no red flags other than the general unease that accompanies 10-year goalie deals. Quick has his critics, though Darryl Sutter had the best word when he said, "Basically, those are the people who don't want somebody to do well." Those who would unduly criticize Quick have no sense of the franchise's goaltending history. In the 26 seasons played between 1981 and 2008, 14 different goalies led the team in minutes played, and none of them had a single-season save percentage better than Jamie Storr's .916 in 1998-99. Should he lead the team in minutes played this year, he will become the first King to do so over a span of seven consecutive seasons. His numbers already fill up virtually every page of the franchise's goaltending records, and he's a Conn Smythe Trophy winner. With a combination of his Championship-seasoned and resolute competitiveness (hey, intangibles! Remember them?) and his mobility and athleticism, Quick is by default in the Vezina Trophy speculation at the start of the season and remains in an elite group of top goaltenders that includes Henrik Lundqvist, Pekka Rinne and Carey Price and maybe one or two others. Quick has experienced injury this decade – he underwent back surgery in 2012, wrist surgery in 2014 and suffered a Grade 2 groin strain in 2013 – but should be well recovered and healthy come September, when he'll return to Los Angeles as the Kings' franchise goaltender.
2014 Quick evaluation
2013 Quick evaluation
2012 Quick evaluation
2011 Quick evaluation
2010 Quick evaluation
2009 Quick evaluation
Player evaluations: #2 MATT GREENE | #3 BRAYDEN MCNABB | #5 JAMIE MCBAIN | #6 JAKE MUZZIN | #7 ANDREJ SEKERA | #8 DREW DOUGHTY | #10 MIKE RICHARDS | #11 ANZE KOPITAR | #12 MARIAN GABORIK | #13 KYLE CLIFFORD | #14 JUSTIN WILLIAMS | #15 ANDY ANDREOFF | #22 TREVOR LEWIS | #23 DUSTIN BROWN | #27 ALEC MARTINEZ | #28 JARRET STOLL | #31 MARTIN JONES
Advanced stats via War-on-Ice.com