MARTIN JONES
This season: 775 minutes, 4-5-2 record, 2.25 goals-against average, .906 save percentage, 3 shutouts

The good: Jones added shutouts against Minnesota, Arizona and Toronto to the four from his rookie season, giving him an impressive haul of seven clean sheets in 29 career starts. He's a tall, lanky young goaltender who has balanced his sporadic usage over two seasons by maintaining excellent practice habits. Though based more heavily on his 2013-14 numbers, Jones has a career save percentage of .886 on high-danger opportunities, according to War-on-Ice.com. The season's circumstances (see below) shielded him from any consistent rhythm, though Jones was often good when needed, such as he was in claiming three of a possible four points during a November back-to-back swing through Nashville and Minnesota in which he stopped 58 of 61 shots (and five of six shootout attempts). Speaking of that shootout rate, he has stopped 17 of 18 shooters in his career (yet holds just a 2-1 record).
The bad: Jones didn't play much and fell 320 minutes short of his rookie year usage. Because Jonathan Quick was superb early and the Kings found themselves in a position in which they were more or less forced to ride their number one goaltender late in the year (and because of only nine back-to-back sets), Jones simply didn't have as widened of an opportunity in 2014-15. He made three starts in the first six weeks of the season and closed the year by making starts on January 14, February 27 and April 7. Fans may still be grumpy about that April 7 loss to Edmonton, but the entire team was flat that evening, and if Jonathan Quick would have been in net the team probably would have lost as well. Still, Jones lost four of his final five starts, dating back to the December 12 defeat in Montreal. His .916 even strength save percentage placed him below Karri Ramo (.919), Eddie Lack (.921), John Gibson (.924) and Richard Bachman (.938) amongst back-up-type goaltenders in the division, and above Alex Stalock (.910) and Viktor Fasth (.896). Again, use these numbers with caution, as they reflect sporadic, rhythm-free usage. There were a few big hits and a few misses amongst Jones' starts in 2014-15.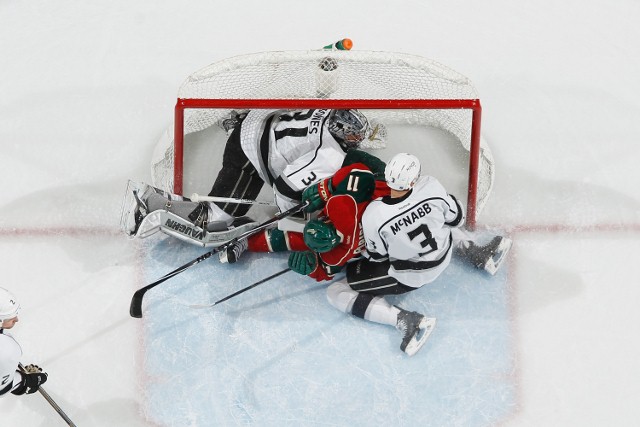 Going forward: Jones was packaged to Boston in the Milan Lucic trade and has since been traded to San Jose – where he'll compete with Alex Stalock and Troy Grosenick for playing time – and should come away with the majority of the starts. The developments of the past month represent a deviation from what the Kings had expected to happen at the start of the off-season: that Jones would re-sign for an additional one or two years as the first of the RFA contracts to fall. It appears Jones' camp seized on a opportunity, and parlayed a mere 29 career starts into a comfortable three-year, nine-million dollar contract – a dollar figure the cap-tightened Kings would be in no position to allot to a goaltender behind Jonathan Quick. Make no mistake, though, that San Jose will be getting a good young goaltender despite the minimal sample sizes, and even though some pains should be expected as the 25-year-old grows into a widened role, he should still put up numbers that help the Sharks improve upon their .907 team save percentage from a season ago. For the Kings, that's terrific asset management as the 2008 free agent training camp signee filled an important role for two years, won a Stanley Cup, and helped bring an impact forward to the club via trade.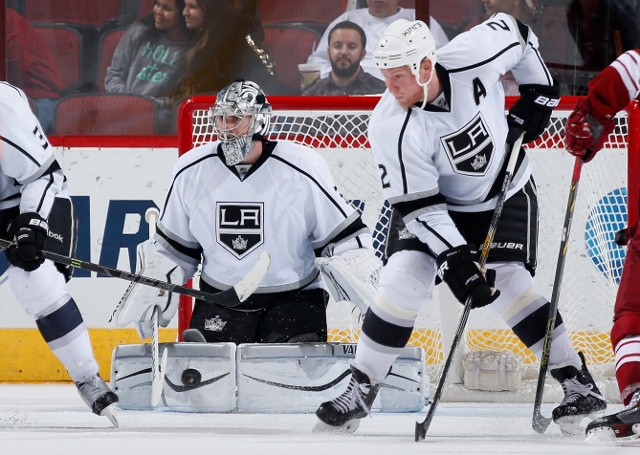 Player evaluations: #2 MATT GREENE | #3 BRAYDEN MCNABB | #5 JAMIE MCBAIN | #6 JAKE MUZZIN | #7 ANDREJ SEKERA | #8 DREW DOUGHTY | #10 MIKE RICHARDS | #11 ANZE KOPITAR | #12 MARIAN GABORIK | #13 KYLE CLIFFORD | #14 JUSTIN WILLIAMS | #15 ANDY ANDREOFF | #22 TREVOR LEWIS | #23 DUSTIN BROWN | #27 ALEC MARTINEZ | #28 JARRET STOLL
Advanced statistics via War-on-Ice.com