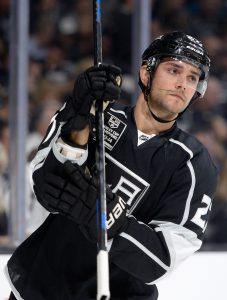 ALEC MARTINEZ
This season: 56 games, 6 goals, 16 assists, 22 points, 10 penalty minutes, +9 rating, 19:56 time on ice.
The good: When he was healthy, a wide open opportunity was there for Alec Martinez. More regularly than not, he took advantage of an additional 4:15 of ice time per game over the previous season and showed a mostly seamless transition into a wider role. He displayed versatility, again, in swapping widths of the ice and defensive partners, and actually exhibited strong growth in penalty killing, which was an asset following the losses of Willie Mitchell and Slava Voynov. Averaging 1:35 of shorthanded ice time per game, Martinez was an effective second unit killer whose scoring chances against per 60 while shorthanded (35.0) was better than rates by Matt Greene (49.0), Brayden McNabb (42.3), Jake Muzzin (37.6), Drew Doughty (44.0) and Robyn Regehr (46.1). Ditto for his goals against/60 while shorthanded (4.37), which was better than Greene (9.8), McNabb (8.2), Muzzin (8.3), Doughty (7.0) and Regehr (5.3). Of course, Martinez's best traits are his ability to move the puck quickly and fire off a hard, accurate shot at even strength and while on the power play. His 103 shots on goal were a career high, and at even strength he posted a respectable five goals and 18 points in 56 games. While on the ice in five-on-five play, Kings goaltenders posted a .929 save percentage. "He's been really solid for us," Darryl Sutter said on January 13. "He uses his assets every night to his strength, and we need it. When you look around the league and you see teams like Calgary with guys like Russell and Brodie and guys like that, that's what Marty brings for us."
The bad: For much of the season, Martinez absorbed many of Slava Voynov's responsibilities. That meant: more time on his off-side opposite Robyn Regehr, more defensive situations, more penalty killing, and more ice time in general. It's not a surprise, given that he essentially moved from a third pairing to a second pairing and played his off-side that his possession numbers took a hit. With a -6.0 ZSO%-Rel that made him more inclined to start a shift in the defensive zone than during any of his full seasons in the NHL, Martinez's Corsi-for at even strength dropped significantly to 53.0%, the lowest mark of his career. The team maintained a possession rating that was 3.5% better with him off the ice than with him on. Again, much of this comes from the additional defensive responsibilities and assignments that come with skating opposite Regehr, a partnership that claimed 43% of Martinez's total five-on-five usage. Unfortunately and unluckily, he was injured during two key stretches, one that was seven games long, and one that was 19 games. The first followed a six points-in-six nights early season stretch in which Martinez logged at least 23 minutes three times, and the second was the result of a Cedric Paquette hit in Tampa Bay in which it took a month and a half for his "concussion-like symptoms" to go away. Though the Kings allowed only 1.94 GA/60 while he was on the ice (though, note the .929 team save percentage), the familiar partnership with Matt Greene wasn't working consistently. When the two were on the ice together, the Kings allowed 3.17 GA/60 and operated with a 49.7% Corsi-for rating.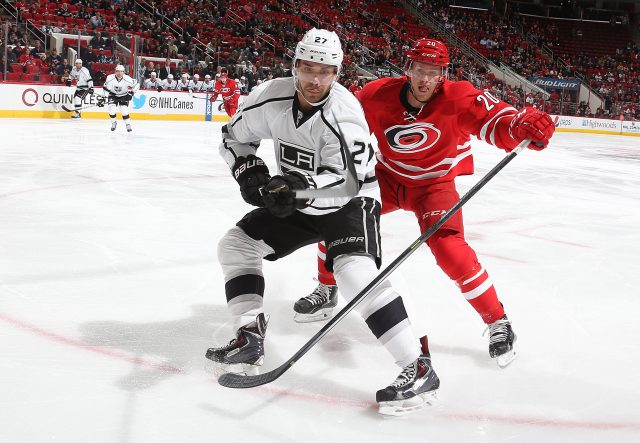 Going forward: Martinez inked a six-year, $24-million contract extension in December and solidified himself as a part of the Kings' young, locked up core heading forward. But is Martinez a part of that inner core? Or could he become more expendable should the club sign Andrej Sekera – also a versatile defenseman with a more solidly all-situational skill set – to a contract extension, as well? Martinez held his own despite the sudden evolution of his role this year, and it will be interesting to see how he fares in a full, 82-game season – something that he's yet to scale in his young career. The well-liked, experienced and character defenseman is in his prime and should be perfectly capable of surpassing his career-high in assists (16), points (22) and shots on goal (103) in 2015-16. "Young players who've been parts of two championships – and it doesn't matter if they played eight minutes or they played 18 minutes – they made significant strides," Sutter said shortly after Martinez signed his extension. "Marty is a guy we think because of injury this year, his minutes have been pushed up into that 20-area, and that affects who he's on the ice against. That affects the caliber of player he's against. So, you know what? We have higher expectations of him now than we probably did at any point in his career."
2014 Martinez evaluation
2013 Martinez evaluation
2012 Martinez evaluation
2011 Martinez evaluation
2010 Martinez evaluation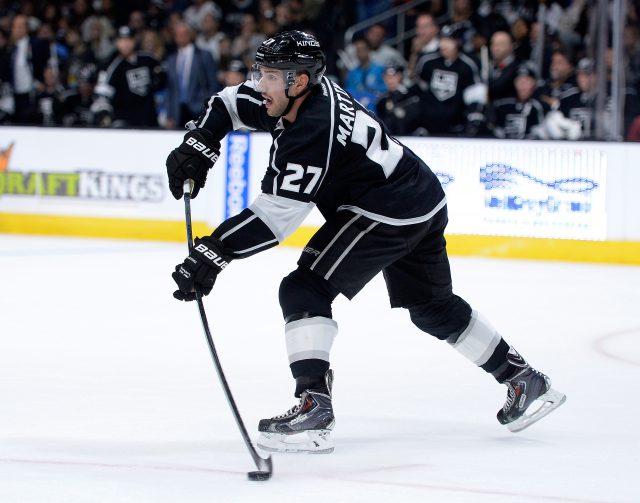 Player evaluations: #2 MATT GREENE | #3 BRAYDEN MCNABB | #5 JAMIE MCBAIN | #6 JAKE MUZZIN | #7 ANDREJ SEKERA | #8 DREW DOUGHTY | #10 MIKE RICHARDS | #11 ANZE KOPITAR | #12 MARIAN GABORIK | #13 KYLE CLIFFORD | #14 JUSTIN WILLIAMS | #15 ANDY ANDREOFF | #22 TREVOR LEWIS | #23 DUSTIN BROWN
Advanced stats via War-on-Ice, Stats.HockeyAnalysis.com