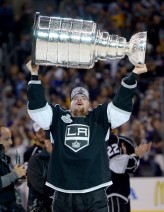 TANNER PEARSON
This season: 25 games, 3 goals, 4 assists, 7 points, 8 penalty minutes, +2 rating, 10:49 time on ice
The good: It wasn't necessarily a pivotal night amidst 82 games, but several things were learned about this Kings team on November 14, 2013, the first game that followed Jonathan Quick's overtime groin injury in Buffalo. Ben Scrivens started his third game of the year and took home the first win of what developed into a four-game win streak. The Kings also erased a 2-0 third period deficit that night (sound familiar?) and emerged with a 3-2 regulation victory courtesy of late goals by Tanner Pearson and Tyler Toffoli (sound familiar?). Pearson, who logged between five and six minutes of playoff action the previous spring, scored in his NHL debut as part of a 25-game, seven-point performance interspersed around a 41-game, 32-point American Hockey League season. The soon-to-be-22-year-old has undergone a tremendous surge in his development. He passed through the draft during his 17 and 18-year-old seasons with GOJHL-Waterloo and OHL-Barrie before breaking through with a 91-point junior season and a six-point World Juniors performance in 2011-12. He was drafted in 2012 by Los Angeles with the final pick of the first round (a pick that Columbus ceded, opting instead for L.A.'s 2013 first round pick as a condition from the Jeff Carter trade), signed with Los Angeles, contributed 19 goals and 47 points in a fine 64-game AHL debut as a 20-year-old, and then played his first NHL game in the unfriendly SAP Center confines during the second round of the 2013 Stanley Cup Playoffs. Pearson's usage grew as the 2013-14 season progressed, as did his confidence and the confidence of Darryl Sutter, who ultimately placed him opposite Tyler Toffoli on a line centered by Carter. And all of Chicago just shuddered.
Pearson, who had 12 points – all recorded at even strength – and a plus-10 rating in 24 playoff games combined with Toffoli and Carter for 11 goals and 23 points against the Blackhawks, creating the funny and viral if eventual overused internet meme, That 70's Line. He posted outstanding possession numbers. His 56.8% five-on-five Corsi-for rating was the second best on the team in the playoffs, a feat made all the more impressive considering only Jarret Stoll, Justin Williams and Mike Richards were more inclined to begin shifts in the defensive zone. Whereas he originally had weathered critiques on his skating, he showed speed, powerful strides, and the ability to fire a hard, accurate shot off the rush. His forechecking and work deep in the offensive zone – exemplified well in the video above in which he wins a puck battle against Johnny Oduya and Brent Seabrook – was impressive for a 21-year-old. He iced the Anaheim series and can also thread a pretty needle:
The bad: Like many young players, Pearson is still developing strong practice habits and the proper way to train and become conditioned – and to his credit, he has bought in with the Kings, and his conditioning has improved. Certainly his added experience and the single playoff game he dressed for in 2013 has helped with that. He was held scoreless with a minus-one rating over his final seven playoff games (though he did record eight shots on goal in the Game 4 loss at New York). He averaged 10:49 of ice time in the regular season and 12:17 in the playoffs, and anything that extends into the low-to-mid-teen minutes of ice time still veers towards the unknown at this point. While he gained ample experience with a terrific postseason that culminated in a Stanley Cup, he still only has 50 games of regular season and playoff experience to his credit.
"He's a little bit older, a little bit more experienced. He's learning about the league," Darryl Sutter said in early May while articulating Pearson's development. "We brought him up, played him a little bit in the playoffs, gave him the exposure, not as playing as much as just seeing what it's like to be consistent in terms of your work ethic and your preparation and your practice habits and all those things that come with being a better player. So he's taken a step. He hasn't played every playoff game for us this year. There's still lots there. He's a young guy that's just sort of getting his feet under him."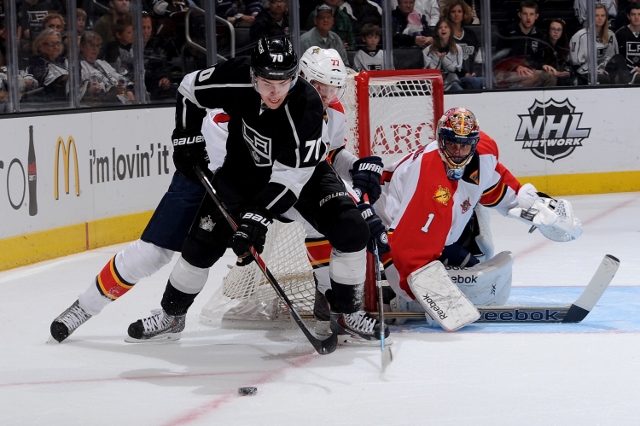 Going forward: Pearson's hockey sense and awareness served as the glue that allowed so many of his individual physical attributes to join together in concert as the season progressed. It's a reflection of his own skill, his growth within the Kings' system and the projected continued development for a player who will look to once again earn minutes alongside Jeff Carter. It's a privilege to be able to play with Carter, and Pearson will need to build on his experience from the spring to be able to continue to hold down the second line left wing slot in five-on-five play, if that's what Darryl Sutter has in mind. Certainly his forechecking and the north-south aspects of his play provide him versatility within the lineup, and his ability to make plays and hit the net should afford him an opportunity in a skilled role. He's finishing up the final year of his entry level contract, so he comes with a $736K cap hit that provides excellent value. Both he and Toffoli will be restricted free agents after the season – along with Kyle Clifford, Jordan Nolan, Jake Muzzin and Martin Jones (and UFAs Jarret Stoll, Justin Williams, Robyn Regehr and Adam Cracknell) – and shouldn't have any trepidation about their futures with the club. One of the more interesting storylines in the upcoming season revolves around the degree to which Pearson and Toffoli continue to develop and gradually expand their roles and usage.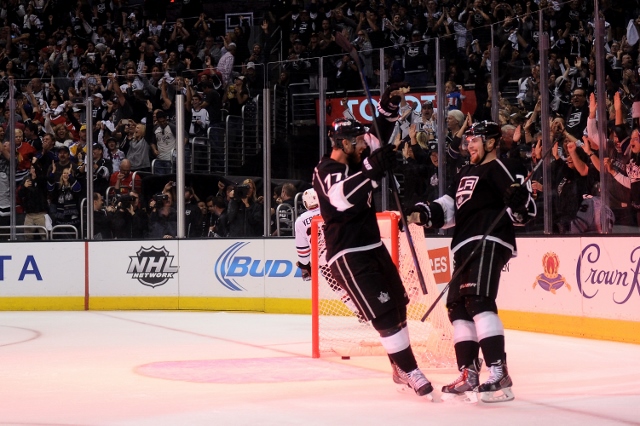 #2 – MATT GREENE | #6 – JAKE MUZZIN | #8 – DREW DOUGHTY | #10 – MIKE RICHARDS | #11 – ANZE KOPITAR | #12 – MARIAN GABORIK | # 13 – KYLE CLIFFORD | #14 – JUSTIN WILLIAMS | #22 – TREVOR LEWIS | #23 – DUSTIN BROWN | #24 – COLIN FRASER | #26 – SLAVA VOYNOV | #27 – ALEC MARTINEZ | #28 – JARRET STOLL | #31 – MARTIN JONES | #32 – JONATHAN QUICK | #33 – WILLIE MITCHELL | #44 – ROBYN REGEHR | #55 – JEFF SCHULTZ