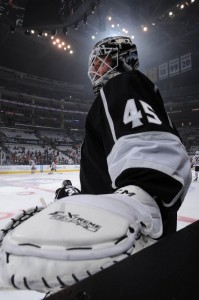 JONATHAN BERNIER
2012-13: 14 games played, 9-3-1 record, 1.88 goals against average, .922 save percentage, 1 shutout
The good: Bernier performed quite well in spelling Jonathan Quick during the 2012-13 season as the 24-year-old allowed two goals or fewer in 10 of his 12 starts. Though the statistics would indicate it was his most successful season as a Kings understudy, the impact that he had on this Los Angeles team went beyond the numbers and into the intangible. Because of the quality of Bernier's minutes early in the season, Jonathan Quick was afforded more time to iron out the wrinkles in his own game so that he was playing his best hockey heading into the postseason. Bernier stopped 119 of 124 shots between February 11 and March 4, creating healthy competition not only between Quick and he, but also amongst the bloggers and writers (via #LAKingsGoalieTweetOff).
The bad: On the ice, there wasn't any real concern. Other than an early game at Anaheim in which he replaced Quick, and the second of two consecutive starts in early March in which he was pulled early in the second period of an eventual come-from-behind win over St. Louis, Bernier was awfully good. Off the ice, Bernier sadly dealt with the passing of his grandmother in late March, which caused his absence from the team's White House visit.
Going forward: There is a lot to like about the way Bernier carried himself during Quick's ascendance over the last several seasons. He was always a composed, well-respected figure in the dressing room and never caused the slightest stir during a period of time in which he certainly was deserving of more ice time than could be afforded. He also has a really cool goalie mask. Because Quick's 10-year contract kicks in next season and the team's budget is constrained by a decreasing salary cap, Bernier is likely to be traded in the lead-up to the NHL Draft or at the draft itself. As an affordable restricted free agent with a high upside, it's not surprising to see him draw considerable interest.
2012 Bernier evaluation
2011 Bernier evaluation
2010 Bernier evaluation