Jonathan Bernier showed off his new goalie mask at practice yesterday. It contains a white, silver and black color scheme that depicts the crown logo and the shield logo on opposite sides, a roaring lion on the top, depictions of the L.A. skyline and palm trees, and the number 45 above his chin. Also – perhaps making the scribes happy? – there's "Los Angeles" in L.A. Times-esque font above his collarbones.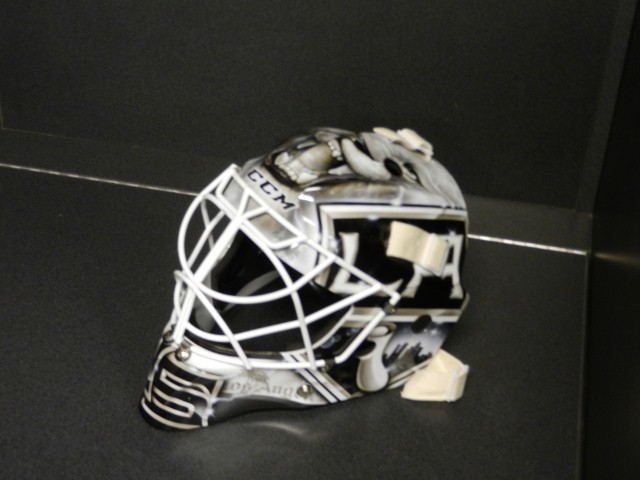 On who designs the helmet:
"I think DaveArt is one of the best, probably in the world. He's painted a lot of NHL guys, and he still does. He's got a great name. He's from Sweden. Sometimes I'm thinking, like I should maybe [choose] one from Quebec, or something like that, but this guy is really awesome. The detail is really close. It's unbelievable. But for the design, I started with the lion, just because of "king of the jungle". But then after that, I just kind of let him pick whatever he wants, so usually he's…going to put the logo of the team and then go from there."
On other goaltenders using DaveArt:
"He's probably got like 75% of the league. He's got a lot. If the fans want to go, it's DaveArt.com."
On whether he ever had a favorite goalie mask growing up:
"It sounds weird, but I'm not very picky with my paint job. As long as the colors are right, really, that's the most important. I know some goalies that are really picky. It means a lot to them. For me, it's just to match up with the jersey."
On whether he's ever had restrictions in his career on what he could wear:
"No, never. They always do whatever I wanted. Obviously, there are some rules with the league that you can't [use] naked girls, or guns, or stuff like that. Other than that, they've been pretty open."
On whether there's a personal charm on the helmet:
"Yeah, I actually put some names that are inside of my helmet that really it's only me that has seen those letters. It's just people that passed away that were important in my life, and that just makes me think about them before every game."
On whether it takes time to break in a new helmet:
"No. Just the straps, you've just got to make sure that they're perfectly fit and they're not too loose or too tight. You've got to wear a bunch of time in practice, just to make sure that with the sweat and everything it just adjusts to your head more."
Click here for more angles of Bernier's new mask.