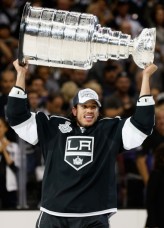 JORDAN NOLAN
This season: 64 games, 6 goals, 4 assists, 10 points, 54 penalty minutes, -1 rating, 9:00 time on ice
The good: Jordan Nolan prepared himself well over the 2013 off-season to step in immediately and play with a focus in an attempt to hold down his spot in the lineup and amongst the coaches' good graces. From early September, when he issued a devastating and legal hit on Phoenix's Rostislav Klesla on only his third shift of the preseason, it was clear that he had put himself in a position to be completely ready to go. His heavy, legal hits continued through Frozen Fury and into the regular season, where he became the Kings' most willing and sturdy combatant and a dangerous, efficient open ice hitter who never left his feet, never targeted the head and other than one grey area instance didn't appear to issue many hits that checked in a moment or two late. At 6-foot-3 and 221 pounds, his shoulder-to-chest hits carried a heavy and debilitating impact. He also chipped in with some offense that was more than appropriate for his role, finishing with a career-high six goals and 10 points as he cracked 50 games for the first time in his career. By his 28th game of the season, he had five goals and eight points to his name, and appeared to be a fine option for a checking line role – he hit, he defended his teammates and he chipped in with some offense above what would be expected out of a depth forward. He's underrated at using his size to get to the front of the net, and once he got there, he showed surprisingly able hands to be able to play loose pucks. Four of his six goals came from deflections, redirections and by banging in rebounds. Nolan was also able to goad others (see: Tom Sestito) into penalties, finishing with a plus-four penalty differential – a quality mark for a player in his role. He's another low-maintenance King who knows and understands his role and through 164 career regular season and playoff games now has as many Stanley Cups as game-winning goals.
The bad: It's not necessarily in line with his role on the club, but Nolan did not push play towards the attacking end despite seeing the most sheltered ice time out of any regular.
He was most likely to begin a shift in the offensive zone and saw the weakest competition, and yet his Corsi percentage relative to the team when he was not on the ice was in the red in five-on-five play. He didn't appear to be in his earlier season form in the playoffs when he got into three games, all losses, and was on the ice for no goals for and three goals against in 24:28 total ice time. He was suspended one game for glove-punching Jesse Joensuu late in the season.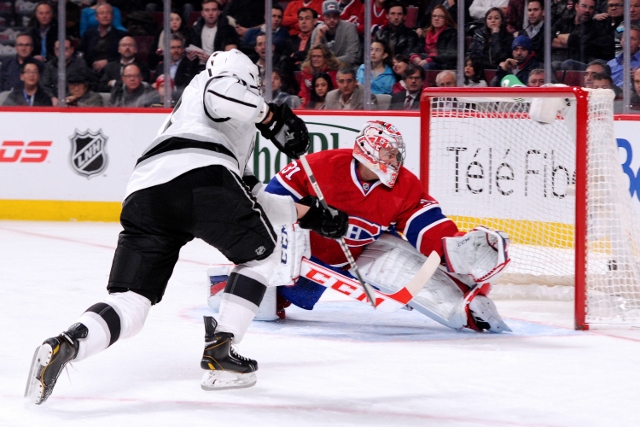 Going forward: With one more year remaining on a palatable two-year, $1.4M contract, the 25-year-old is coming upon an important season that will influence his trajectory with the club and in the NHL. Is there still a ceiling for development in his game? Through the first 30 games of 2013-14, he appeared to be an awfully effective depth forward – a middle-to-heavyweight capable of battling with the league's top enforcers while possessing a much wider array of useful game attributes and skills than those he fought. By the playoffs, his contributions weren't as consistently discernible as they had been. His size, physicality, conditioning and summer habits should make him among the preferred options for a similar role, though Andy Andreoff and Adam Cracknell (though both are listed as left wings) will also be in competition for those minutes. Because Nolan doesn't take a great deal of shots and scores his goals from close range, he has a lifetime 10.0% shooting percentage, which was narrowly eclipsed by his 10.3% rate in 2014-15. By averaging .15, .14 and .16 points per game in each of his three NHL seasons, little variation should be expected in his overall numbers and offensive contributions.
2013 Nolan evaluation
2012 Nolan evaluation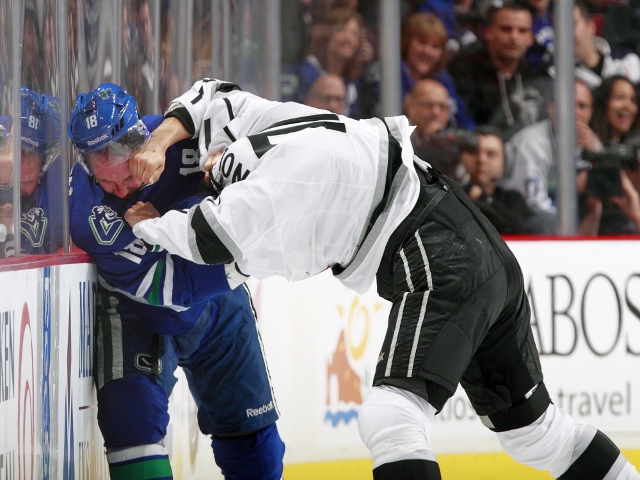 #2 – MATT GREENE | #6 – JAKE MUZZIN | #8 – DREW DOUGHTY | #10 – MIKE RICHARDS | #11 – ANZE KOPITAR | #12 – MARIAN GABORIK | # 13 – KYLE CLIFFORD | #14 – JUSTIN WILLIAMS | #22 – TREVOR LEWIS | #23 – DUSTIN BROWN | #24 – COLIN FRASER | #26 – SLAVA VOYNOV | #27 – ALEC MARTINEZ | #28 – JARRET STOLL | #31 – MARTIN JONES | #32 – JONATHAN QUICK | #33 – WILLIE MITCHELL | #44 – ROBYN REGEHR | #55 – JEFF SCHULTZ | #70 – TANNER PEARSON