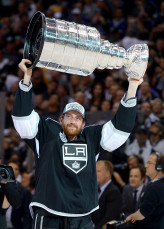 JEFF SCHULTZ
This season (playoffs): 7 games, 0 goals, 0 assists, 0 points, 0 penalty minutes, -1 rating, 18:51 time on ice
The good: Jeff Schultz, a former first round draft pick and then a seven-year NHL veteran, signed with Los Angeles for $700,000 after having requested a trade, passing through waivers, and getting bought out by Washington during the progression and aftermath of the 2012-13 season. Saying that he had lost the "trust" of then-coach Adam Oates as his usage and effectiveness dropped, he joined a deep Kings team that was looking to supplant its defensive depth and ably handle any potential absence by Willie Mitchell, who was coming off a pair of knee surgeries. For about seven months, the intelligent, team-first 28-year-old didn't have much to show for his decision other than a padded frequent flyer account. What a year it must have been for Schultz, who was waived and assigned to Manchester in September and was recalled twice without getting into any game action. Praised for his work with young Kings prospects – such as Colin Miller, with whom he skated in a defensive pairing – he was the calming veteran presence on a young team and while he undoubtedly would have preferred to be plying his ability in the NHL, he never gave the slightest hint of any type of dissatisfaction with his situation. He did his job, logging 13 points and a plus-10 rating in 67 games, and when injury attrition in the second round of the Stanley Cup Playoffs introduced the prospect of his Kings debut, he answered the most important questions that would be asked of him all year: "Are you ready?" "Can you step into a second round playoff series seamlessly?" The answers were "Yes" and "Mostly, yes." Schultz, who hadn't faced an NHL team since the preseason, dressed with the Kings for the first time in Game 2 against Anaheim and over the next seven games against the Ducks and Blackhawks was on the ice for only three even strength goals against while facing the league's two highest scoring even strength teams. He was never fully sheltered in his playoff duty, averaging 15:53 of even strength time and 2:51 of shorthanded time. He was part of a penalty kill that killed off the final eight Ducks power plays spread across a pair of wins that catapulted the Kings into the Western Conference Final. Ultimately, he didn't re-enter the lineup once Mitchell returned from his lower-body injury and it became apparent that Robyn Regehr was once again healthy and capable of battling for time with Matt Greene. But he raised the Stanley Cup above his head, will receive a ring and a day with the Cup, and certainly had his hand in the success the team had this spring.
The bad: If you're looking for any numbers or possession metrics, you're kind of missing the point. Schultz handled a challenging situation quite well, he was ready when called upon and eventually signed a contract extension that will keep him with the organization for an additional two years. Anything negative here deals with the Larger Picture. Is Schultz capable of sliding back into a good NHL team's blue line and averaging high-teen minutes over an entire season? Any opportunities with Los Angeles appear to be intermittent; amongst lefthanded defensemen, Jake Muzzin, Robyn Regehr, Alec Martinez and Brayden McNabb are ahead of him on the depth chart…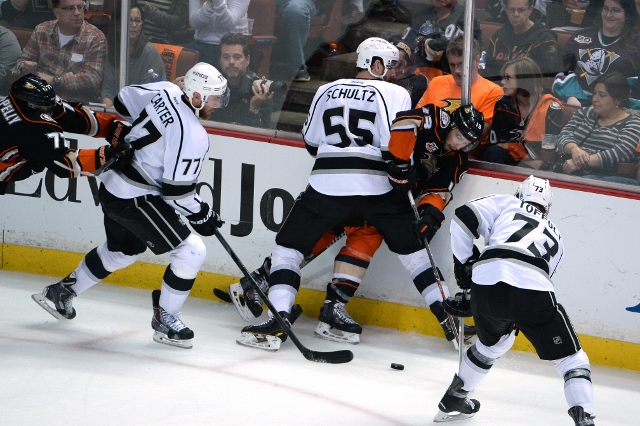 Going forward: …(continued from previous section) which kind of leaves Schultz in a similar predicament as the one he was in one year ago. He appears to be the eighth defenseman heading into training camp, and the Kings might not choose (though it's not always left up to choice) to open the season with eight defensemen. He's also more likely to pass through waivers (as he did last season) than McNabb or forward Andy Andreoff, so there's still the chance that he returns to Manchester. Schultz signed a two-year, $1.7M extension with the Kings, which provides some term that could cause hesitation on behalf of other teams that would consider a claim on him. There is obviously faith in his ability given his contributions during an incredibly challenging assignment, and there exists the confidence that when needed, he'll be ready once again to step in and fuse his experience and selflessness with that of the rest of the room. He's not mobile, and he's about the farthest thing from an offensive defenseman. But he's intelligent, he positions himself and his stick well, and he's gained the trust and support of a group of teammates who made him feel comfortable from his first day of training camp. While there's no high risk or high reward with Schultz, there's the continuation of his ability to simplify the game and the experience of having grown up and found success in the National Hockey League. That's not bad for an eighth defenseman.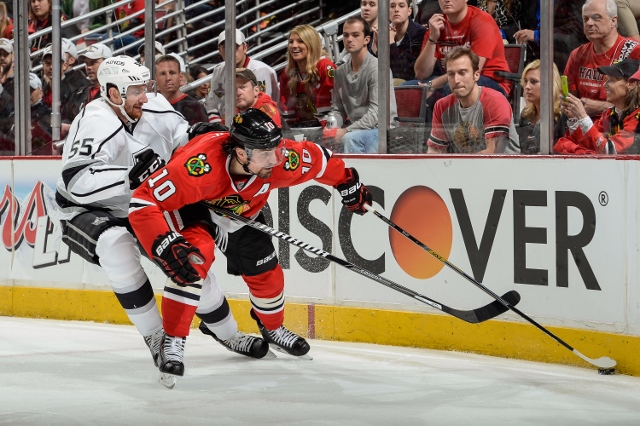 2014 Player Evaluations
#2 – MATT GREENE | #6 – JAKE MUZZIN | #8 – DREW DOUGHTY | #10 – MIKE RICHARDS | #11 – ANZE KOPITAR | #12 – MARIAN GABORIK | # 13 – KYLE CLIFFORD | #14 – JUSTIN WILLIAMS | #22 – TREVOR LEWIS | #23 – DUSTIN BROWN | #24 – COLIN FRASER | #26 – SLAVA VOYNOV | #27 – ALEC MARTINEZ | #28 – JARRET STOLL | #31 – MARTIN JONES | #32 – JONATHAN QUICK | #33 – WILLIE MITCHELL | #44 – ROBYN REGEHR