At the Kings' development and training camps, eyes naturally shifted towards a handful of players who had begun to make their marks with the Manchester Monarchs and were in the process of vying for roles with the parent club. Tyler Toffoli received considerable attention after breaking on to the team's roster and contributing quality minutes in the playoffs. Tanner Pearson earned the opportunity to play in a playoff game, and Linden Vey appeared right there behind the two.
One player who raised an eyebrow in his summer efforts at the Toyota Sports Center was a defenseman whose name hadn't yet drawn as much attention as those above. Colin Miller, selected in the fifth round of the 2012 draft after serving as a training camp invite the year before, had earlier in the year completed a breakthrough overage season with the OHL's Soo Greyhounds and carried his deft skating and puck carrying abilities into El Segundo, where his speed, ability to shoot off the pass on the power play, and offense-inclined tendencies made him stick out amongst a handful of defenders. He was also a valuable right-handed shot, separating himself from the team's other blue line options, including Derek Forbort, Andrew Bodnarchuk and Andrew Campbell, all of whom shoot left.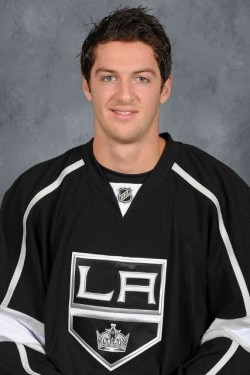 But an offensive defenseman's skill set doesn't necessarily translate fully over into the professional game, and as a player who didn't turn 21 years old until a month into his rookie season, it wasn't exactly a stretch to foresee some challenges arise in his first professional season.
And there have been challenges. He's still learning to make better reads and position himself better in his first full professional season, and has been somewhat of a risk/reward-type defenseman, though that's natural for a player who has played only 49 AHL games and is trying to shed some junior hockey tendencies. His 12 points (4-8=12) rank fourth amongst the team's defense, though his minus-3 rating is the lowest amongst players who began the year on the team.
"Mark really emphasizes jumping up in the rush and having that fourth man kind of high and trailing off to the forwards. That's something that I try and do a lot, get up in the play and create that offense. So it's been good," Miller said. "It's kind of been a slow process, but it's going a little bit better lately."
Miller's offensive disposition comes with an appropriate counterbalance in 399-game NHL veteran Jeff Schultz, his defensive partner. Calling his relationship with Miller as a "mentorship" is a stretch; really, Schultz has played steady, mistake-free hockey for Manchester and is a perfect fit to play with a defenseman who is looking to find the right balance in his game.
"I remember my first year in the league," Schultz said. "I kind of didn't know what to expect, and not only myself, but Freddy (Meyer, assistant coach) has taken him under his wing too – doing video, maybe a little bit more than me. I try to help him on the ice and Freddy kind of does the off-ice stuff."
Though Schultz is yet to play a game with Los Angeles this season, he has unexpectedly absorbed a role with Manchester, one that may help facilitate the development of younger players in the system.
"I've seen a lot in being in the league for a while and I'm sure any kind of help, they'll take in," the 27-year-old said. "I try to not tell them to do too much, but a lot of the guys kind of take what I do tell them and try it out. That's all I can ask of them."
Miller was appreciative of the balance in his most common defensive pairing.
"He helps me out a lot," he said. "He's kind of a great guy for a young guy coming into the league and him having a lot of experience and kind of going through it all, it's really, really good for me. I'm lucky to play with him."
Schultz, meanwhile, sees the skill inherent in Miller's game.
"He's a good skater and can lug the puck up the ice," Schultz said. "I see him looking to make a play before getting his feet going. He wants to make that pretty pass, and he's a good enough skater where he can beat one or two forecheckers and then make the good play."
Meanwhile, Schultz is looking to build up aspects of his own game in an effort to make a permanent return to the National Hockey League. He has been recalled twice this season without having appeared in a Kings game; in 43 games with the Monarchs he has nine points (1-8=9) after recording a two-assist effort in a 3-0 win over the Albany Devils on Sunday that earned him the game's second star. He said it hasn't been difficult to spend the majority of his time this season in the AHL.
"I look at this as kind of a time to work on things and kind of get my game back to where I need to be. Get my confidence back up. I'm talking with the coaches. They're going to give me all the opportunity to play in the situations that I can and just kind of go from there."
"Being up there, it was hard not playing and then coming back after a couple weeks. My timing and a few things were off [Saturday] night and I thought that they came back quicker tonight for me."
For Miller, though Schultz has provided him with the proper balance, it's still the coaching staff and Los Angeles' development team that works with him the most. Noting "positioning" has been the aspect of his game that the coaches have worked with him the most, their efforts are sinking in with the former OHL captain.
"It's huge being in the right spot and everything kind of starts from there," Miller said. "If you're in the right position and you kind of go from there, then that's something that they've tried to work on a lot with me."
Being the youngest player on the team is a situation he's not exactly unfamiliar with.
"It kind of feels like it's three years ago rewind when I jumped into the OHL there, but hopefully it's just kind of the same process and learning every day and getting better and just improving."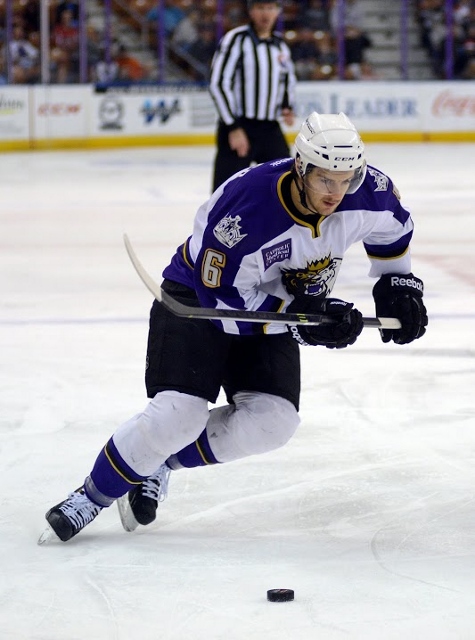 Jeff Schultz, on Sunday's 3-0 win:
Jonesy played great for us and I'm sure that's a great feeling for him going into the break. We thought last time we played this team that it was a good measuring stick. We kind of got out to an early lead and I think we kind of pushed them back on their heels. It's hard to play from behind the whole game.
Colin Miller, on Sunday's 3-0 win:
I think we'll take it. Obviously it's good to bounce back from last night. I think we played well, but we just didn't get the result we needed. So it was nice to get the win tonight.
Miller, on Manchester's consistency throughout the season:
Well obviously having that top line back is really helpful there. They're really solid and having Jonesy back helps out too. But we've been pretty solid all year. There haven't been too many nights where we've taken a loss, so we're just trying to keep it consistent each and every single night.
Miller, on the former Calgary Hitmen and Soo Greyhounds in the organization:
It's funny how it works out with Soupy there and Nolan and Muzz and Carter too. So there is a lot of guys kind of from the Soo, which is nice. Going into training camp was cool kind of seeing some guys.