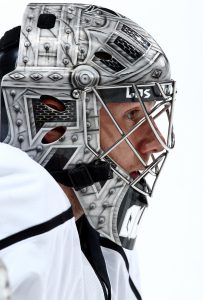 JONATHAN QUICK
This season: 4,034 minutes, 40-23-5 record, 2.22 goals-against average, .918 save percentage, 5 shutouts
The good: Many of Jonathan Quick's accomplishments in 2015-16 were career-related – he became the all-time shutout leader amongst United States-born goalies and the first King to win 40 games in a season, eclipsing his own mark – though he did turn in a fine individual performance that resulted in NHL general managers voting him as a finalist for a Vezina Trophy that he probably won't win (looking at you, Braden Holtby or Ben Bishop). His 40 wins ranked second in the league, his 2.22 goals-against average ranked sixth, his .918 save percentage tied for 19th, and his five shutouts tied for fifth. We used "workhorse" in last year's evaluation, so let's go with "workmanlike" when cataloguing his 2015-16. He led the league with 68 starts and 4,034 minutes played, which was only the fourth widest haul of his career. Among the reasons for his ability to handle an extended workload comes from his conditioning, and late in the summer of 2015-16, he was among those praised for his off-season habits and approach to the season. If you're looking for an aspect of his play that improved from previous years, it was his management of the puck behind the net. Quick was never someone who received enough credit for his sense of the action around him, influencing his decisions on when to cover the puck and when to play it, but this past season he also showed improvement in working with his teammates in seamless transitions and hand-offs. "The puckhandling, everybody thinks it's a goalie, but it's a group effort from not only the D going back for the puck, but also sometimes the first forward coming back," Goaltending Coach Bill Ranford said. "So it's something we practice all the time, usually anywhere from two to three times a week, and we know it's important. I think Jonathan's just gotten quicker at it. He doesn't do anything fancy, he's not like Mike Smith or anybody that can make those real creative plays. He just has simplified his puckhandling, but most of all he's just much quicker at it." The mid-season all-star has a temperament that instills the utmost confidence of the players around him, a more abstract intangible that does affect player performance in key situations. "There are a handful of those guys in the league that can win you games, and he's one of them," Darryl Sutter said in October. In a season that didn't end with rainbows and laughter, it's important that you watch this highlight over and over again.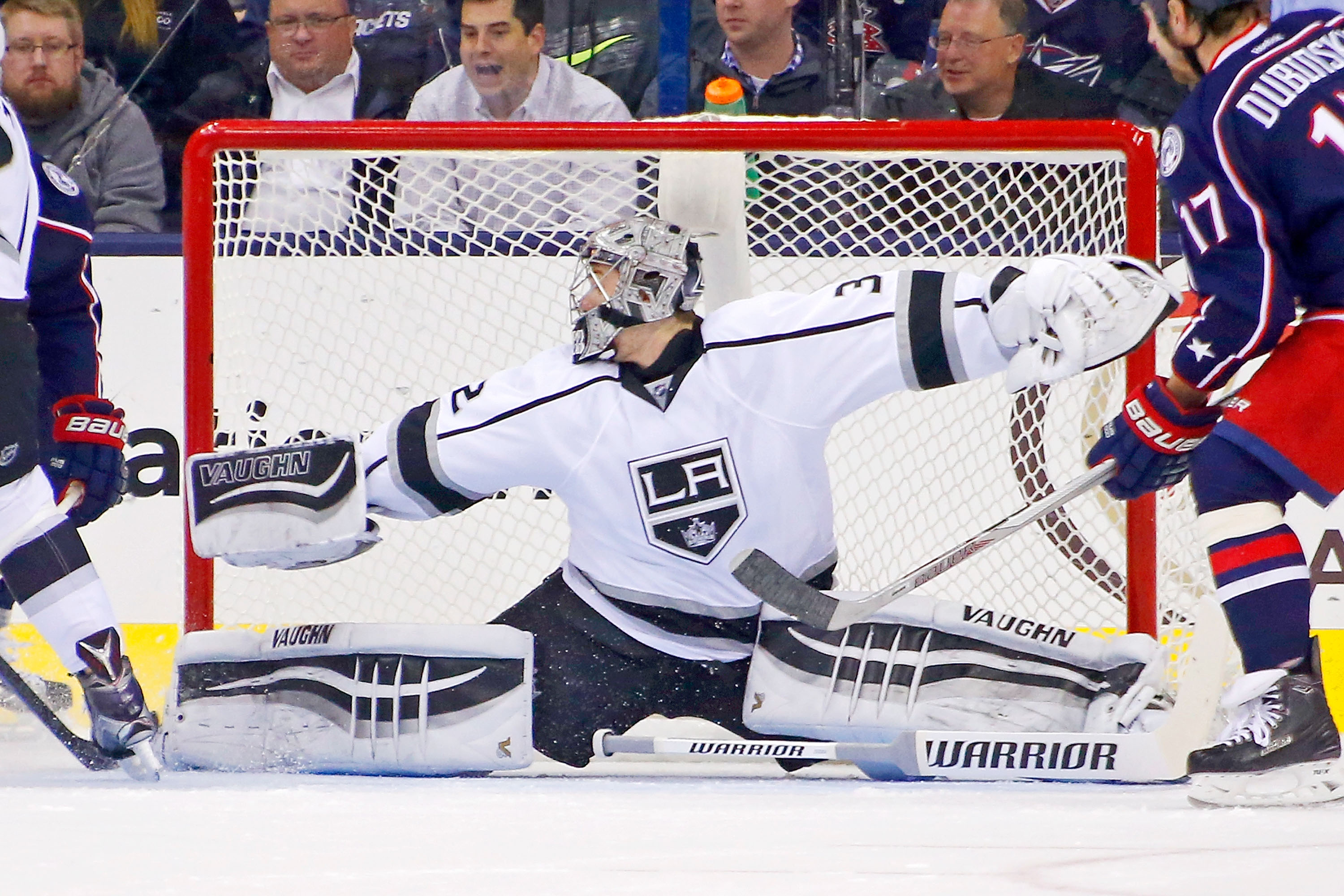 The bad: Other than one season, Quick's performance has never really translated particularly well to statistics, so those who place a disproportionate amount of credence in the almighty spreadsheet appear to take pleasure, for some reason, in his rare off-nights. Twitter is actually powered by the smugness inherent in notifications that Quick has allowed four goals on 21 shots. His numbers didn't deviate greatly from numbers he had compiled in the past, even though the team dealt with defensive depth challenges for the second consecutive season (offset, of course, by very good structure and reliable checking), and his save percentage and goals-against average were practically indistinguishable from his statistics the year prior, which wasn't regarded as a Vezina-type campaign. His 5×5 save percentage was .928, which ranked 16th, his save percentage while shorthanded was .875, which ranked 14th, and he bizarrely allowed four goals on 17 shots in four-on-four play for a league-low .765 save percentage amongst qualifying goalies. For the fourth straight year, Quick has posted a wide discrepancy in home-road splits – interestingly, his more dominant numbers have alternated between home and road – and compiled just a .911 save percentage at Staples Center. The uncomfortable acknowledgement, though, is that his 2011-12 season, where he amassed a .929 save percentage and 1.95 goals-against average and was named a Vezina finalist for the first time, is the clear outlier in his statistics (along with his 2012-13 season, though in the other direction). The majority of the data available suggests that the 2015-16 season is closer to what should be expected, especially as the team looks to rebuild the back end of what had been a highly reliable defensive corps. That's not necessarily a knock on Quick; he's still a Vezina finalist who appears to be in the prime of his career and remains among the most athletic, exciting (usually for the right reasons) and driven big-game goaltenders in the sport. The season's end result was far from being a case study on the team's goaltending – consider the high-quality chances the Sharks generated – but that "big game" designation is being tested by the decrease in the number of "big" games the team has played since June, 2014.
Going forward: At this point, there's "nothing fancy, no crazy formulas" in the moderation of Quick's development, and as noted, his numbers don't appear too likely to deviate in any direction far from what he's established in the last several seasons. He'll have to at least maintain the status quo, because the 2015-16 season was just the third in a 10-year contract. The term is suspicious, but the actual $5.8-million cap hit is more than palatable and makes him only the 14th most expensive goaltender in the league. What synonyms are there for "driven?" He's an excellent pro, a conduit of the team's energy, resilience and ability to self-police, and even though goaltenders generally don't wear letters, there's no doubt that the 30-year-old is as central in the team's leadership group as any. He's the greatest goaltender in club history, a former Conn Smythe Trophy winner and now a two-time Vezina finalist for a franchise that had major concerns in net for a wide majority of the 41 years before he helped lead the team to two Stanley Cups, so critiques about his save percentages in particular situations aren't espoused with the broadest picture in mind. It is imperative that he at least maintains his current numbers well into his thirties, because the Kings' cap crunch four or five years from now would be in dire shape if there's any severe drop-off in his play. Concerns heading into 2016-17 are scant.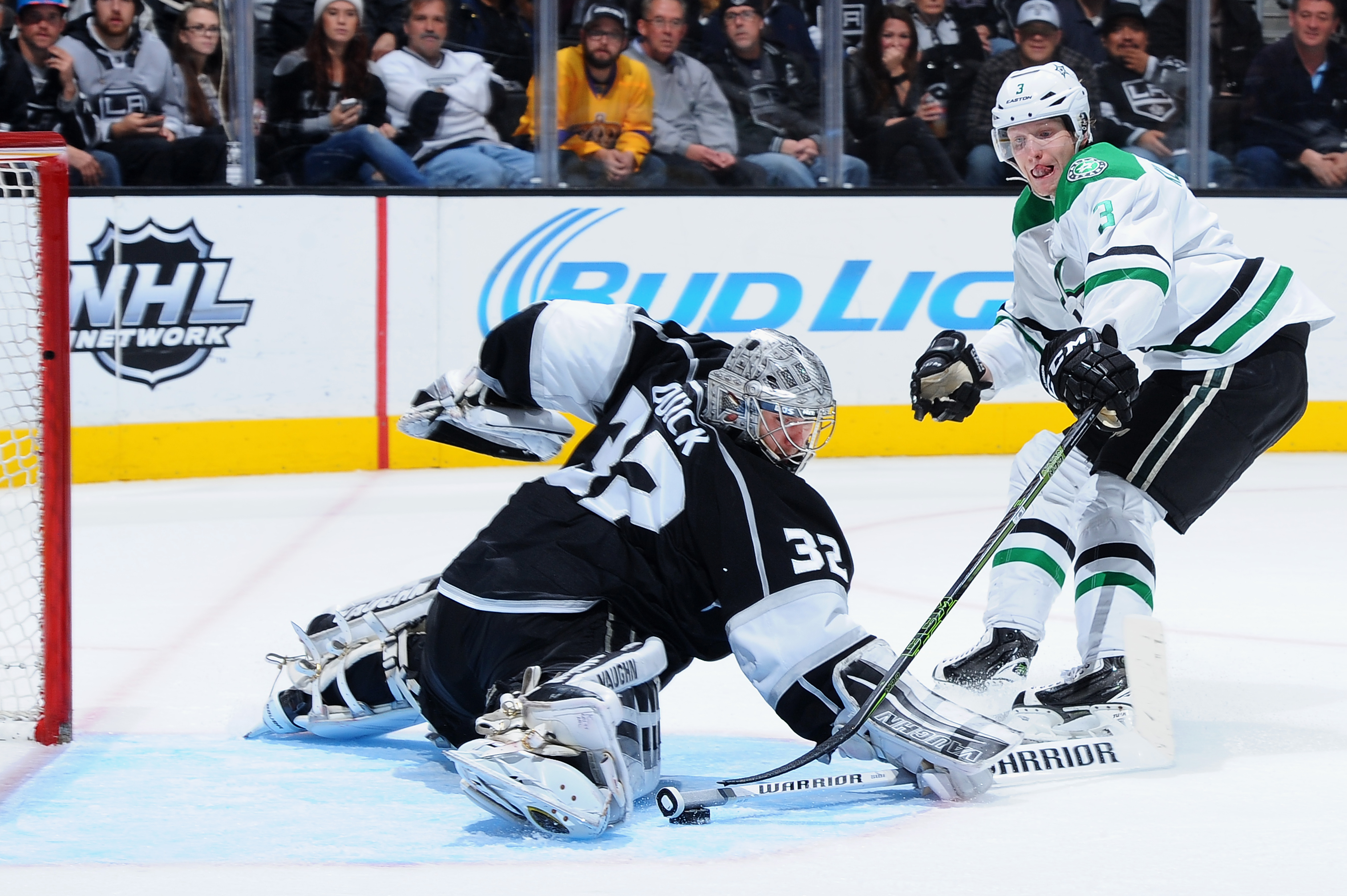 Quick evaluations: 2015 | 2014 | 2013 | 2012 | 2011 | 2010 | 2009
Player evaluations: ANDREOFF | BROWN | CARTER | CLIFFORD | DOUGHTY | ENROTH | KING | KOPITAR | LECAVALIER | LEWIS | LUCIC | MARTINEZ | McNABB | MUZZIN | PEARSON | QUICK | SCHENN | SHORE | TOFFOLI | THE OTHERS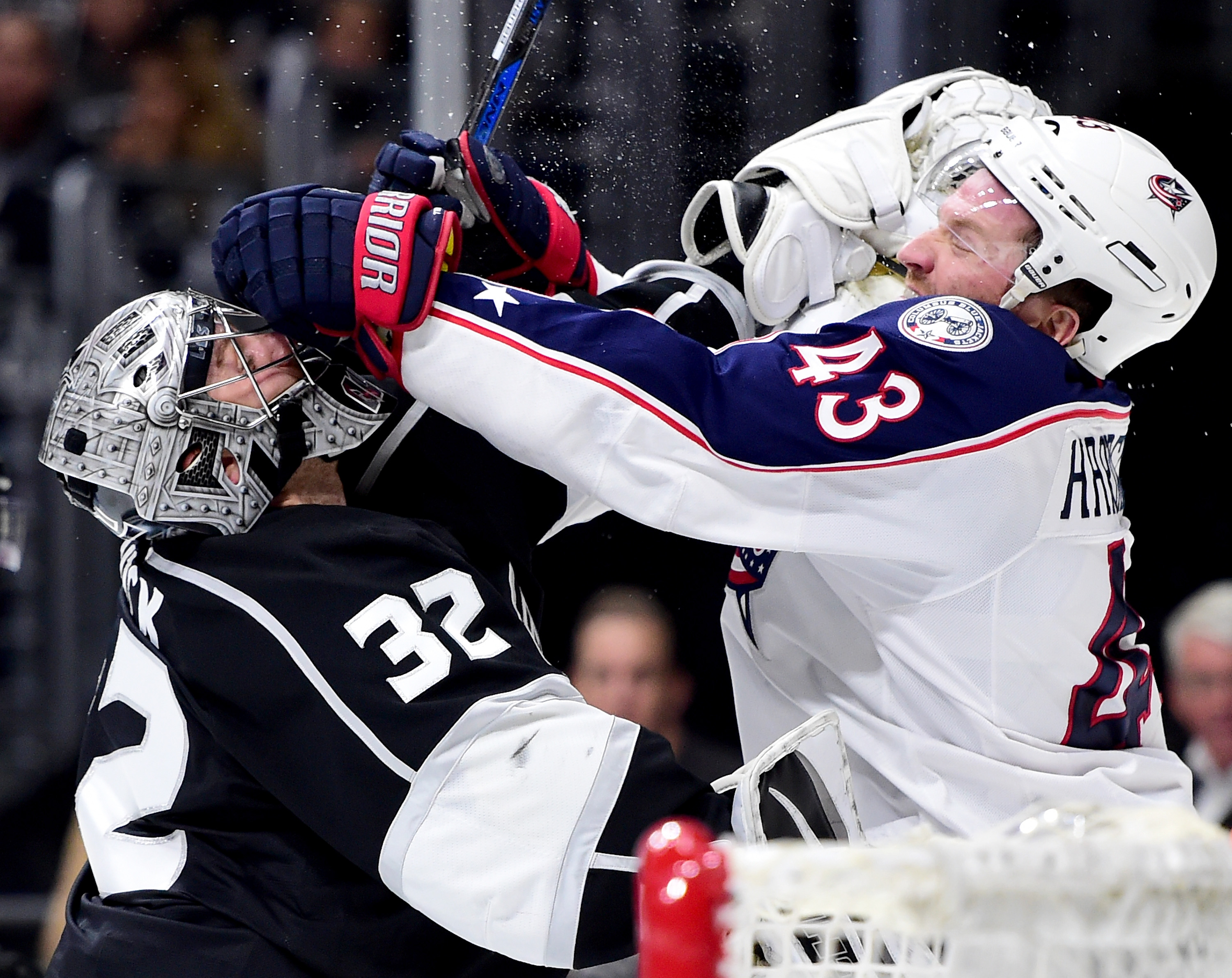 Advanced stats via War-on-Ice