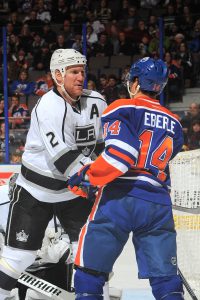 MATT GREENE
This season: 82 games, 3 goals, 6 assists, 9 points, 38 penalty minutes, +1 rating, 15:48 time on ice.
The good: Matt Greene, who very literally bleeds for his team, appeared in all 82 games for the Kings during a season in which they could hardly afford to lose a second righthanded defenseman given Slava Voynov's indefinite suspension. (Drew Doughty, to his credit, also appeared in all 82 games). Impressively, Greene's streak of health and contribution followed a two-year stretch in which he was limited to 43 of a possible 130 regular season games. He is the consummate team player, and while his experience, intelligence, 79 career playoff games and two Stanley Cups are so well suited for postseason play – in line with the Kings, he's a plus-17 in 49 playoff games and a plus-10 in 207 regular season games since 2011-12 – Los Angeles didn't make the playoffs, and Greene's season ended after 82 games. In those 82, he did exactly what would have been expected. He served as a reliable fifth or sixth defensemen who contributed on the penalty kill and earned just shy of 16 minutes per night. There are other numbers worth considering, but one of the larger impacts Greene made in 2014-15 was in helping to facilitate the development of a now-24-year-old Brayden McNabb, who was well insulated by the veteran character presences of Greene and Robyn Regehr as his responsibilities on the blue line intensified. "I think Greener's experience is key to any young player," Darryl Sutter said. "It's just like a young player playing with Robyn. It's key. It's not really bringing anything out of Brayden. Brayden has played well for us and he's learning the game. It's been a good opportunity for Brayden to play with guys like Drew and Greener." As for the numbers, Greene was very effective when he was paired with Jake Muzzin, which he was for over 343 minutes, representing his most frequent partnership after McNabb. Over that time, Greene and Muzzin posted a strong 58.2% Corsi-for rate when paired together and averaged 1.92 goals per 60 minutes and limited their opponents to a paltry 1.22 goals per 60 minutes. After logging a minus-14 penalty differential through 38 games in 2013-14, he was minus-11 at even strength in 82 games this season, which represents a much better ability to stay out of the penalty box than the season prior (though he remains among the Kings most inclined to take a penalty). An alternate captain and a major catalyst of the internal forces that drive the club, Greene was a respected and experienced leader on a team that dealt with an above average amount of tumult. He was also the best Kings GIF of the year.
The bad: Greene will have a lot of mileage on his body when he turns 32 in less than a month, and there may be concerns about an aging curve given the role that he plays and the injuries that tend to follow stay-at-home defensemen around. More concerning is that Greene is an asset through 2018 and Alec Martinez is an asset through 2021, and the familiar and reliable defensive pairing (though affected by Martinez's injuries and their less frequent usage together) saw their possession rates plummet and goals against rate skyrocket this season. After posting five-on-five Corsi-for rates of 61.8% while together in 2011-12 and 58.6% in 2013-14, Greene and Martinez were in the red with a 49.7% rate this season, which led to 3.71 goals allowed per 60 minutes when the two were on the ice together in five-on-five play. There are limitations in his speed and mobility, and he's not getting any younger. Greene has generally been possession-neutral (not that possession rates are that important when evaluating stay-at-home types) comparable to the rest of his team, though he took a slight step back with a Corsi-rel rate that was in the red. Again, not too important. Considering he averaged under 16 minutes as a defenseman, a $2.5-million average annual value on his contract isn't particularly beneficial to a cap-strapped team.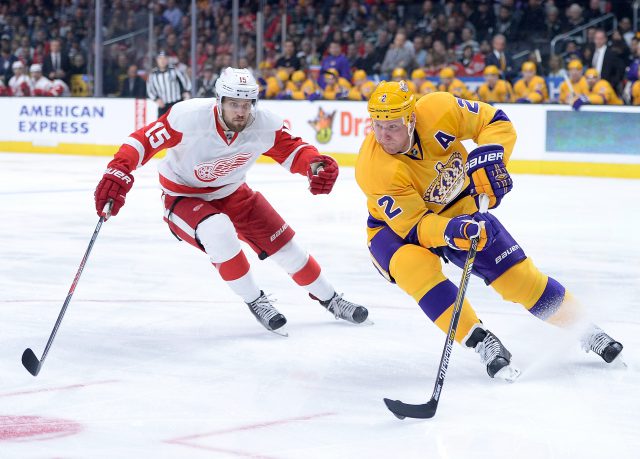 Going forward: Matt Greene's role isn't to provide skill, or speed, or offense. He's a reliable defensive stalwart who understands and accepts his role and is well suited to log teen-type minutes as a sixth defenseman. He logged the third most shorthanded minutes on the team and should again be good for two minutes of penalty killing per game in the event that Slava Voynov does not return to the club, which is clearly a possibility. Similar to his influence on Brayden McNabb and Jake Muzzin, he will be a shepherding presence for Derek Forbort, who will contend to make the jump to the NHL in the coming season. Greene has never really been a possession drain or boon. Instead, his presence, voice, practice habits and consistency serve as his strongest traits in the game. Those mostly intangible abstracts did not lead the Kings to a berth in the Stanley Cup Playoffs, though there's not really anything in Greene's game that distances himself from the type of player he was in 2012 or 2014. He remained intact after being dogged with health concerns for two seasons and will look to continue that trend as he brings his 86 consecutive games played into the 2015-16 season, which will be followed by two more seasons under contract.
2014 Greene evaluation
2013 Greene evaluation
2012 Greene evaluation
2011 Greene evaluation
2010 Greene evaluation
2009 Greene evaluation