National Hockey League Commissioner Gary Bettman and Deputy Commissioner Bill Daly held media availability shortly after the league announced its Return To Play Plan Tuesday afternoon. The transcript, in its entirety, is below.
Elliotte Friedman had a detail on the Los Angeles hub city bid in Thursday's 31 thoughts, which also noted John Stevens is still in the running for the open head coaching position in New Jersey. (The Dallas Stars, where he serves as an assistant under Interim Head Coach Rick Bowness, will face Vegas, St. Louis and Colorado in the round robin seeding tournament.)
Stick taps to those who shared this on Facebook this week. Here's future Washington GM and former Jim Fox roommate Brian MacLellan and future King Larry Playfair and goalies Bob Janecyk and Tom Barrasso trading blows at The Forum as narrated by Bob Miller and Nick Nickson:
"He was a good roommate," MacLellan said of Fox at the 2016 NHL Awards. "We had some good times together. He was always the guy doing extra conditioning in the room each night – doing sit-ups, while we were watching TV – instead of going out late."
A pair of principal actors above in Jay Wells and Garry Galley recently joined Nickson on an alumni Zoom chat, as did Mattias Norstrom. There's an Insta-friendly version of their chat here; I'll post a fancier version when available.
And, since we're talking about The Forum, some long lost photos from a State of the Franchise meeting in April, 1997, courtesy of the LA Kings Legacy Collection: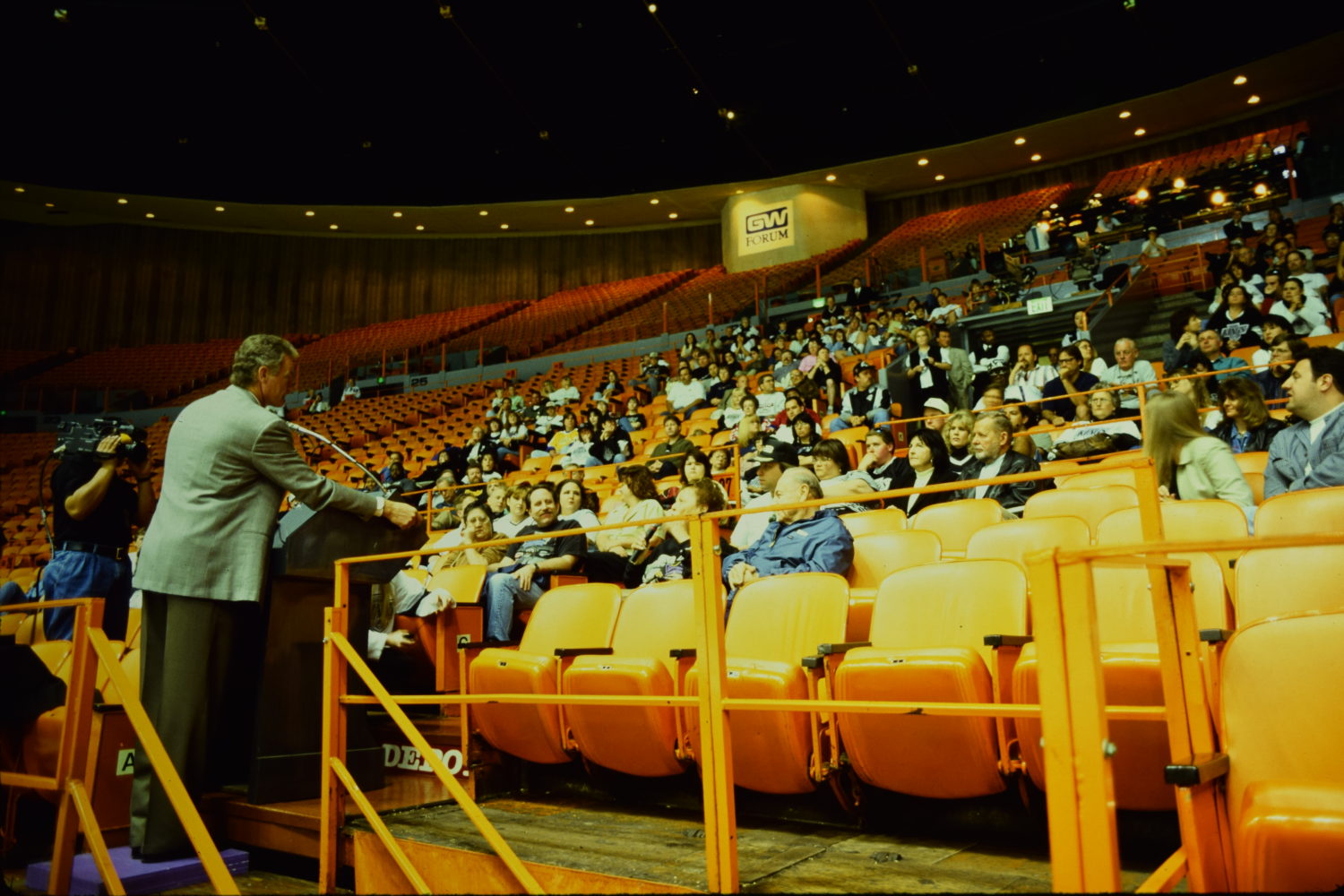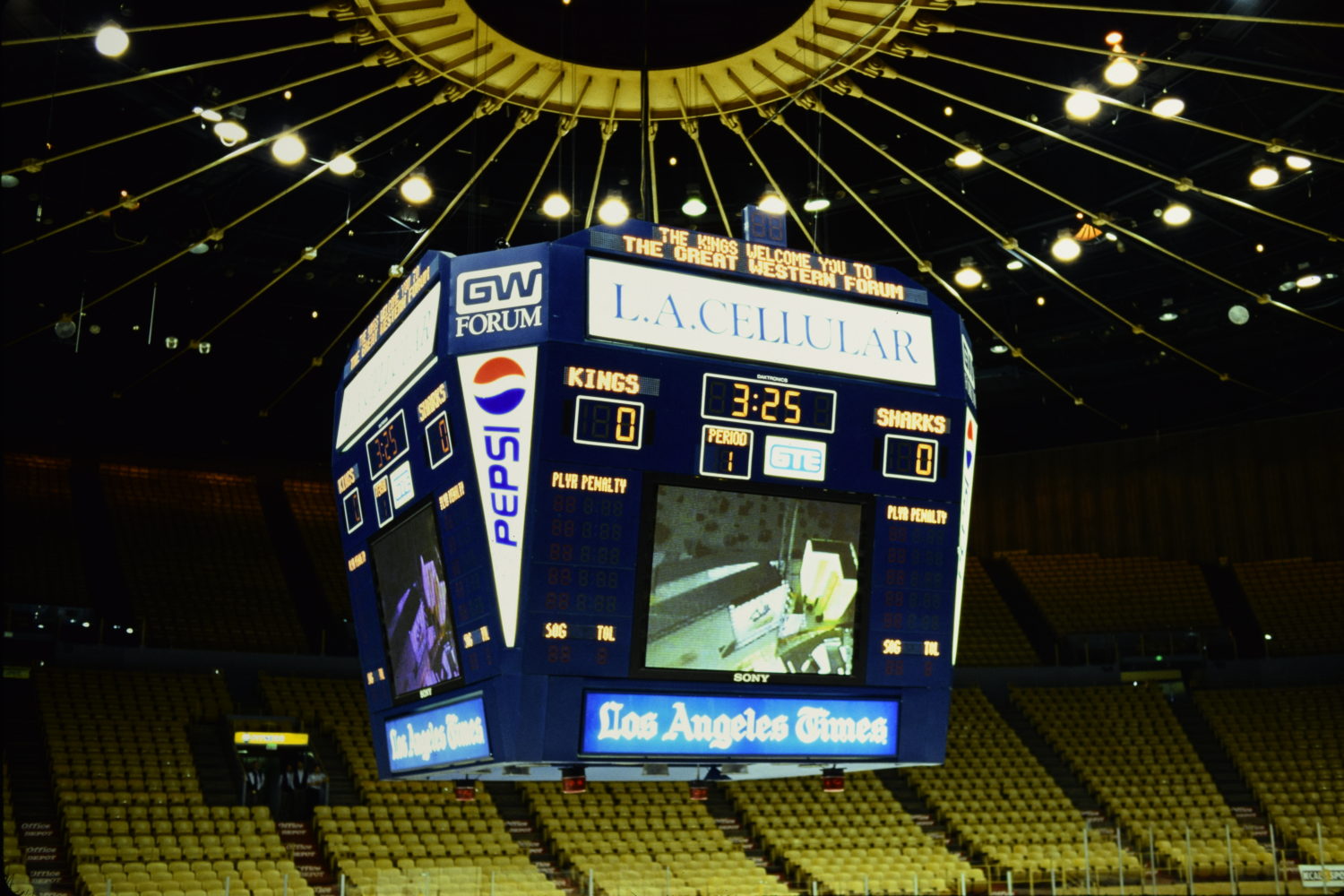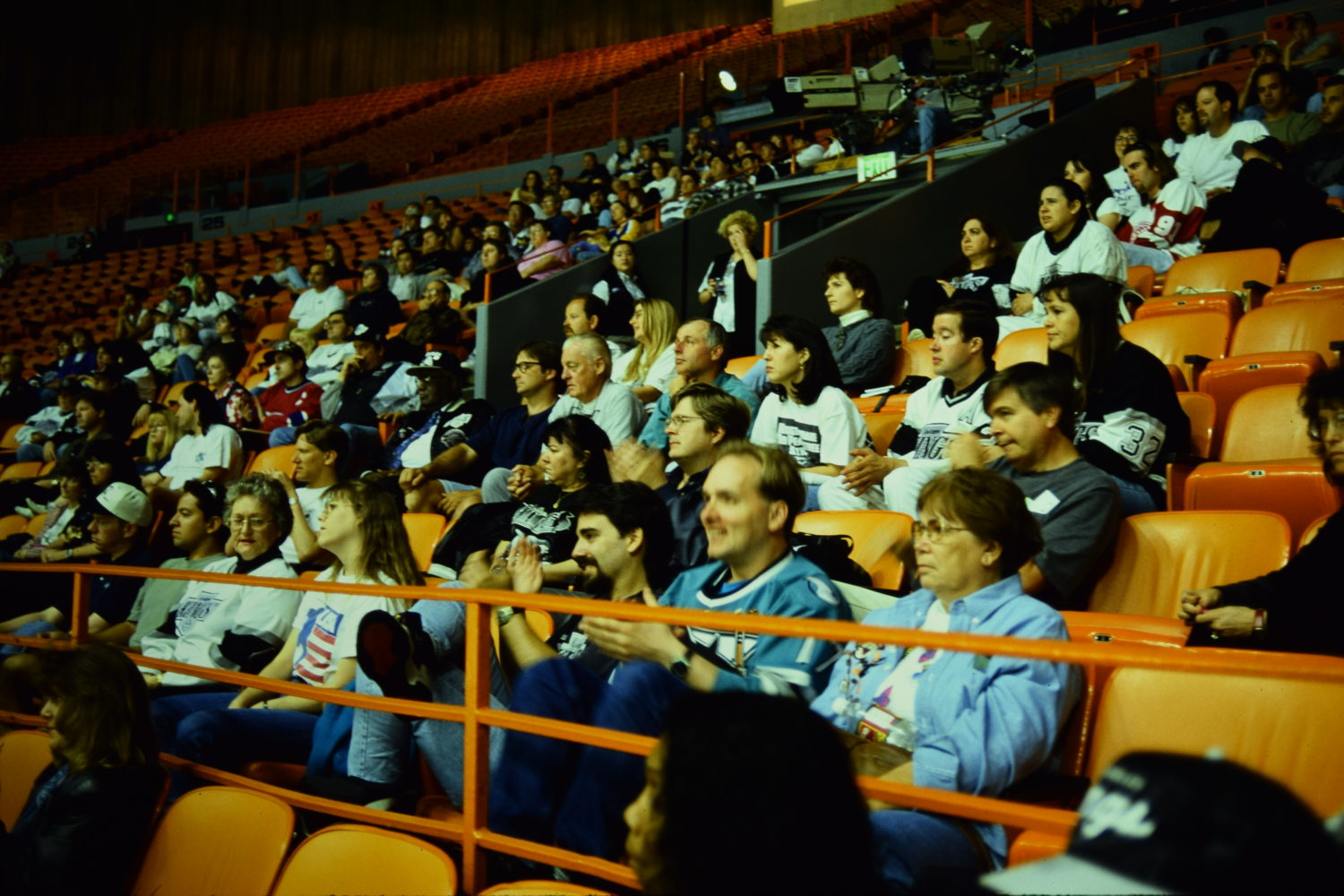 HOW MANY INSIDERS CAN YOU FIND
And, now, Actual News. From Tuesday:
GARY BETTMAN: I think it's been an important day for sports and for the NHL in this incredibly unique, difficult and trying time. We hope that this is a step back towards normalcy. Obviously everything we're focused on starts with health and safety and people's well being, but we think we've been able to work very collaboratively with the NHL Players' Association and the players to come up with a framework that is fair and has integrity and should result in a terrific competitive playoffs and ultimately the awarding of the best trophy in all of sports.
Obviously there are lots of things that have to be done, but this marks a very important step along the journey that we're undertaking. Bill, do you want to add anything?
BILL DALY: Hello, everyone. I just wanted to echo the fact that today obviously represents an important step in the process, but we have a long road in front of us, and we're going to keep working hard at it and listening to our medical advisors and making the decisions that are in the best interests of our players and our club staff members and our fans as we move forward. But hopefully today is a sign of good things to come.
Q. My question is about the hub cities. What's going on in the process now of narrowing those 10 cities down to two or three?
GARY BETTMAN: We believe that all of those cities as a general matter could be able to host us, the facilities, both the venues and the surrounding facilities we need. We don't need to make a decision today. We'll probably need to make one in three to four weeks, and at that point we would be able to better evaluate how COVID 19 is in a particular place. That could be a positive or it could be a negative. We need to make sure that there's enough testing available and we'll be needing lots and lots of testing, but we don't want it to interfere with the medical needs of the community. That has to come first.
We want to just be in a position to, in real time, have lots of options once we understand what the state of play is at the time we need to make the decision.
We could pick one or two locations, but that might, if we made the decision today, not turn out to be as good a decision as one that we make three, four weeks from now because things are continuing to evolve in all of the places that we play.
Q. I'm trying to anticipate, Gary or Bill, in terms of how Boston fans and St. Louis fans in particular view this round robin for the top four seeds. In each of those cities they were the top seed when things went dark, if you will. I anticipate those fans will feel short changed. What do you have to say to them, and did you consider any other option?
GARY BETTMAN: Well, the answer is we've considered lots of options. By getting a bye, they're going to be facing a team that just came out of a competitive series, and the concern was they needed to have some competition that might not put them at risk in terms of the Playoffs but would give them an opportunity to play some real games, and that was the thinking that went into this. That's really the answer. They needed some games that mattered to some extent in order to be coming against a team that just played a competitive series. The benefit and the curse of a bye, I suppose.
Q. For either Bill or Gary, you mentioned the testing; can you describe as much as you know now about what the testing process will be like? Do you have a number of tests that are likely to be needed to get through this? And the cost of those tests and who bears them? I know that's a lot.
BILL DALY: Our hope is that by the time we open Phase 2 — and Phase 2 is where our clubs can open their training and practice facilities, make them available for small group activities by the players — our strong hope is that most, if not all, of the 24 teams coming back to play will have the ability to test their players prior to engaging in Phase 2. And our Phase 2 protocol, I think, specifically specifies testing at least twice weekly and perhaps more.
The League has worked hard in the interim to essentially be able to help clubs in the event they're in need of testing resources and we'll be there to help provide those resources for them.
Phase 3 then contemplates the opening of mandatory training camps in home club cities. And, during Phase 3, we would anticipate that the pace of testing would increase even further. The Phase 3 protocol is a work in progress at this point, so that hasn't been finalized. And then Phase 4 — which is the competition phase, once we're in the hub cities — the League is going to be in control of all the protocols related to the games in the hub cities. And we will have regular daily testing protocol where players are tested every evening, and those results are obtained before they would leave their hotel rooms the next morning. We'll know if we have a positive test and whether the player has to self quarantine himself as a result of that positive test.
As you mentioned, the testing program we contemplate is rigorous and comprehensive. It'll pick up throughout the process. Obviously, initially the clubs will bear the cost of that. Ultimately, the league will bear the cost of that in connection with the competition phase of the tournament. And it's expensive, as you mentioned, but we think it's really a foundational element of what we're trying to accomplish.
GARY BETTMAN: Just to add to what Bill said, if you're looking for a number, we could be doing 25,000 to 30,000 tests. You just do the math. You take the amount of frequency with which Bill said we're going to be testing, the number of days, number of players — although our medical advisors and some independent medical advisors tell us that by the time we're doing this over the summer, that will be a relatively insignificant number of tests relative to the number of tests that will be available — and if you do the math again in terms of number of tests, the costs, you're talking about millions of dollars.
Q. Gary and Bill, I wanted to ask a question about the logistics of getting all the players back into their home markets or on to ice. Given that there are foreign travel restrictions both to the U.S. and between the U.S. and Canada, I'm curious if the league has any plan to deal with that, given that there is currently a bit of a ban on non essential travel between the U.S. and Canada?
GARY BETTMAN: Actually, Bill, you're dealing with that, so why don't you answer the question.
BILL DALY: Sure, it's a very good question, obviously, and something we've been focused on from the start of this ever since the world went into lockdown and various travel restrictions, various quarantine requirements in various jurisdictions. We've been tracking that on almost a daily basis with respect to our 31 markets and now in terms of resumption of play it'll be 24 markets, but we're fairly comfortable that we're at a stage finally where the vast majority of our clubs — I think, ultimately all of our clubs — will be able to open their facilities consistent with local regulations. As our Phase 2 protocol contemplates, there will be mandatory quarantines involved in a lot of cases where players are returning to their home markets, either from overseas or from Canada or vice versa, if players are going from the United States to Canada.
We have been dealing with the governments in both the United States and Canada on these travel restrictions and quarantine requirements. The acting Director of Homeland Security in the last three days I believe signed an order that made professional athletes essential personnel and allows them to travel into the United States. We've reached an understanding with the Canadian government that players can cross the Canadian border, as well, both internationally from overseas but also from the United States so they can return to their home city without a problem.
The one issue that we continue to work actively on is the mandatory federal quarantine that is in place in Canada for all people who travel into Canada, and we are having various discussions with various different departments, the Canadian government. We don't have a resolution there, but it's an ongoing dialogue for sure.
Q. The pandemic is creating like a financial day of reckoning for society at large in North America and there's an awful lot of people that are going to feel an awful lot poorer when all is said and done. What will be the impact of that on the industry going forward?
GARY BETTMAN: Obviously in the short term, the impact has been severe. No revenues coming in and expenses still there. And our clubs, I think, have been very judicious and sensible in terms of how they've been dealing with their own organizations, and they've been terrific in the community, whether it's donating money or food or the like.
Fortunately our franchises have never been stronger. Our franchises have never been better owned in terms of the strength of our ownership, although my guess is most owners in all sports are probably not as wealthy as they were 12 weeks ago. But I believe based on our condition, while it may be painful and some substantial losses in the short term and maybe getting to the intermediate term, we will get through this. We'll get through this with all of our franchises. And, as we typically do when we come back from a challenge, we'll come back as strong if not stronger.
Q. Gary and Bill, once you return, have you decided anything according to the broadcast and the media side of the business, like will we be able to attend in one of the hub cities, or we won't be as reporters able to get into those buildings to follow what's going on?
GARY BETTMAN: From a TV standpoint, we will probably create an international feed for everyone who's broadcasting out of there. And we're going to have to make arrangements with broadcasters to determine whether or not they might want personnel in the building far away from the ice or whether or not they want to do it remotely, and we'll work with that.
And with respect to all media, that's something we're going to have to work on and make arrangements — although whether it's media or anyone else, non essential personnel, and I'm talking about players, trainers and coaches, beyond that — there aren't going to be a lot of people on the event floor coming anywhere close to the players once we do this.
I understand that everybody has a job to do, but we've got to keep the players safe and healthy if we're going to be able to see this through. And the more people that they can have contact with, the greater the risk becomes.
BILL DALY: We do expect, on the broadcast side, that with respect to games in empty buildings, it does create some unique opportunities to televise the game in new, unique and innovative ways that fans may not have been able to see before to bring the fans and television viewers closer to the action. From that perspective, that's a positive. Potential positive anyway.
GARY BETTMAN: And we'll be doing things, whether it's with fans or virtual presence of people to give a sense of live. We will put a lot of attention and focus and money into figuring out a way to make a game presentation for television look very attractive.
Q. And you will take all the precautions in the world for doing this, it's obvious. What if one case happened? One morning you wake up and you get a result and you call Gary and you say, well, this player X got positive. Is it going to be all over again, or you're prepared to deal with the situation and still go on?
BILL DALY: I'll answer it only because Gary didn't jump in right away. The bottom line is obviously that's a key question and something we've been in constant communication with our medical advisors on. Their thought process at this point in time is that one single positive test, depending on the circumstance, should not necessarily shut the whole operation down. Obviously we can't be in a situation where we have an outbreak, and that will affect our ability to continue playing, but a single positive test or isolated positive tests throughout a two month tournament should not necessarily mean an end to the tournament.
GARY BETTMAN: And in that regard, that's why, when I was asked about locations, if we got to a place that has less COVID 19 in the community, the likelihood of somebody who's now been tested through a training period, through training camp and now is centralized, the more we can sort of create a bubble, the less likely we'll have it.
And your example of Bill calling me in the morning to make the decision, it's really the doctors who are going to be guiding us as to what the right circumstance and response should be, should we have a positive or more than one positive.
Q. Just wondering, Gary, you talked about in the press conference going beyond the first and second and third rounds as far as seedings or pre determined brackets are concerned. Has there been any thought or is there any possibility that perhaps for this one time maybe those top four teams, based on their seedings, could pick their opponent in the next round?
GARY BETTMAN: You know, we've had that discussion in a variety of contexts. We actually had it when teams in the Central play teams in the Pacific and you could elect 2 3 2. Teams I don't think would want to elect their opponent. Talk about giving somebody an incentive from a competitive standpoint. I don't think it's a great question — but I don't think it's realistic.
The issue is really going to be whether or not we go into brackets or we re seed. And we prefer, as a general matter, brackets for a whole host of reasons. We've told the players who have been debating it internally, if they have a preference we're happy to abide by it.
Q. I'm just wondering about the next season, just doing the math, we could be going into October, November, December. How late are you willing to start 20 21?
GARY BETTMAN: We believe 2020 21 will be played in its entirety the way we play a normal season. There's no magic to starting in October. Our buildings, our markets can handle it. We can start in November, we can start in December, we can start the beginning of January if we had to. We're going to be playing over the summer this year, so the answer is we'll get through this season and we'll make sure there's enough of a pause between the end of this season and next, and then we'll start up again.
We will have to deal with that probably in a couple of months because we have to start working on a schedule, but we're prepared to defer and delay the start of the 2020 21 season by at least, if we need to, a couple of months.
Q. Just wondering on the idea that when the hub cities are picked that the franchise that is in that city will be allowed to have all of its games in that city or if there is any inertia for a competitive balance argument to be made that they wouldn't be allowed to?
BILL DALY: Obviously we've talked about that, and actually I've heard arguments on both sides of that equation. I can't tell you that that has been finally decided, but particularly given the fact that there's no fans in the stands, we certainly see some merit to moving the club to a different market so that any perceived advantages associated with being in a home market are eliminated.
GARY BETTMAN: And also, if a team happens to be in its own market, the players I don't think should be planning on going home. They'll be staying in the same conditions that everybody else is.
Q. Could you go over for me the timetable on determining the draft and maybe what the complications were about having it before the season and after? And then the second question would be obviously I cover one of the teams that's going to be off a long time. How much concern is there about competitive disadvantage for those seven franchises, and might there be any concessions made for them to have potentially more of a training camp before the next season?
BILL DALY: So obviously there was a lot of debate with respect to the possibility of moving the Draft up and staging the Draft before the resumption of play. We certainly felt like we had an acceptable window to be able to accomplish that if that was something we wanted to do, and certainly there were reasons why we thought that might be a good idea.
But as with most issues, we brought it to the clubs, and there was not a strong consensus one way or the other quite frankly on whether we should do it, and certainly I think the people who were opposed to it felt strongly about being opposed to it.
Some of the factors, probably the most significant one we gave the most weight to, was the lack of the ability to use the draft as an opportunity, as a jumping off place for forming the next year's roster, resetting in the off season like many of our clubs do. The inability to kind of have a trademark associated with active players in and around the draft, those were voiced, I thought, very articulately and certainly had a factor, a strong factor in what we ultimately decided to do.
One of the things that went into the decision to create a new lottery system was for the advantage of the seven clubs who aren't resuming play, including Buffalo, that they have the ability to engage with their fan base during that long pause between games, and we thought the draft lottery was a way to create excitement, create a way for those teams to engage with their fan base, get some certainty early on and not go into kind of a long slumber of creating noise and buzz over the summertime.
In terms of getting ready for next season, I'd go back to what Gary said. We have to – we're dealing with a lot of issues right now. Obviously we're going to be sensitive to issues like the ones you raised. Competitive, obviously our hockey operations department is focused on that. We'll focus with the NHL Players' Association on that. And there may very well be different off season rules because we've never been in this type of situation before, and unique situations sometimes necessitate unique measures.
We'll see how to approach that. Obviously we'll be sensitive to those issues. We'll make the best decisions we can at the time.
Q. Bill, I was wondering how much thought has gone into the composition of rosters and who might be eligible to play in these games when they come in, the college kids who are signing the contracts or maybe even players from Europe who are eligible to sign contracts, whether they could be included in any way. And for Gary, Governor Cuomo today said that Long Island was phase 1 reopening tomorrow. Is it your understanding that that will include construction at the Belmont Arena, and is it your understanding whether the Islanders will be able to complete that project on time with the delay they've had?
BILL DALY: So with respect to the new player question, very fair question and one we're getting regularly from our clubs. I can tell you that as of right now, our position, and this is something we're going to have to ultimately resolve with the NHL Players' Association like so many other contractual issues, but our position, the League's position right now, and our position with our clubs since the start of the pause, is no club is entitled to sign a current year contract. They are free to sign future year contracts, so for the 2020 21 season and beyond, perfectly fair game. But it would be our position, particularly given the advanced date and given the fact it could affect a lot of the players who might now be able to play the balance of the season, it may be unfair to let them play the balance of the season. We've progressed past the trade deadline. Each team has kind of set its roster. Its roster reflects and everybody will come back healthy, which is a benefit to the teams — its roster really reflects its efforts in the 2019 20 season. And to add a couple of, for lack of a better term, "ringers" when you're going into the Playoffs is not the best way for sports to proceed in our view.
GARY BETTMAN: I concur completely, and with respect to your Belmont question, and I apologize because I think for all of us the days tend to blend together, I think they've either resumed construction at Belmont or they're about to, but the building is proceeding, and I'm told it will still be on time or close to on time. So that shouldn't be an issue.
Q. I've got one kind of simple question and another more complex one. I noticed in the hub cities you've got seven Western Conference buildings and three Eastern. Is that correct? And if so, are they going to correspond to the conference they're already in? Is there some consideration to the Midwestern buildings for the East?
GARY BETTMAN: We're going to go to the places that in terms of the logistics, the health issue I talked about, the testing issue I talked about, the governmental issues we talked about, we're not hung up on east west. For TV scheduling it may be better if we're in different time zones, but we're going to go to the places that we think are the safest and make the most sense medically at the time.
Q. And then following up on one of your responses earlier, I understand obviously this season is going to conclude much later than normal and likely next season also with the late start. Have you guys weighed any sort of thoughts as to how and when you might readjust in the future to a more traditional kind of October to June schedule?
GARY BETTMAN: Well, based on what we're planning for now, that's obviously not on the table for the 2020 21 season, and that experience may give us some more information and data points to make decisions going forward.
There have been a number of our clubs who have over the years suggested we shouldn't start in October, we should start in November. What we're learning through this time which is not quite normal, obviously, is there may be some flexibility in terms of the timing with which we schedule the season. We're about to learn.
Q. I apologize if these were asked, but Bill, on rosters, has there been a given number yet on what the expanded rosters will be like, and if those minor leaguers would be allowed to be put right into a lineup, or would somebody have to get sick or hurt for them to be eligible?
BILL DALY: So again, our thoughts and discussions on that, I reported on that to the general managers today. We do envision expanded rosters. Since we're really moving directly into a modified playoff tournament, players would be entitled to play immediately off of that expanded roster.
Q. In terms of free agent status, some guys need a certain amount of games to be Group 2 versus Group 6. Would these games count in that number, even the qualifying rounds?
BILL DALY: Not just yet. One of the many things that will have to be these are along the lines of transition issues, which we have experience with and which we've dealt with before with the NHL Players' Association. I don't anticipate any major issues in terms of getting to resolution on those issues, but they have to be talked about and agreed on.
Q. We know how much gate revenues matter to the teams and the league in general. Looking forward down the line, do you envision being able to start next season if that's still the case, and how much is a factor in the longer this goes that the odds might be better that you'll have fans back in the stands?
GARY BETTMAN: The issue of gate receipts is one from an economic standpoint that affects all sports. None of the major leagues are able to ignore the fact that they're not getting gate receipts. It's a significant revenue item for everyone. Not as significant to us as I read in the paper. It isn't even a majority of our revenues.
But having said that, we're planning on having a 2020-21 season that's full in all ways, and our hope is that we'll be able to have fans there. If it turns out that due to things beyond our control like COVID 19 and government regulations, then we'll have to deal with it at the time, but much like we're completing this season, we believe it's going to be important to play next season, and again, our hope and expectation is we're going to be doing it when we start, which will be later, with people in the building.
Q. In an ideal situation, an optimum situation moving forward, what's the earliest you could play? Late July, early August?
GARY BETTMAN: Yeah, I think – you know, you should view this more as a continuum than absolute dates. When we get through Phase 2 we're going to get a better sense of when to start training camp and how long we need for training camp in Phase 3, and then we'll move to Phase 4. I think it's conceivable that we're playing at the end of July, could be the beginning of August, and then playing into September, somewhere around that time frame.
It may be that things open up quicker, if players get back sooner, they feel they're in shape, that they don't want a prolonged training camp, and that we're going to take our guidance from the players on, then it'll accelerate a little bit. But I think realistically if we're in training camp mid July, that would be a good thing, and if we could be playing by the end of July, beginning of August, that would be a good thing, too. But if it has to slide more, then it'll slide.
There's a reason that we're not giving you dates now because anybody who gives you a date is guessing, and we think we'd rather take a more holistic approach to doing this.
Q. There was obviously some terrific individual performances this year, and those can't be diminished by a shortened season or a paused season. I'm just wondering if any thought has been put forward to the NHL Awards, when that might happen, and would that be a virtual production?
GARY BETTMAN: If we had to plan it today, it would certainly be virtual. It is something that our events people are thinking about because the recognition that has been earned should be given. But I think as we look at it today and the timing, I think it's more likely than not that it would be virtual. But I never rule anything in or out until I have to.
Q. Regarding the quarantine situation in Canada, does that hurt the Canadian cities' chances of being a hub city?
BILL DALY: If, in fact, we're not able to really – the interpretation of the quarantine consistent with our players' ability to travel in and not have to do a strict self quarantine in a hotel room, I don't think we'd be in a position – I shouldn't say I don't think. We won't be in a position to use any of the Canadian cities as a hub city. We're faced with having to find a solution to that, and hopefully we can.
Q. And the second question, I know you won't give me specifics on dollars and cents, but can you give me an idea of how expensive this venture is, given you won't have very much by way of revenue coming in to finish off the season?
GARY BETTMAN: Tens of millions of dollars.
Q. I was interested in seeing Los Angeles on the list of the hub cities today. That was a new addition and intriguing since they won't be one of the playoff clubs that's involved. It also got me wondering about players that are currently in cities of non playoff teams, like if a player is living in Los Angeles right now, will the Kings' facility or the Ducks' facility be open for them to participate in phase 2?
BILL DALY: We did build in to the phase protocol, you may have seen it in there, the ability of players who may not be in their home cities now essentially to use the training facilities of other clubs, subject to a whole host of qualifications the clubs have to do, subject to the same precautions and the same protocol. That's certainly a possibility. As I understand it, it happens quite regularly during the off season. This is a little bit different dynamic, so we felt like it was important at the request of the NHL Players' Association to make it available, but it will come down to the individual club specifics as to whether they can really accommodate those players on any real basis. We'll wait to see how it plays out, but as your question supposes, there is a provision in our protocol that would allow that to happen.
GARY BETTMAN: Since that was the last question, on behalf of all of us, we wish you and your families and your colleagues health and safety. Be well, stay safe, and we look forward to seeing you sooner rather than later in person.
BILL DALY: Thank you, everyone.
MODERATOR: Thank you, Gary. Thank you, Bill.