Good afternoon to you from El Segundo, Insiders. The Kings took the ice shortly before 10:00 a.m. and aligned as such after the whistle blew:
Pearson-Kopitar-Brown
Rieder-Carter-Toffoli
Clifford-Kempe-Lewis
Thopson-Amadio-Andreoff
Fantenberg-Doughty
Martinez-Folin
Phaneuf-LaDue
-The vitals: Extras were Sheldon Rempal, Kevin Gravel and Daniel Brickley. Muzzin (upper-body) took the ice and handled a few pucks after the skate concluded. Torrey Mitchell (illness), Alex Iafallo (upper-body) and Derek Forbort (lower-body) did not skate. On the flu bug that has passed through the room this week, John Stevens said "It's made its way around, but I think it's on its way out. It worries you a little bit, because it kind of catches you by surprise. But, I think we've got a good handle on it." Jonathan Quick left the ice first and is expected to start in goal. He's 17-9-2 with a 2.39 goals-against average, a .916 save percentage and two shutouts in 28 career games against Dallas.
Stevens, on whether Muzzin, Iafallo and Forbort would be ready for the playoffs: "For the first game of the playoffs? Good question. Not sure. Some of them, maybe. One of them, maybe. Two of them, maybe. All of them? No." (Forbort is the furthest from playing.)

— Jon Rosen (@lakingsinsider) April 7, 2018
-Their vitals: End of the line for Dallas, and, perhaps, goaltender Kari Lehtonen in a Stars uniform. Could this be one last bout of Kari-oke? Lehtonen, who ranks second in Dallas history with 444 appearances in net, is 15-10-2 with a 2.65 goals-against average, a .910 save percentage and three shutouts in 29 career games against Los Angeles. He shut the Kings out, 2-0, at Staples Center on February 22. Martin Hanzal (back), Ben Bishop (knee) and Stephen Johns (concussion) are out. Per Mike Heika of the Dallas Morning News, don't be surprised to see the following constellation: Benn-Seguin-Radulov, Janmark-Spezza-Smith, Roussel-Faksa-Pitlick, Elie-Shore-Ritchie; Methot-Klingberg, Lindell-Honka, Hamhuis-Pateryn. Dallas fell 5-3 in Anaheim on Friday night. "We know that it's a very similar game," Marc Methot said, as reported by Heika. "They're heavy up front. They play a good puck possession down low, and defensively, I think they're pretty strong, too. We have our hands full, we know that. And (if) you take a game off, they'll embarrass you, so we better be ready."
-A Go Fund Me page has been established to assist the families who've lost loved ones in the tragic Humboldt Broncos bus crash. Click here to donate.
-The Ontario Reign qualified for the playoffs with a 3-2 win over the San Diego Gulls at Citizens Business Bank Arena last night. Goal scorers were Brett Sutter, Jonny Brodzinski and Matt Luff, while Cal Petersen turned aside 23 of 25 shots. The 2018 Calder Cup Playoffs will mark the ninth consecutive postseason appearance by the Kings' AHL affiliate. "We were 0-6. I think a lot of people doubted us," Luff said after the game. "In the locker room, we had a good, skilled team and we were going to battle each day, step-by-step and get there. We're in second place, the second team in the division to clinch, so that's huge for us, and you know what? We're ready to make more statements."
-Players who, barring anything unforeseen, will play in all 82 games this season: Drew Doughty, Anze Kopitar, Tanner Pearson and Tyler Toffoli. Doughty is expected to play in his 328th consecutive game – the club's record is 330, set by Anze Kopitar between March 21, 2007 and March 26, 2011 – while Pearson is expected to play in his 162nd straight, Kopitar his 120th and Toffoli his 113th.
"I played all 82, and it's not easy for a defenseman to do that," Doughty said. "You see defensemen go down all the time, so I'm definitely proud of that. Yeah, very proud of that for a lot of different reasons actually."
"You take a lot of pride in taking care of your body. It's something I've learned as I've got older, how to take care of my body and how to take care of myself mentally and physically. You work hard in the summer. You know, some work differently than others and I'm one of the ones that definitely works differently. You know a lot of people didn't see it as the right thing to do, but it's kind of worked out, so I'm pretty proud of it."
-The day that Michael Amadio scored his first professional goal, he was celebrating his 20th birthday. Fresh out of junior hockey, Amadio's overtime-game winner on May 13, 2016 at San Diego gave Ontario a three-to-one series lead that they wouldn't relinquish. "I just tried to go out there and play my game and not think about like everything else going on," he said of his first exposure to pro hockey. "With the group of guys they had, it was pretty easy to come in and play. They were just like these guys. It's a lot of fun to be around. They work hard too, and it's easy to feed off them and want to contribute that way."
It's not too different of a scenario he's currently experiencing. Amadio, who is expected to play in his 37th game as an NHL rookie tonight, was inserted back into the lineup by John Stevens last Friday in Anaheim, and if he remains on the lineup card when the playoffs begin next week, the team will have full confidence in his ability.
"I think if you look at Michael, we took him out of the lineup and brought him back in in a tough game, and he really came in and had an attitude like he wanted to make a difference," Stevens said. "What we want to see with these young kids is come in and have a real competitive nature to their game. He knows he's got to be responsible without the puck, he knows he's got to give us quality minutes, he knows when we go on the road, he's going to play against whatever match-up they decide to play him against, and in order for us to play the game we want to play and play with pace, we're going to need some real productive minutes out of him and his line. He's been very responsible with that thought, and I think we all know that he's got some really good offensive abilities. You can just see it in his game where he's got composure with the puck, and he's got ice water in his veins when it seems to be crowding around him there. But he's been really responsible in terms of the way he positions himself and being on the right of pucks. I think that's what's allowed him to play, and I think with these young guys, you just want to see that competitive nature come out when the game gets really competitive."
The larger picture never overwhelmed him when he debuted in the AHL postseason or when he had scored 50 goals for the OHL's North Bay Battallion earlier that season. That focused mindset – and the defensive wherewithal that serves as the lifeblood of any coaching staff's faith – will help him avoid becoming starry-eyed when he gets his first taste of the Stanley Cup Playoffs.
"It's huge obviously to clinch playoffs there and it's a great honor to make it," Amadio said. "We have a great group of guys here, great leaders to look up to and it's been a really fun year and hopefully it continues."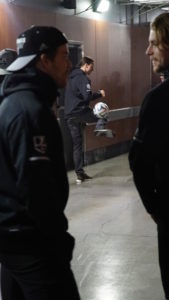 -More LAKI soccer coverage: Oscar Fantenberg, of Ljungby, Sweden, is an Arsenal supporter.
He also keeps close tabs on the Swedish national team, which made his pre-game meet, greet and warm-up soccer game with Swedish legend Zlatan Ibrahimovic a once-in-a-lifetime experience.
"Yeah that was pretty much best day of my life, I would say. It was huge," he said. "I was kind of nervous to see him. I kind of choked a little bit and didn't know what to tell him or ask him or talk to so just said 'Hi, how are you,' and he was kind of shocked when I started talking Swedish to him too so I caught him a little bit off guard, so it was fun. Super nice guy."
Fantenberg, who was told by Reign coach Mike Stothers after practice Thursday morning that he'd be called up to the Kings, had to make adjustments in jumping from his more familiar 12-to-15 minutes with Los Angeles to being an ice time leader in Ontario.
"It's kind of hard, and we played three games in four nights the first week," he said. "So, it was tough but at the same scenario, it's fun. That's what you want to do. I think everybody on your team wants to play twenty minutes and be a big part of the team and be critical to the situation when you're down a goal, up a goal."
After recording two goals and nine points in 26 games with Los Angeles he totaled one goal and 13 points in 25 games with Ontario and was able to provide ample dividend from his skill set as the season progressed.
"We talked to the coaches down there quite a bit in our staff, and they thought when he went down there, he was one of the best players in the league," Stevens said. "Sometimes you send a guy down and he mopes, and sometimes you send a guy down and he takes it as an opportunity to play more and show you what he can do, and I think Oscar's taken an opportunity to really go down there and prove himself and they've been really happy with him, and he' got a couple of injury things down there, but he's played well, so we want to get him up and get him back with the team and reward him for it."
With injuries to left-shooting defensemen Jake Muzzin and Derek Forbort, Fantenberg will get an opportunity to show how he can handle playing key minutes against top players alongside Drew Doughty and could be in the mix for a similar role once the postseason opens next week.
"He's a really good player, a smart player," Doughty said. "You know the game's kind of changed from where they're not looking for smart guys as much as they're looking – I feel like these young guys, all they've got now is just skill and one-on-one type of things. They don't have the brains anymore. So, he's a guy that has a good brain on him, really good hockey sense, so I'm excited to play with him because I think we could be really good together."
That the team has similar faith isn't lost on the 26-year-old defenseman.
"It's fun to get up here and get a chance to play before playoffs, and that's where you want to be and being a part of the Kings and play the big games, too," Fantenberg said. "I'm just going to take advantage of this opportunity I've got here and make it as best I can however that is and take the chances."
-Drew Doughty, on the spike in younger players that have suited up for the Kings this season:
Yeah it's definitely looking up, looking on the upside. Some of our young guys have been amazing. A.I. coming in undrafted—great job by him. Kempe, he's going to be a stud in this league. He's going to be really, really good. We've got some other guys too obviously on the back end that have stepped up and played great for us. As a whole, it's really looking promising. We always do a good job at developing guys in the AHL and that's why they're so successful and they get the call.
-Tonight's officials are referees Francis Charron and Chris Lee and linesmen Ryan Daisy and Pierre Racicot. Gavin Stevens will perform the national anthem. Lots more to come from Staples Center, Insiders. Let's talk soon.
-Lead photo via Juan Ocampo/NHLI
Great to say "thank you" to Gary Evans for his 34 years in LA and an off-ice official. He retires after Saturday's game. This photo was taken a few minutes ago in our Press Room. pic.twitter.com/OnK7y2PGFc

— LAKingsPR (@LAKingsPR) April 6, 2018