Good morning from El Segundo, Insiders. It's a special day at Toyota Sports Center as the Los Angeles Kings and Vegas Golden Knights have completed their morning skates in advance of today's 5:00 p.m. rookie game. Daryl Evans and I will handle tonight's call on LAKings.com; puck drop is scheduled for 5:08 p.m. Attendance is $10, with proceeds benefiting Kings Care Foundation. Fans will be able to line up to enter beginning at 3:30 p.m.
It's a big day for both teams. For Los Angeles, these are the first home rookie games since 2015, but for Vegas, these games represent the first completely structured team games since the Golden Knights joined the NHL as the 31st club.
Golden Knights in the Golden State pic.twitter.com/3QMWfrMmav

— Jon Rosen (@lakingsinsider) September 12, 2017
Rookie camp lineups! The Kings did not hold Actual Line Rushes this morning, but color-coded jerseys earlier this week at practice indicated forward groups of Watson-Iafallo-Imama, Luff-Anderson-Dolan-Maillet, Weinger-Walsh-Rymsha and Schmalz-Marincew-Iverson. Defensive pairings remained fluid, but because Chaz Reddekopp, Clayton Kirichenko and Markus Phillips remained on the ice for extra work this morning (with goalies Matthew Villalta and Tomas Sholl, and forwards Sam Kurker and Hunter Garlent), they're likely out. Expect Kale Clague, Jacob Friend, Jacob Moverare, Sean Walker, Stepan Falkovsky, and Matt Roy to fill out the blue line today, with adjustments made for Wednesday's game.
Goalie Cal Petersen will get the nod in net and, though it wasn't confirmed, should probably go the distance as coach Mike Stothers said that he always anticipates that the goalie he starts will finish the game. Stothers is most looking forward to his group utilizing their teachings and applying them to game settings. Practices can always be mapped out, but coaches get a much more "true evaluation" about their players when resistance and physicality is truly implemented, as he described it.
Special teams can be a challenge to implement for the rookie games because of the constant stream of structural information jammed down the players' throats throughout rookie camp, but the games do serve as a good base from which to start and make tweaks and improvements to the power play and penalty kill. Expect the familiar hockey term of "keeping things simple" to apply on the power play. There are often lots of penalties in rookie games, so there should be plenty of 5×4, 4×4 and 4×5 work over the coming 36 hours.
More importantly, Stothers is looking for his group to compete hard and win the majority of the battles. They'll face resistance from a Golden Knights group that should line up thusly (via Vegas Golden Knights Insider Gary Lawless): Tyler Wong-Reid Duke-Alex Tuch, Alex Barre-Broulet-Cody Glass-Tomas Hyka, Patrick Bajkov-Nick Suzuki-Keegan Kolesar and Jayden Halbgewachs-Ben Jones-Lucas Elvenes. Defensive pairings are expected to be Nic Hague-Jake Bischoff, Nikolas Brouillard-Dylan Coghlan and Keoni Texeira-Will Warm/Dmitry Osipov. It is possible that Logan Thompson ('97/Brandon Wheat Kings) and Jiri Patera ('99/HC Ceska Budejovice) could split the starts in net over the two games. Lawless' preview can be found here.
More from Boko Imama, Jaret Anderson-Dolan and Kale Clague, the latter of whom is a teammate of Golden Knights prospects Thompson, Dmitry Osipov and Reid Duke: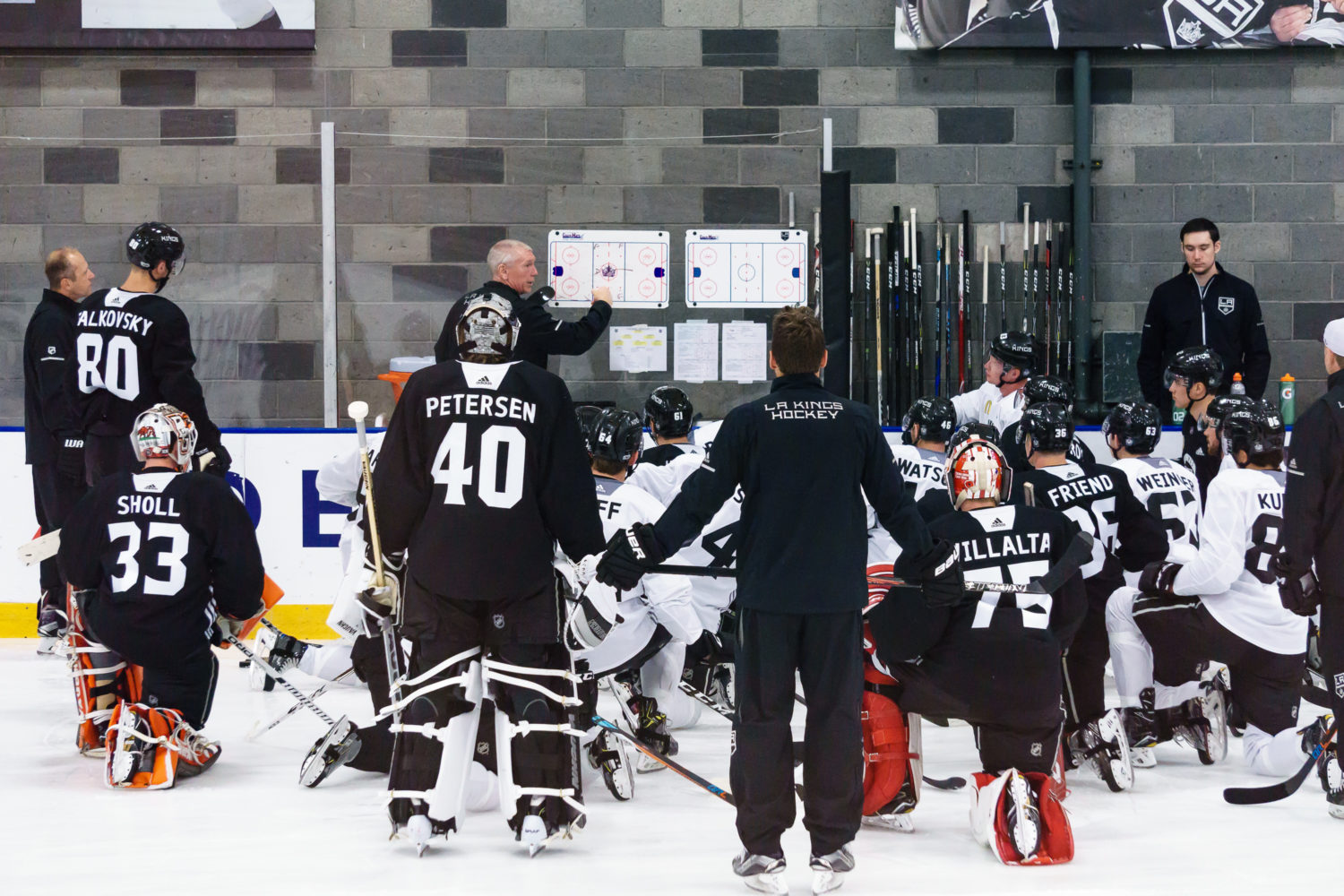 -Lead photo, bottom photo courtesy Jon Bradley