Fourth Round, 103rd overall:
Mikey Anderson
Position: Defense
Shoots: Left
DOB: 5/25/99
Height: 5'11
Weight: 197
Hometown: Fridley, MN
NHL Central Scouting final ranking: 51 (North American skaters)
NHL Central Scouting midterm ranking: 56
Bob McKenzie's final ranking: 74
Stats (USHL-Waterloo): 54 GP, 5-29=34
Twitter:
@miklovin8
Committed to Minnesota-Duluth
Via Corey Pronman of ESPN Insider (Subscribe to ESPN Insider here):
Anderson was very impressive all season and was the top 17-year-old defenseman in the USHL. Before I get to the scouting bits, an important note: No, he does not go by Mike or Michael — it's Mikey. Anderson is a sound, two-way defenseman. Defensively, he's a rock, with great gap control, good reads and a willingness to sacrifice the body. He shows good vision transitioning the puck up ice and solid stick skills when evading pressure. I'd like to see a more explosive gear in his skating, particularly for a player under 6-foot. His point production and shot generation were impressive this season, and he might have more offensive upside than some believe. He will join his brother — and New Jersey Devils prospect — Joey Anderson at Minnesota-Duluth next season.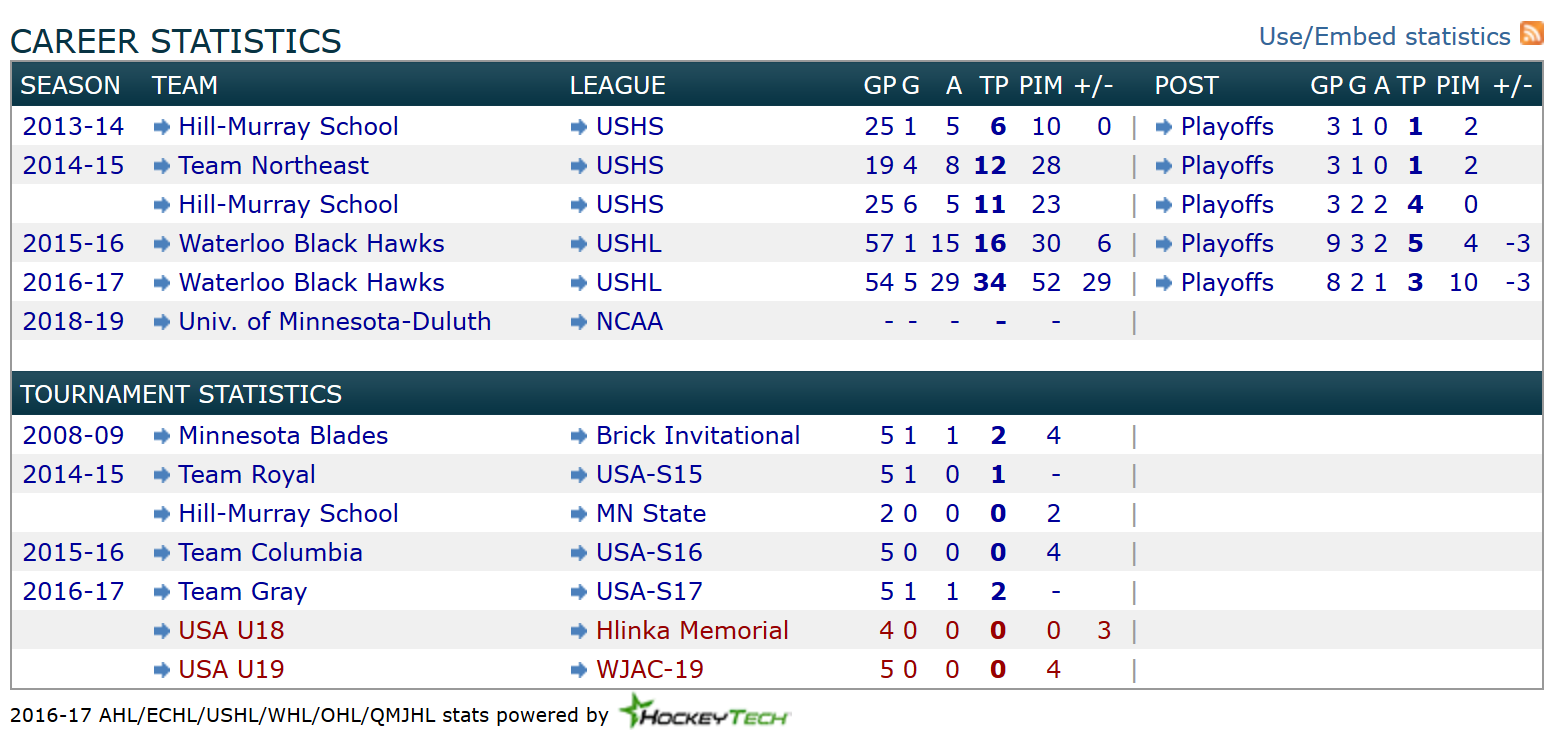 Via the Duluth News-Tribune:
Mikey Anderson, who turns 18 in May, is in his second season in Waterloo. The 6-foot, 196-pound defenseman posted 16 points in 57 games last season and through 13 games this season has eight points, including a plus-10 rating. He's also playing 30-plus minutes a night.
"He's got a really good active stick," Waterloo teammate Swaney said. "Offensively, he is starting to produce more. Last year he had the role playing the defensive side of the puck more. Now he's getting opportunities to play on the power play. It's really starting to show that his game is more diverse."
A USHL coach tells me this about Anderson: "high character kid, excellent defender, ultra competitive and real good sense for the game"

— Jon Rosen (@lakingsinsider) June 24, 2017
On his skill set as a hockey player:
I'd say I can be a two-way defenseman. I'm more defensive, I'd say. I'm still able to create some offense, but I'd definitely say I'm more of a defensive defenseman.
On growing into a leadership role and showing character with USHL-Waterloo:
I try and just work as hard as I can, be as good of a teammate as I can, and I feel like that's one of my key attributes is my character and the way I try and approach the game, so I try and just take it day-by-day and make everyone better every day and do what I can to help the team.
On whether he's ever been to Los Angeles:
Nope, never been anywhere warm, so I'm excited. Very excited.
On what he'll try and reinforce in his game as he develops:
Trying to just keep it simple. I feel like I play my best when I;'m just making simple plays, and overall I just try and stick to what I do best and that's gotten me here, so try and stick to all those attributes I have.