The 2017 NHL Draft is not being heralded as one expected to bear an extensive amount of ready-to-eat fruit. It is not the 2003 draft. There may be two tiers of players already chosen when Los Angeles selects 11th, should it retain that pick. The first cutoff comes after Nolan Patrick and Nico Hischier are off the board, and that next group could feature players such as Gabe Vilardi of OHL-Windsor, Cody Glass of WHL-Portland, Casey Middelstadt of USHS-Eden Prairie and perhaps Liiga-HIFK Miro Heiskanen shortly after the Patrick-Hischier cut-off. From there, there are some deficiencies in certain players games, and it's more likely that you'll begin to see players rise and fall. With the 11th selection in a diluted draft, there may not be as much consensus as in previous years, and though the Kings will have already established a draft list, the range of players LA could select appears to be a touch broader and backed by a less sturdy consensus than you might see in deeper draft years.
There may be others available at 11 that the Kings are more intent on selecting, but one player who could very well be available at that slot is Suzuki. The Kings aare already known for their OHL connection, strengthened by former Owen Sound GM Michael Futa. That won't impact his standing on the Kings' draft board as much as his attributes, which are spelled out nicely by draft guru Corey Pronman ($).
Via ESPN.com (subscribe to Insider here):
Suzuki was consistently impressive and one of the top overall players in the OHL this season. The first thing any scout will say about him is to praise his hockey sense. He sees the ice very well as a playmaker, but his ability to make quick, creative and correct decisions consistently helps him make a dangerous two-way force. Suzuki can make a difficult open-ice dangle or a quick chip to get the puck up and to the right spot. Defensively, he's solid on his positional play, winning battles without taking penalties, and he is a shorthanded scoring threat to boot. His skating technique isn't sublime, but I wouldn't categorize him as slow — maybe just a little awkward in how his feet get him where he's going. However, his top speed is fine. At the end of the day, he's one of the smartest players in the draft, and that means a lot when projecting a player into the NHL. However, given his subpar size and skating, that means he'll be another data point in the experiment of how far elite smarts can take you.
Pronman has Suzuki ranked fifth, which is among the higher slots you'll see him projected. Towards the other end is McKeen's Hockey ($), which ranked Suzuki 16th.
Via McKeen's Hockey (subscribe here):
You may wonder why he is not higher up this list and it is fair to ask that question. Outside of his physical game, he is above-average. The London native is a superb skater who is able to use his feet to create room for himself in the offensive zone. His wrist shot is lethal anywhere from the hashmarks on in. He is also adept at letting one rip while his feet are still in motion.

Although he can sometimes fall into habits of trying to win the game on his own, he is a talented playmaker, a trait that should be even more effective once he is playing with the higher caliber of talent in the professional ranks. And as you may have guessed through his penalty kill prowess, he has a high level of hockey intelligence. He makes sound decisions away from the puck and can be used in all manpower situations.
Though he's still somewhat of a project – born on August 10, 1999, he's only a month and five days ahead of the draft day cut-off – he possesses what the Kings are currently searching for and cultivating under the new regime: creativity, skill and quickness. He also grades extremely well for his hockey sense. Pronman lists Suzuki as the player with the best Hockey IQ in the draft; he also ranks Suzuki as the second-best passer, while McKeen's Hockey ranks him as the fifth most skilled player. Though he's not overly physical, he's regarded as a responsible and highly competitive two-way player – in line with Pronman, Future Considerations notes his hockey sense as "elite" while also praising his motor and defensive work – and scored five shorthanded goals as a regular fixture on Owen Sound's penalty kill.
Having finished fifth in the OHL with 96 points (45-51=96), and by recording just one minor penalty over his last 26 games, Suzuki also won the William Hanley Trophy as the league's most sportsmanlike player. He was the Attack's representative on the OHL's Scholastic Team and was a finalist for the league's Scholastic Player of the Year.
Nick Suzuki
Team: Owen Sound Attack (OHL)
Hometown: London, Ont.
Position: Center
Height: 5'11
Weight: 183
2016-17 points: 65 GP, 45-51=96, +51, 10 PIM
NHL Central SCouting: 10 (North American skaters)
International Scouting Service: 11
TSN/Bob McKenzie: N/A (Bob is yet to release his final list)
TSN.ca/Craig Button: 11
ESPN.com/Corey Pronman: 5
NHL.com/Mike Morreale: 16
McKeen's Hockey: 16
Future Considerations: 19
Newsday/Arthur Staple: 11
CSN New England/Joe Haggerty: 13
NJ.com/Chris Ryan: 12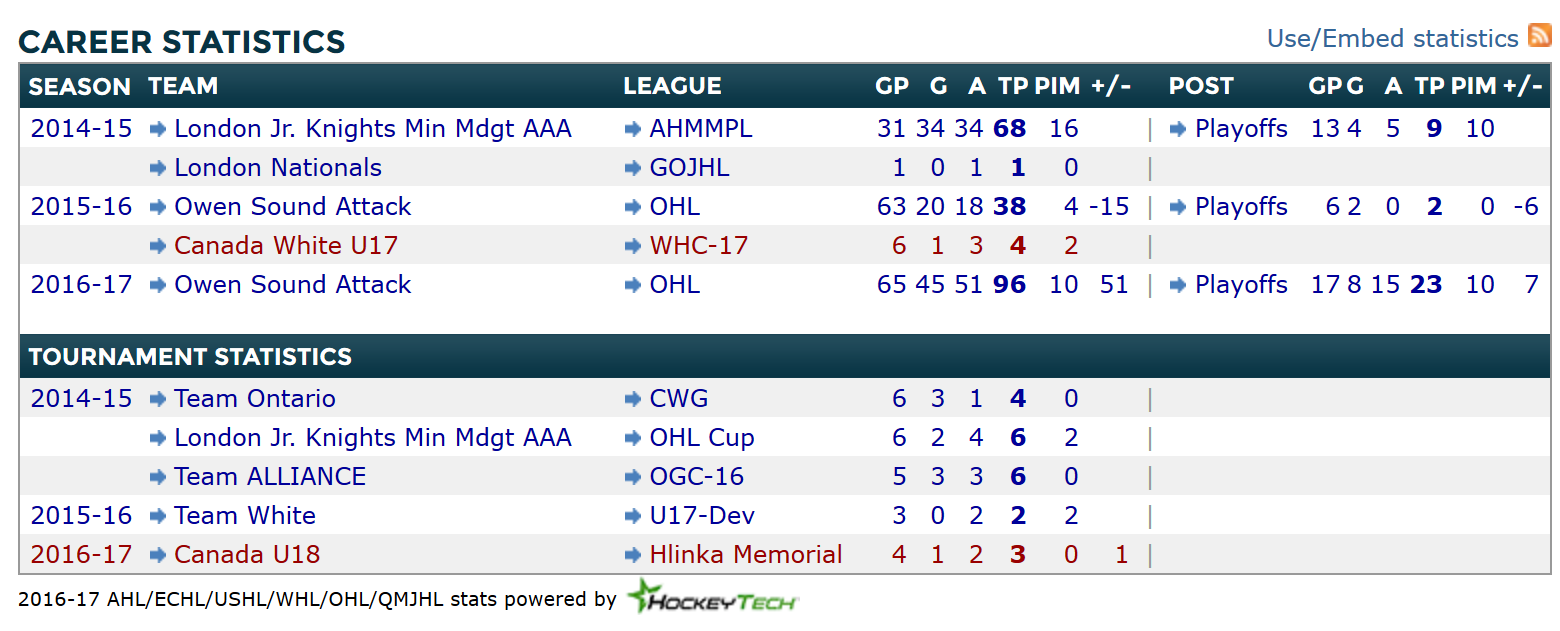 The Los Angeles Kings are slotted to pick 11th when the first round of the NHL Draft kicks off next Friday in Chicago, Ill. They might take Owen Sound forward Nick Suzuki with that 11th pick. They might not! As part of the Royal Lineage feature, which debuted two years ago and culminated in the team trading its first round pick, LA Kings Insider will familiarize you with a small handful of players who have come up in correspondence and may be among those available when the L.A. brass strides to the podium at the United Center.