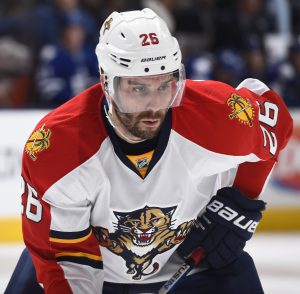 As first reported by Pierre LeBrun, the Kings have signed forward Teddy Purcell to a contract; via hockey operations, it's a one-year deal worth $1.6-million.
This signing is designed to off-set some of the production lost by Milan Lucic's Edmonton escapade. It obviously doesn't come with the same impact as a new Lucic contract would have, but for an under-the-radar, sub-$2M signing of a forward who can play in a team's top-six, it makes sense. Purcell is coming off a 14-goal, 43-point season in which he logged a minus-11 rating and 12 penalty minutes in 76 games and has totaled 101 goals, 305 points and a -45 rating in 554 career regular season games with the Kings, Lightning, Oilers and Panthers. He has also been a valuable possession player, having skated to a 51.2% Corsi-for rate and +2.2 CFRel% in 2015-16. He has finished with a CF%Rel in the black for six consecutive years.
He's also a strong scorer at even strength, having totaled 10 goals and 29 points in 5×5 play. To put that in context, if those 5×5 points came with the Kings, he'd have placed in between Jeff Carter (33) and Tanner Pearson (29). Purcell finished with an average of 2:31 of power play time and 32 seconds of penalty killing time as part of his average time on ice of 16:49.
Los Angeles had explored trading for Purcell at the trading deadline, though negotiations with Edmonton stalled when Nikolai Prokhorkin would not sign a contract and commit to playing in North America. Purcell was ultimately traded to Florida for a third round pick. The winger who turns 31 in September was originally signed by the Kings in March, 2007 after one year at the University of Maine and, based on conversations with hockey operations, had stronger advocacy in the front office than the backing from Head Coach Terry Murray during his 91-game L.A. tenure. He was traded to Tampa Bay along with a third round draft pick in March, 2010.
Purcell is also a favorite of those working on behalf of the team's community relations, having previously served as a major factor in Kings Care Foundation outreach.
It's a bit misleading to continue to provide financial information, because there are too many players under serious consideration for roster spots, and there will still be personnel movement in advance of the start of the season. But with Purcell's signing, the Kings have allocated approximately $72.51M to 23 players for the 2016-17 season, figures that include Mike Richards' cap recapture and the cap hits for Greene, Zatkoff and Latta. The 23 combined cap hits do not include the contracts for Kevin Gravel ($668K), Michael Mersch ($787K) or Nic Dowd (RFA), three rookies with the best opportunities to earn a spot on the team, nor does it account for Zach Trotman's $650K. Should these players unseat a more expensive asset already under contract, the team's combined payroll could be reduced further. Teams may have up to 23 players on the active roster; the 2016-17 salary cap has been set at $73M.
Keep in mind that had Los Angeles re-signed Lucic, they would've been in a position to trade a younger forward for a younger defenseman. With a bit of a roster musical chairs situation at the moment, it would not come as a surprise if the team chooses to move an excess forward under contract to bring in additional defensive reinforcement.