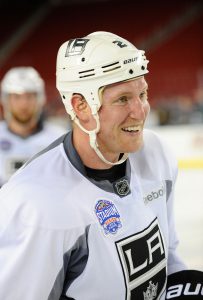 Via TSN's Bob McKenzie, Matt Greene has been placed on waivers, likely for the purpose of a buyout.
Greene, 33, was limited to three games in 2015-16 because of a shoulder injury that necessitated surgery in December. The alternate captain returned to practice in a limited capacity late in the year before he was shelved again after undergoing a minor surgical procedure on his elbow in March. In correspondence with hockey operations late in the season and early in the off-season, it was learned that Greene was advanced in his recovery from the surgeries and expected to be ready for the start of the new season, so LTIR wasn't an option at the team's disposal.
If this is the end of the line for Matt Greene in silver, white and black, it's difficult to see his Kings tenure conclude in such a way. One of the team's premier penalty killers and stalwart defenders during a period in which Los Angeles won two Stanley Cups and advanced to a conference final, Greene was an esteemed veteran who served as a steadying presence for those around him and a wonderful influence, both in-season and off, on the younger players who looked to latch on to the team's culture. There were obviously injuries and limitations in his mobility in the last several years, but his accomplishments prior are how he will be remembered as a King, should this be the finalization of his playing time in L.A. Keep in mind that Greene re-entered the lineup for Game 7 of the San Jose series in 2014 and, after a 5-1 win, appeared in all four wins against Anaheim, Chicago and New York. He was on the ice when Alec Martinez scored in double overtime on June 13 that year.
As for the financials, Greene's hypothetical buyout would necessitate a cap hit of $833,333 for the next four seasons. Because he signed a four-year, $10M contract after the 2013-14 season, that would save the club 1,666,667 in salary cap space over the next two seasons but cost $833,333 against the cap, as mentioned, in 2018-19 and 2019-20.
Based on financials provided by General Fanager, the Kings have allocated approximately $65.51M to 18 players for the 2016-17 season, dollar figures that include Mike Richards' cap recapture and settlement. The 18 combined cap hits do not include the contracts for Kevin Gravel ($668K), Michael Mersch ($787K) or Nic Dowd (RFA), three rookies with the best opportunities to earn a spot on the team. Should they unseat a more expensive player already under contract, the team's combined payroll could be reduced further. Teams may have up to 23 players on the active roster; the 2016-17 salary cap has been set at $73M.
In 589 career NHL games, the Grand Ledge, Michigan native has accounted for 16 goals, 78 points and 644 penalty minutes. With Los Angeles, Greene, who was acquired with Jarret Stoll from Edmonton for Lubomir Visnovsky in a June, 2008 trade that established a load-bearing pillar of team culture and the establishment of a hard, defensive-oriented identity, the right-shot defenseman accounted for 15 goals, 65 points, a +18 rating and 439 penalty minutes in 438 regular season games. He has appeared in 79 playoff games, 61 of which were with the Kings.