"No way. No way. No way."
If you weren't watching Game 5, that was Matt Harvey's reaction to whatever Terry Collins was telling the pitcher during the bottom of the eighth inning in Queens last night. Presumably, it was information that Jeurys Familia would be pitching the ninth inning after Harvey had thrown 102 pitches through eight shutout frames and anchored a 2-0 lead in front of a raucous Citi Field crowd that looked to celebrate the extension of the World Series. Dodger fans remember those manager-starting pitcher interactions with Don Mattingly, Clayton Kershaw and the St. Louis Cardinals as the primary actors. I'll show myself out.
Harvey walked Lorenzo Cain and allowed a double to Eric Hosmer before he was removed for Familia, who suffered a somewhat unfair blown save as Hosmer scored the game-tying run on a groundout to third base in which first baseman Lucas Duda airmailed a throw home. Kansas City won 7-2 in 12 innings, continuing a fairly solid run in recent years by monarchy-themed sports teams, and presumably leading to some to-be-written #pleaselikemysport think piece about how hockey players would never defy their coaches like Harvey did with Collins. 1) "This isn't baseball." 2) Congratulations, Flubber McGee!
Your LA Kings Insider weather report lists a high in Chicago of 70 degress on November 2, and a high in St. Louis of 75 degrees on November 3. That is excellent. Not quite as excellent: there are so many rooftops visible from this north-facing Chicago hotel room, but I'm not sure if I can spot one Munters unit.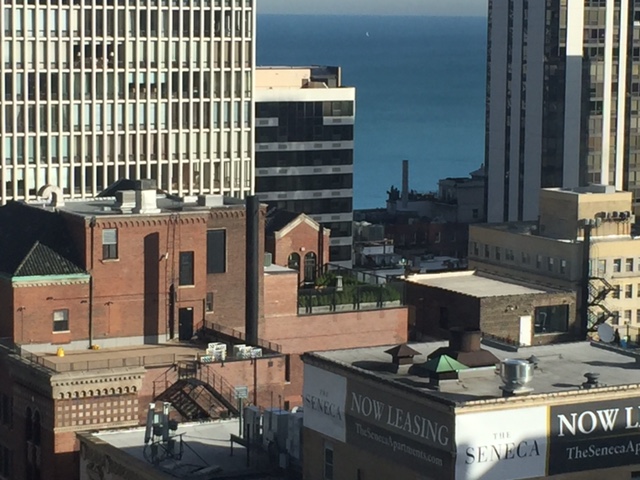 Sure, there appear to be a bevy of air conditioning units, but nay, no Munters are visible. Chicago, you have officially been taken down a peg. A full peg. Here's our fascinating landing video:
Good to see you, Central Standard Time.
It was a beautiful take-off from LAX and approach into MDW that brought our plane south of downtown and over Lake Michigan before it circled back over the city and towards the airport. As for the take-off, we usually don't fly so directly over central Los Angeles. Several pictures from the left (port?) side of our aircraft are below.
Beverly Hills, Culver City, West Los Angeles and Mid-City: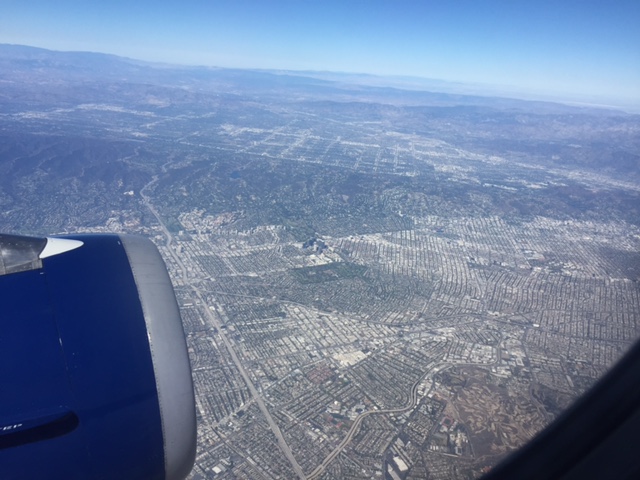 East Valley, Cahuenga Pass, Hollywood and beyond: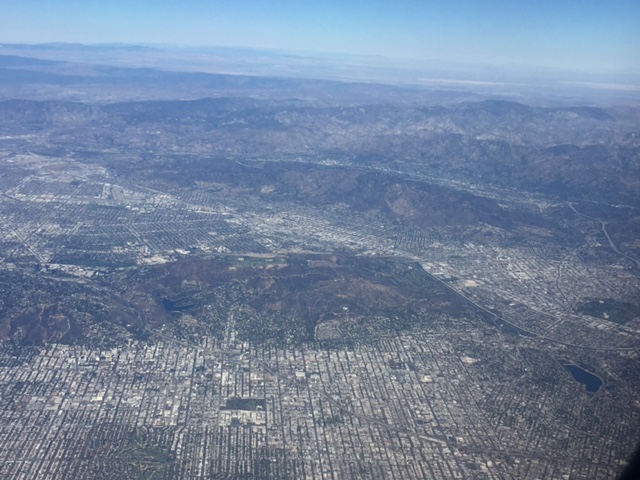 The Kings will be on the ice at 11:30 this morning, though we'll be on hand at the United Center a touch earlier for the tail end of the Blackhawks' skate and media availability. Duncan Keith is out after undergoing knee surgery, and Marian Hossa is questionable for tonight's game. Hello, Artemi Panarin. There's lots more to come on a busy Monday in the Windy City.