JUSTIN WILLIAMS
This season: 81 games, 18 goals, 23 assists, 41 points, 29 penalty minutes, +8 rating, 15:49 time on ice
The good: Before analyzing Justin Williams' campaign, it's worth understanding that in 2014-15 the forward that he saw the most time with was Jarret Stoll, and in all previous seasons with the Kings except for 2009-10 (Ryan Smyth), the forward that he saw the most ice time with was Anze Kopitar. Though Stoll did start a greater percentage of shifts in the offensive zone, he is not Kopitar, nor does he have Marian Gaborik as a left wing. Despite the occasionally less skilled linemates and over a minute less of ice time per game, Williams' 41 points were only two points off his 2013-14 pace. This is sustained, in part, by inflated assist totals on the power play; despite averaging 43 fewer seconds of power play ice time per game, Williams' power play totals were six points better in 2014-15 than 2013-14 (4-9=13 / 4-3=7). He's still a top play-driving forward, even if his numbers were slightly below the possession rates he had posted in recent years. It's almost strange to think that Williams was so injury prone in the adolescence of his NHL career; when he missed the November 6 game against the Islanders due to an eye injury, it was the first regular season or playoff game he had missed since the beginning of the 2011-12 season and ended a string of 225 consecutive regular season games played. Though his shots were down, he can still pick his spots and score; Williams .77 goals/60 was upheld by a 10.3% shooting percentage, tied for his highest seasonal rate as a King. Darryl Sutter also liked the way he sets an example for younger players. "I think Justin's professionalism, leadership, experience, work ethic, practice habits, game preparation all those, if a young player doesn't learn from that, then he's not trying to get better in this league," he said in March.
The bad: Apart from the absence of playoff hockey that tends to bring out his best, Williams' shot totals were down. His 140 even strength shots on goal gravitated closer to his shot totals over 48 games in 2012-13 (125) and 49 games in 2009-10 (117) than the 236 games played between 2013-14 (188 ES shots), 2011-12 (187) and 1010-11 (174). In all situations, Williams took 65 more shots on goal in 2013-14 than 2014-15 despite playing in only one more game. He didn't have a particularly strong start, finishing with two points in April, and endured a 21-game streak between January 17 and March 7 in which he totaled only five points (3-2=5) and a minus-10 rating. He finished the season on a 12-game goalless drought. Those streaks happen in any season though, and really, Williams' 2014-15 season was more or less the aged-by-one-year version of his 2013-14 regular season.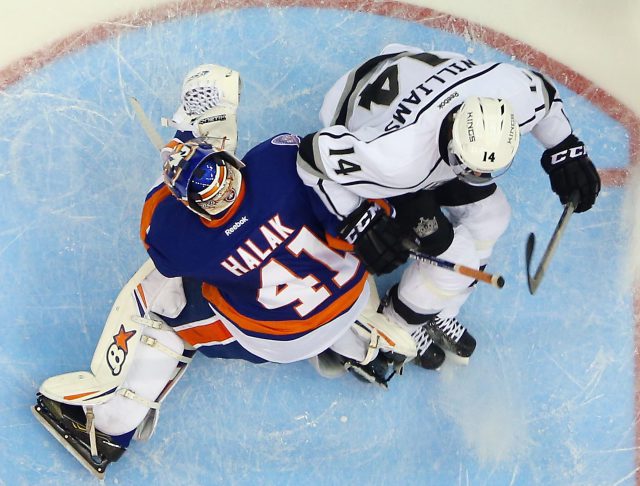 Going forward: It's looking more likely than not that the 2014 Conn Smythe Trophy winner will end his stint in Los Angeles having played in 500 regular season and playoff games and lifted two Stanley Cups. Acquired for Patrick O'Sullivan and a second round draft pick in a March, 2009 three-team trade, Williams served as a shifty, competitive and productive character leader whose arrival (not by chance) coincided with the club's rise to becoming an elite possession team. Because $64.15M is allotted to 17 players ($59.98M / 16 players if Slava Voynov's contract is removed) for the 2015-16 season and the salary cap is expected to be in the range of 70-71 million, the Kings don't have the cap space to re-sign Williams unless a current player under contract for next season is traded or bought out; defenseman Andrej Sekera (UFA) and forward Tyler Toffoli (RFA) appear to be among the team's priorities. There are also promising (and inexpensive) forwards coming up from AHL-Manchester capable of battling for a greater share of ice time than may have been available before. If Williams does, in fact, sign elsewhere, he'll leave Los Angeles as an accomplished and ultracompetitive possession player and future Legend's Night honoree.
Player evaluations: #2 MATT GREENE | #3 BRAYDEN MCNABB | #5 JAMIE MCBAIN | #6 JAKE MUZZIN | #7 ANDREJ SEKERA | #8 DREW DOUGHTY | #10 MIKE RICHARDS | #11 ANZE KOPITAR | #12 MARIAN GABORIK | #13 KYLE CLIFFORD
2014 Williams evaluation
2013 Williams evaluation
2012 Williams evaluation
2011 Williams evaluation
2010 Williams evaluation
2009 Williams evaluation
Advanced stats courtesy of War-on-Ice, Stats.HockeyAnalysis.com