ANZE KOPITAR
This season: 79 games, 16 goals, 48 assists, 64 points, 10 penalty minutes, -2 rating, 19:23 time on ice
The good: Anze Kopitar is working on two streaks. He has led the Kings in scoring for eight consecutive years and is now, for the second straight season, a Selke Trophy finalist. One of the top possession-driving forwards on the league's top possession team and terrific at using his size to shield the puck from defenders, 59.2% of all five-on-five shot attempts were directed towards the attacking net while Kopitar, a +5.2% Corsi-rel, was on the ice. His +359 shot attempt differential in five-on-five play led all league forwards, even though he was the most likely King to open a shift away from the offensive zone, having logged a -3.13% offensive zone start rate relative to his teammates. Kopitar took five minor penalties (see: Lady Byng finalist) and finished with a +10 penalty plus/minus, which ranked second on the Kings and tied for 26th in the NHL. In other words, he certainly upheld his reputation as being one of the most defensively aware star players in the league. One of the league's most durable players, Kopitar played in 79 of 82 games and has now played in 683 of a possible 704 games in his NHL career (97%). His chemistry (if not the 4.03 G/60) with fellow possession standout Marian Gaborik carried over, especially in the second half of the 2014-15 season; when the two were on the ice together, the Kings averaged 2.69 G/60 and allowed 1.76 G/60. Most importantly, Kopitar and his wife Ines welcomed daughter Neža Kopitar into the world as proud parents on the morning of March 14.
The bad: Kopitar's production at even strength fell well below previous marks set during his career, which is a bit concerning because he is in or approaching his prime. Perhaps due in part to the toll of last season's playoff run and the challenging center match-ups, Kopitar's .5 goals per 60 minutes was the lowest rate of his career, as was his 5.48 SOG/60. The struggles continued for much of the year on the road, where Kopitar totaled only four goals and 15 points in five-on-five play, and in 38 games overall compiled a minus-10 rating. For the first time in his career, Kopitar failed to score 10 even strength goals. He failed to crack 100 shots on goal at even strength for the first time in any 82-game season, and his 134 total shots were 66 off last year's pace (which itself was 30 shots below the 230 recorded in 2011-12). Though prefaced with "if you're looking to nitpick," Kopitar's declining shot production was also referenced in last year's evaluation. Given what he does on all sides of the puck, in all zones, against top competition, his offensive stagnation isn't as forefront of an issue. But when asked about his slow start – he had five goals and 12 points heading into action on December 11 – Kopitar did allude to the truncated summers that accompany the deepest of playoff runs. "Sometimes it takes a few more weeks to get going and sometimes it's tough to get going right away and that was certainly the case," he said. "I don't think I'm going to have trouble doing that next year just because of the long offseason and the bad taste in my mouth just because we didn't make the playoffs." When Kopitar was on the ice with Dustin Brown, the Kings averaged 1.73 G/60 and allowed 2.69 G/60.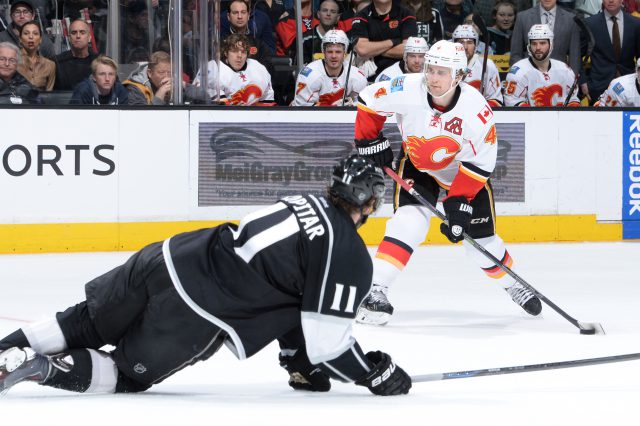 Going forward: With one year remaining on his current seven-year, $47.6-million contract, Kopitar will be eligible to sign an extension with Los Angeles on July 1. Given that the discussion last year at this time was where, exactly, Kopitar stood amidst Jonathan Toews and Sidney Crosby in the league's center hierarchy, that Toews signed an eight-year, $84M contract last July adds a little bit of simmering heat to negotiations. The Kings, who have limited personnel options under a tightened salary ceiling that may not increase much past this year's $69M cap, had not yet begun to negotiate as of late last month. Though Kopitar was an All-Star and is up for two league awards, his 2014-15 season did not represent a substantial step forward in his progress and evolution, and that's likely influenced by the simply iliadic volume of hockey the world class center has played over the last three seasons and the added burden of his rising profile within the league and the greater focus the defending champions drew from opponents, especially on the road. Kopitar turns 28 in August, and with a full summer of rest and with the prime years of his career before him, he should stand to better his offensive numbers in 2015-16 – especially those 10 even strength goals – while maintaining an elite defensive awareness that has made him one of the league's premier checkers and defenders amongst top forwards. His improvement in goals will be determined by the degree to which he sends more shots on net; given that he has a robust 12.2% career shooting percentage, next season's motto should be "Fire Away, Anze."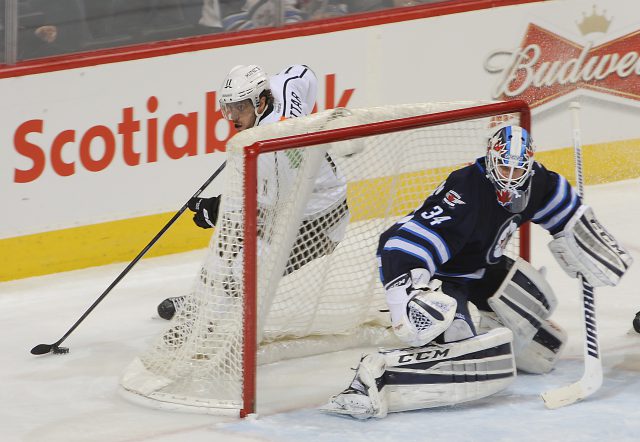 2014 Kopitar evaluation
2013 Kopitar evaluation
2012 Kopitar evaluation
2011 Kopitar evaluation
2010 Kopitar evaluation
2009 Kopitar evaluation
2008 Kopitar evaluation
Player evaluations: #2 MATT GREENE | #3 BRAYDEN MCNABB | #5 JAMIE MCBAIN | #6 JAKE MUZZIN | #7 ANDREJ SEKERA | #8 DREW DOUGHTY | #10 MIKE RICHARDS
Advanced stats via Stats.HockeyAnalysis.com and War-On-Ice