The Kings announced on Sunday that forward Justin Auger and defenseman Zachary Leslie were signed to three-year entry-level contracts.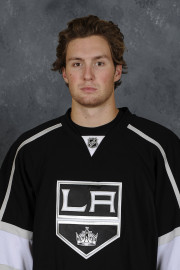 Auger, 20, has progressed considerably in his year under the Kings tutelage. Though he was one of many options up front for a offensive juggernaut Guelph Storm team, the 6-foot-7, 227-pound winger emerged with an impressive rookie camp as he protected the puck well, won battles along the boards and was able to find himself in high quality scoring opportunities with the puck on his stick during Los Angeles' rookie games against Arizona. He was held scoreless in one preseason game at Arizona and was one of the most positive stories of prospect development since his first rookie camp a year ago.
Mike Stothers, on Auger's performance in the team's first rookie game:
Augie, he's a big body. I mean, there's no doubt about it. I think he's been the last few days he's been using his size to his advantage. You know, it's hard to pick out guys because you don't want to leave anybody else out, but I think he won some puck battles for us, he had some chances, he found himself in the slot, just missed the net there at the end of the second period. But for him to be effective, he needs to use that big frame, take pucks to the net and win wall battles, and I thought he did a real good job of that tonight
As a 20-year-old, he's eligible to play for AHL-Manchester this season. Should he not make the team, he would be returned to OHL-Guelph.
Auger: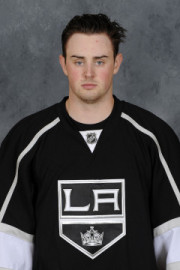 Leslie, 20, has been a teammate of Auger's in Guelph for three seasons. A versatile defenseman, he has the smarts, positioning and consitution to be a poised, professional defenseman, though his size – he's six feet tall, weighs 183 pounds and will need to continue to fill out – will arise as an occasional topic. He has a good stick, is an excellent skater, and has a skill set that contains a penchant for advancing the puck quickly up the ice and creating offense. He totaled 14 goals, 50 points and a +40 rating for a Guelph team that advanced to the championship game of the Memorial Cup.
Like Auger, Leslie will battle for a spot on the Monarchs' roster as a 20-year-old and could also be returned to the Ontario Hockey League. There is a defensive logjam in Manchester, however. Given that Vincent LoVerde, Derek Forbort, Kevin Gravel, Nick Ebert, Kurtis MacDermid, Colin Miller and an eventually healthy Andrew Bodnarchuk will compete for minutes – and there is the possibility that another NHL-experienced defenseman could be returned by the Kings, should he pass through waivers – Leslie, to perhaps a greater degree than Auger, will face a heavy challenge to make the club.
That Auger and Leslie were selected in their third year of draft eligibility and signed entry level contracts is another indication of the team's ability to scout, draft and develop talented players that may not be among the most boldfaced names from a particular region (namely, Ontario).
Leslie:

Manchester opened its exhibition schedule with 5-2 and 2-1 losses to the Portland this weekend. Today, Patrik Bartosak, Yann Danis and the Monarchs dropped a one-goal decision as Andrew Crecenzi scored the lone goal. Via Andy Tonge, Auger skated with Michael Mersch and Nic Dowd, and Leslie skated with Nick Ebert.
20 minutes to puck drop at Sullivan Arena! Preseason game vs. @PortlandPirates! #monarchs http://t.co/U0urSjvTNH

— Manchester Monarchs (@MonarchsHockey) October 5, 2014