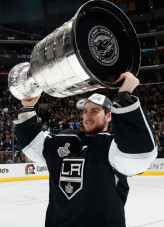 MARTIN JONES
This season: 1,095 minutes, 12-6-0 record, 1.81 goals-against average, .934 save percentage, 4 shutouts
The good: In the 24 games that followed the shootout loss in Buffalo on November 12 in which Jonathan Quick succumbed to an overtime Grade 2 groin strain, Ben Scrivens and Martin Jones compiled a 14-7-3 record with a 1.73 goals-against average, .940 save percentage and five shutouts. How good was Jones during that stretch? During the slightest breach of an otherwise airtight performance by Scrivens, Jones turned in a triumphant NHL debut by stopping all nine Ducks shooters in a 3-2 shootout win in Anaheim on December 3 and posted shutouts in three of his next five games. He tied Bob Froese's NHL record for consecutive winning games to start a career, going 8-0-0 with a 0.96 goals-against average and .966 save percentage from December 3-21. Oh, and let's talk about that debut for a moment. He didn't allow a goal until the second period, when the Kings had already taken the lead, and ultimately denied Corey Perry, Ryan Getzlaf and Teemu Selanne in the most extended shootout of the season. He stopped all nine shooters in leading the team to a deserved win – on the road at the West's eventual top seed – in a game in which Los Angeles held a 103-53 shot attempts advantage. Jones' success allowed the Kings to deal Scrivens for a third round draft pick, which was ultimately used as the conditional pick in the Marian Gaborik trade. The lanky 6-foot-4, 187 pound British Columbian wasn't exactly treated with kid gloves during the season's home stretch; among his six post-Olympic starts, there were performances at Colorado, versus Anaheim, and at Pittsburgh and San Jose, and he stopped all seven shots in his 56:25 of playoff work while spelling Jonathan Quick in losses to the Sharks and Ducks. With a selfless and humble attitude, Jones, who turned 24 in January, never had the slightest issue fitting into the team's close knit dressing room and though he won't claim the Jennings Trophy, had an impact on it ending up in Los Angeles' hands.
"Something I've worked on the last couple of years is just trying to get more flexible," Jones said in March. "You watch a guy like Quickie play, and he takes away the bottom of the net so well with that. It's something I've tried to work on and incorporate in my game a little bit."
The bad: Nothing of any real substance. He's a 24-year-old Stanley Cup winner who maintained a good attitude and fit seamlessly onto the roster as a rookie while performing well in Jonathan Quick's absence. Minor notes: Jones was 4-6-0 over his final 10 starts, though that record was more a byproduct of the team's early winter scoring slump than any deficiencies in his performance. His save percentage in 2014 was .906.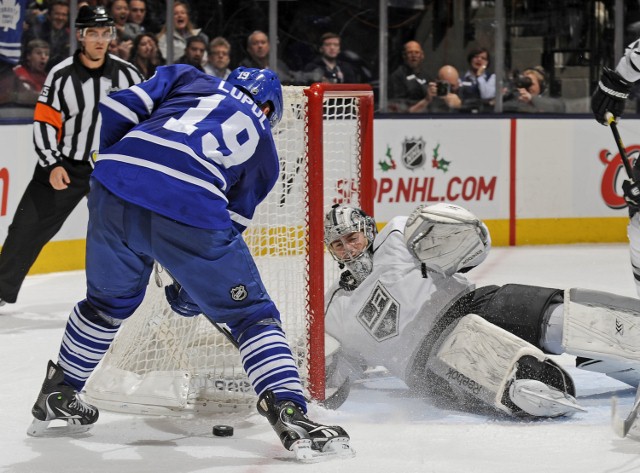 Going forward: Jones' contract carries a $550,000 cap hit this season, which should allow him to continue to provide plenty value as Jonathan Quick's backup. He's a restricted free agent after this season – along with Jake Muzzin, Kyle Clifford, Tanner Pearson, Tyler Toffoli and Jordan Nolan, and unrestricted free agents Justin Williams, Jarret Stoll, Alec Martinez, Robyn Regehr and Adam Cracknell – but is insulated from that group by virtue of his position. With 156 AHL games spread across four seasons, Jones paid his dues in the AHL and has certainly provided an encouraging first step in his National Hockey League career. The Kings can thank the Calgary Hitmen's heavy reliance on Dan Spence in the 2007-08 WHL season – Jones earned a modest 1,529 minutes in his draft year – for helping to allow Jones to go undrafted after his sophomore junior campaign. That the Kings identified him and ultimately signed him to an entry level contract after his performance in rookie and training camp in 2008 and successfully developed him into an NHL goalie (with credit to Bill Ranford and Kim Dillabaugh) is a reflection of the success hockey operations has found in establishing an appropriately-tiered system of goaltending depth, as well as the overall ceiling in Jones' game.
2014 Player Evaluations
#2 – MATT GREENE | #6 – JAKE MUZZIN | #8 – DREW DOUGHTY | #10 – MIKE RICHARDS | #11 – ANZE KOPITAR | #12 – MARIAN GABORIK | # 13 – KYLE CLIFFORD | #14 – JUSTIN WILLIAMS | #22 – TREVOR LEWIS | #23 – DUSTIN BROWN | #24 – COLIN FRASER | #26 – SLAVA VOYNOV | #27 – ALEC MARTINEZ | #28 – JARRET STOLL