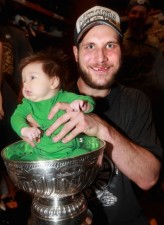 KYLE CLIFFORD
This season: 71 games, 3 goals, 5 assists, 8 points, 81 penalty minutes, +6 rating, 10:10 time on ice
The good: Kyle Clifford has been a King for four years and each year has led the team in penalty minutes. That shouldn't necessarily fall under the "good" category, but it's a place to start when evaluating the scrappy, tough, humble and competitive Clifford. His 2013-14 season was comparable to his previous three seasons with the club; at his best when forechecking effectively and adhering to a straightforward north-south game, he's an energy-providing asset who has earned the respect of other players in similar roles around the league. Another player with an excellent work ethic who embodies the selfless aspect of the team's character, Clifford has 276 NHL games and two Stanley Cups under his resume at the age of 23, and his seven points in 24 games this spring represented a solid performance during a more regular role than his injury-affected 2012 postseason. Like several teammates, he played his best hockey after returning from the Olympic break, even though his last regular season goal came on December 13. Clifford was very good in the Stanley Cup Final, totaling four points (1-3=4) against the Rangers and earning the second star in Game 1 with a one-goal, two-point performance, and is a player who averages more career points per playoff game (.3) than regular season game (.17). "Kyle played really well for us, not just because he scored, but he had a lot of energy for the game and played a really good role for us," Darryl Sutter said about his Game 1 performance. He wasn't among the team's notable possession-driving players, though he wasn't a possession drain, either, and finished with a 53.9% Corsi-for percentage that was higher than most of the other forwards he skated with. All in all, chalk it up to a Clifford-esque season for Kyle Clifford, who played his best hockey at the most important time of the year.
The bad: He's not necessarily paid to score goals, but Clifford posted career-low numbers in goals, assists and points. After a 14-point, 48-game 2012-13 season (that stretches out to 24 points if applied over 82 games), he wasn't able to sustain his scoring pace (or his shooting percentage) and finished with the fewest points out of any King who played more than 40 games. Clifford has taken only 287 career shots and hasn't deviated from averaging just over one shot per game. He generally faced easier competition when compared to some of his teammates, and his minus-13 penalty differential was second worst amongst Los Angeles forwards.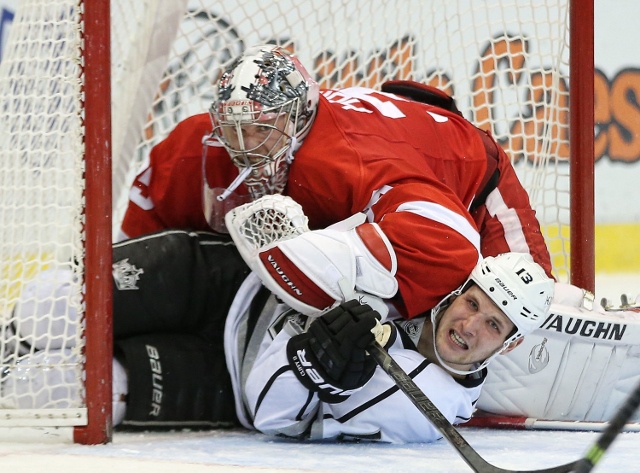 Going forward: Kyle Clifford skipped a year of junior hockey and leapfrogged the American Hockey League to play a regular and useful checking line shift as a 19-year-old on an up-and-coming Los Angeles Kings team in 2010-11, and since then has more or less held court in the role as the Kings have won a pair of Stanley Cups. While there is still the possibility that Clifford could evolve into more of a secondary scorer – an 11-goal, 22-point season isn't out of the question, is it? – he has for the most part been effective in his role as an energy forward and one of the league's better upper-middleweight fighters. He's versatile on the left side and despite his depth line gravitation has been a choice to fill in on first or second lines for the odd shift when needed, though with the emergence of fellow Barrie Colts alum Tanner Pearson, Clifford again appears to be a very firm candidate for a third or fourth line role in 2014-15. After undergoing wrist surgery in late June, he's expected to be fully healthy at training camp. Clifford has one year remaining on a contract that carries a $1.075M cap hit before he hits restricted free agency on July 1, 2015.
2013 Clifford evaluation
2012 Clifford evaluation
2011 Clifford evaluation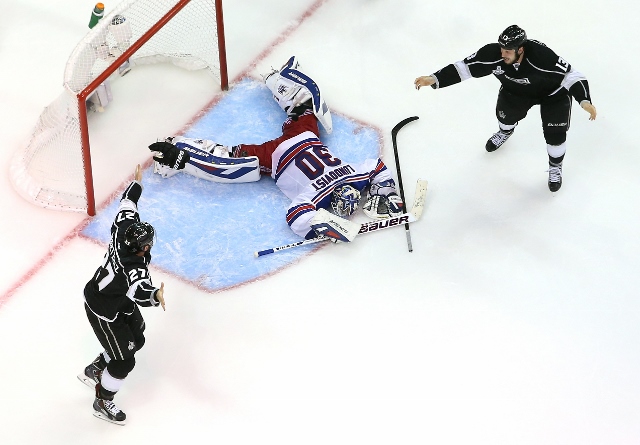 2014 Player Evaluations
#2 – MATT GREENE | #6 – JAKE MUZZIN | #8 – DREW DOUGHTY | #10 – MIKE RICHARDS | #11 – ANZE KOPITAR | #12 – MARIAN GABORIK