MARIAN GABORIK
This season: 19 games, 5 goals, 11 assists, 16 points, 4 penalty minutes, +7 rating, 17:42 time on ice (with Los Angeles); 41 games, 11 goals, 19 assists, 30 points, 10 penalty minutes, +7 rating, 17:00 time on ice (total).
The good: A search for skill and a desire to improve the club's offense brought Dean Lombardi to Marian Gaborik, who was acquired from Columbus in exchange for Matt Frattin, a second round pick and a conditional third round pick. The Blue Jackets retained half of Gaborik's salary in a late-season trade that for the second time in three years brought in a pivotal forward from Ohio while providing a better offensive balance en route to a Stanley Cup. After being held without a point in his first three games, Gaborik soared in developing a near-instantaneous chemistry with Anze Kopitar and averaged 0.9 points per game amidst a two-month span between March 13 and June 13. Partly due to his presence and partly due to a collective shooting percentage that was certain to rebound, Los Angeles' power play, which checked in at 14.2% on March 5, was successful 21.7% of the time in the span between Gaborik's arrival and the Stanley Cup ceremony. He raised the shooting percentages of those around him and despite facing tougher competition than any other King graded as well or nearly as well as any other possession-driving forward in advanced metrics. Apart from the numbers, Gaborik scored those Big Goals, and like any natural goal scorer, he scored goals in so many different forms. He drove the net to score the game-tying and game-winning goals on little chip-deflections against Anaheim in Game 1 and followed that up by a swift rush down the left wing before beating Jonas Hiller with a wristshot in the opening of Game 2. He fought off Anton Stralman to punch in a power play rebound against Henrik Lundqvist in Game 5 and drove in front of Niklas Hjalmarsson to chip in a third period, game-tying rebound in Game 7. He went three-quarters coast-to-coast and beat Antti Niemi up high with a quickly released backhand in Game 3. Using speed, finesse, and showing no reluctance to drive to the net, Gaborik scored regularly for the Kings at even strength and on the power play. Though he's not among the league's most premier defensive players, he competed well and played a very intelligent, veteran game. "Good players fit in anywhere. It's not like we have a special way we play. I mean, the teams that are still playing all play 200-foot games," Darryl Sutter said early in the Chicago series. "Marian's fit in because he plays a 200-foot game."
The bad: Whether it has been valid or not, Gaborik has had to answer questions about his health and durability at times during his career. Encouraging results have come from this question in recent years, though he was limited to 41 games after missing time due to a knee injury and a broken collarbone in 2013-14.
Darryl Sutter, on any concern that Marian Gaborik has been hurt "a lot," March 9:
He was only hurt…this year. He played a full year two years ago, and last year he missed two games. So he hasn't been hurt. He was hurt earlier in his career, so when he was a kid, maybe that's just coming over, and this year, quite honest, you look at the two injuries he's had, well, you break a bone – you break a bone, sprain a knee. [Reporter: That's just the law of averages of playing a long time.] Yeah. The best thing about him is he's played in two conference finals, and the last playoffs he was in, he played 18 games or 20 games. He's an important player.
First line players on Stanley Cup-winning teams generally don't have much listed under this category.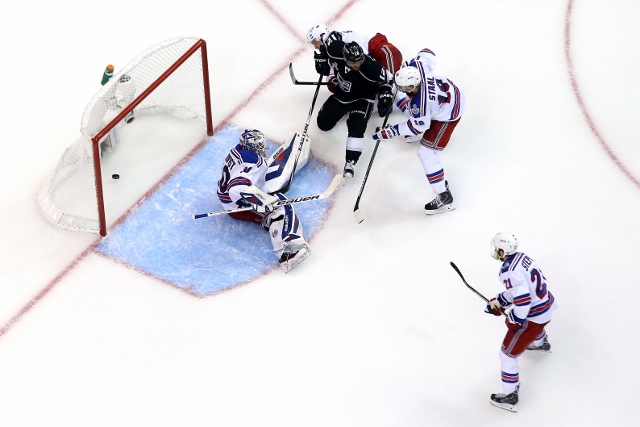 Going forward: Marian Gaborik was acquired to add skill and boost the offense, and he did just that. No longer an unrestricted free agent, Gaborik signed a seven-year, 34.125-million dollar extension that affords him plush term and the team a manageable cap rate after the 32-year-old reaffirmed that he's still among the most reliable goal scorers in today's game and a very secure fit both on and off the ice amongst an accomplished group of players. His future secure, it will be interesting to see if he's capable of reverting back towards earlier levels, such as when he posted 40-goal seasons in three out of five years with Minnesota and New York. That level of production is likely a stretch at this point, but given that he has scored on only 9.1% of his shots over the last two regular seasons – three full percentage points below his (now adjusted) career shooting percentage – it wouldn't be a surprise at all to see him progress back towards the mean and challenge Jeff Carter and Anze Kopitar for the team lead in goals. Should he remain healthy, the near future could provide excellent returns from Gaborik, given his friendly/appropriate cap hit. It's important that he's productive; he's signed through 2021.
2014 Player Evaluations
#2 – MATT GREENE | #6 – JAKE MUZZIN | #8 – DREW DOUGHTY | #10 – MIKE RICHARDS | #11 – ANZE KOPITAR