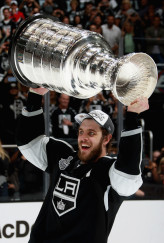 ANZE KOPITAR
This season: 82 games, 29 goals, 41 assists, 70 points, 24 penalty minutes, +34 rating, 20:53 time on ice.
The good: "You might argue that the best player, other than Kopitar, in the league is Crosby," Darryl Sutter said in Pittsburgh on March 27. Other than a raised eyebrow or two, mild attention was paid to the comment at the time. By the end of the team's playoff campaign, and after Kopitar's night in, night out effort continued to be recognized by a wider audience, it became clear that Sutter was more or less dead on. There's Crosby, and then there's Jonathan Toews and Kopitar, highly esteemed and skilled team leaders who play a reliable 200-foot game and are two-time champions in the middle of their prime. Consistency allows Kopitar's package of skills to flourish. Another conduit of the intangibles that course through the team's dressing room, Kopitar has proven to be extremely durable through his eight-year career. After missing 10 games his rookie season, he suffered a broken ankle in March, 2011 and missed the first game of the 2012-13 season after suffering a knee injury while playing in Sweden during the lockout. He has played in all other games during his Los Angeles tenure – all 604 of them – and will enter the 2014-15 season having played in 129 consecutive games. He appeared in 118 pre-season, regular season, Olympic and postseason games in 2013-14 and has now played 275 regular season and playoff games over the last three seasons despite 34 games having been wiped from the schedule two years ago. His 6-foot-3, 224-pound frame allows him to protect the puck well, particularly along the boards, where he greatly aids the possession efforts that have become a staple of the team's play. Despite facing the toughest competition out of any Kings player and along with Jarret Stoll starting the highest percentage of shifts in the defensive zone out of all Kings forwards, Kopitar finished with a plus-34 rating, and when he was on the ice, 61.0% of all five-on-five shot attempts were directed towards the attacking net for the third highest Corsi rating in the league. A Selke Trophy candidate, Kopitar won 53.3% of his faceoffs and averaged two shorthanded minutes of ice time per game. He's an outstanding back-checker, stick-lifter, and wins the majority of the 50-50 battles he enters. As would be expected from the most skilled forward and a team leader on the Stanley Cup winner, Kopitar was excellent in the playoffs. Though his production waned late, he recorded 19 points in the first two rounds and posted four points and a plus-three rating in the Game 7s against San Jose and Anaheim. Darryl Sutter seems to like him.
The bad: Not much. His 14.5% shooting percentage was a sturdy step up from his career average, so he may not pot as many as 29 goals for the second consecutive year. It doesn't matter – points on the periphery of Kopitar's range of production won't have any impact on the Slovenian's all-around package and the consistency inherent in it. If you're looking to nitpick, his shots on goal have been slightly down over the last two seasons. He took 200 shots on goal this year, a step up from last year's pro-rated amount but below his career-high of 259 from 2009-10. Already well compensated, he's a year closer to becoming very expensive.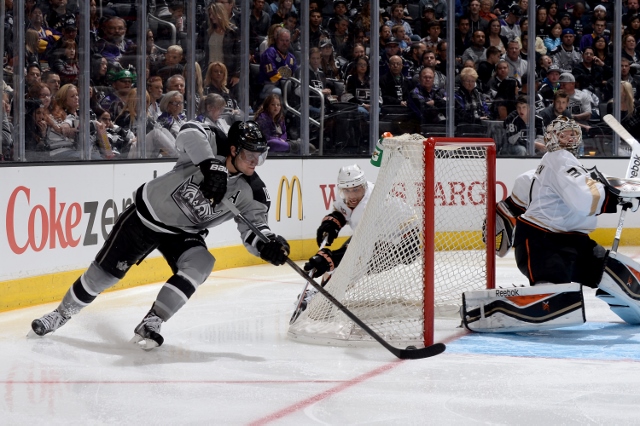 Going forward: The Kings will continue to receive excellent value for the next two years out of Kopitar, who owns the league's 28th highest cap hit at $6.8 million per year. Given the $84 million dollar contracts earned by Toews and Patrick Kane, it's safe to assume that Kopitar's upcoming contract – which can be negotiated next July – will be in the same general area given the expected salary cap inflation. That won't matter for the upcoming year. Now with a pair of Stanley Cup rings, the multi-faceted, selfless Kopitar has drawn a larger share of national recognition – even if his perception doesn't concern him. The secret is out: Kopitar is among a very small group in the National Hockey League when skill, responsibility, consistency and coachability are considered. He will continue to be a Selke Trophy candidate and is a cornerstone of the team's effort, identity and production.
2013 Kopitar evaluation
2012 Kopitar evaluation
2011 Kopitar evaluation
2010 Kopitar evaluation
2009 Kopitar evaluation
2008 Kopitar evaluation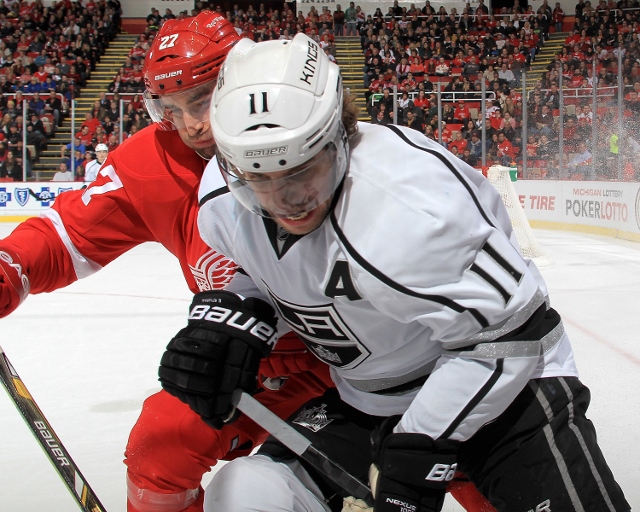 2014 Player Evaluations
#2 – MATT GREENE | #6 – JAKE MUZZIN | #8 – DREW DOUGHTY | #10 – MIKE RICHARDS