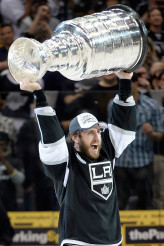 MIKE RICHARDS
This season: 82 games, 11 goals, 30 assists, 41 points, 28 penalty minutes, -6 rating, 16:58 time on ice.
The good: If his Kitchener Rangers and Philadelphia Phantoms histories are included, Mike Richards won the 23rd, 24th, 25th and 26th playoff series of his career. No, Richards did not have a signature season. Yes, Richards has won a Memorial Cup, a Calder Cup, a World Junior gold medal, an Olympic gold medal, and now two Stanley Cups, partly due to a Game 7 record that improved to 7-0 this spring. For all the hockey intangibles that pundits discussed during the team's playoff run, Richards possesses them in ample qualities, even if they didn't necessarily come to light consistently during the regular season. He's a highly intelligent center who is outstanding at killing penalties, even if his one shorthanded goal over the last two seasons represents a sharp decrease from his earlier shorthanded production with Philadelphia (and in his first year with Los Angeles). He had 30 assists, his highest tally as a King and a respectable number considering he wasn't consistently receiving even strength ice time with highly skilled players; given the dissimilar systems that the Kings and Flyers employ, comparing his offensive numbers between the two teams must come with a bolded asterisk. He was particularly good in elimination games, and his two best games of the season came in Game 7s against San Jose and Anaheim. Against the Sharks he took eight shots on goal (!) in the deciding game and was deserving of a star, and against the Ducks he earned first star honors with a goal and an assist. Richards has played in 179 consecutive games and has only missed eight games in the regular season as a King, all of which came after he suffered a concussion when he weathered a high hit from Florida's Sean Bergenheim in December, 2011. He was good at avoiding penalties, finishing with a career-low 28 penalty minutes and a fine plus-eight penalty differential.
The bad: It's somewhat disingenuous to refer to Richards as a "fourth line center" given that he received 16:58 of ice time per game, which ranked fourth amongst Kings forwards and was a second more than the average time allotted to Justin Williams. But given that ample ice time, Richards' 2013-14 season did not contain the level of production he and the Kings believe he is capable of providing. There was a red flag after the lockout-shortened season, in which Richards posted a 14.6% shooting percentage, the highest of his nine-year NHL career. His shooting percentage plummeted to 7.0% this year, which suggests that he is due for a rebound in the coming season. While goals and assists do not explain the full package Richards provides, there were large swaths of the season in which he simply wasn't generating offense. After assisting on a Jeff Carter goal in Denver in the first game out of the Olympic break, he did not record another assist until Game 4 of the San Jose series. His power play goal in Detroit on January 18 was the only goal he scored in a stretch of 36 games. There was a good deal of poor luck during a season in which he posted 17 points in his first 18 games before hitting a prolonged slump, and it returns to his uncharacteristically low shooting percentage. On the surface, his advanced stats were as normal/fine as they've been since he joined the Kings, and his 54.6% Corsi-for rating during five-on-five play represented his Los Angeles high water possession rate. While there have been concerns raised over his off-season preparation, he was pretty good early in the 2013-14 season and posted his highest points per game rate as a King during a 2012-13 season that didn't begin until January.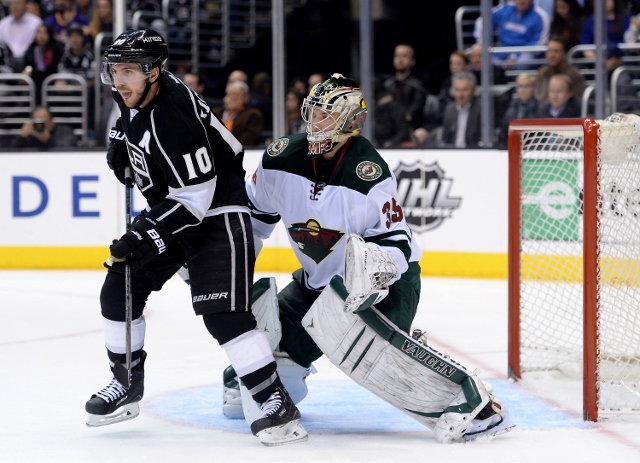 Going forward: Considering that his ice time has dropped nearly two full minutes since the 2011-12 season, and his .5 points per game was the lowest mark since his 20-year-old rookie season, it is a concern that he carries a 5.75 million dollar cap hit through 2020 given that the Kings are a team that spends to the salary cap. Dean Lombardi was right to decide not to buy out Richards' contract considering the center's history of winning and the gritty, greasy style of play that meshes well with the team's 200-foot efforts. Richards also endeared himself to his teammates and to Darryl Sutter by completely understanding his role and never became any type of distraction, as frustrating as the lack of scoring must have been for the ultracompetitive center. "If you show frustration, that kind of trickles throughout the team too," Richards said on May 6 while articulating a viewpoint that is in lockstep with Sutter's and the team's ideals. "It's not a selfish thing. It's not a personal thing. It's all about the team right now, and it's all about winning hockey games. Obviously you want to contribute with scoring goals, but at the same time we're winning hockey games right now, and you have to just keep doing the same things you do to help the team." The center will turn 30 in February, and one of next season's interesting storylines will be whether Richards is successful in increasing his level of production from an ultimately fulfilling but personally subpar 29-year-old campaign.
2013 Richards evaluation
2012 Richards evaluation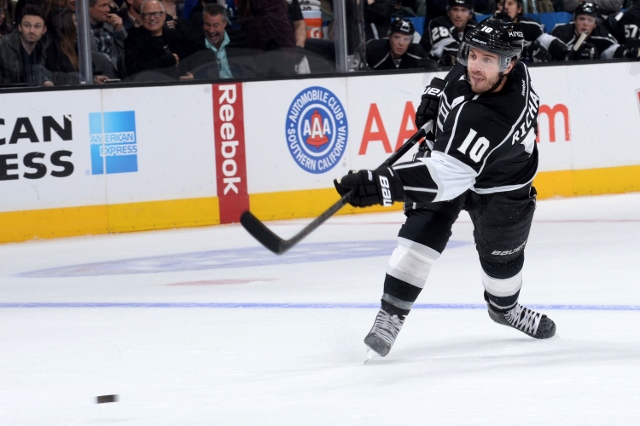 2014 Player Evaluations
#2 – MATT GREENE | #6 – JAKE MUZZIN | #8 – DREW DOUGHTY