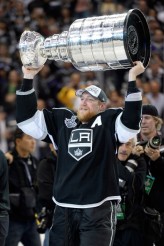 MATT GREENE
This season: 38 games, 2 goals, 4 assists, 6 points, 38 penalty minutes, +6 rating, 15:53 time on ice.
The good: There are players who sweat and bleed for their team, and then there is Matt Greene. Described earlier this year as part of the team's "emotional pulse," Greene battled through an upper-body injury, a concussion, an ugly pressure cut that leaked blood from his skate, some sort of horrible facial gash, and ultimately lifted the Stanley Cup for the second time in three seasons following a reliable 20-game postseason campaign. After an injury-affected season in which the team's first 15 games represented his longest consecutive games streak of the past two seasons, Greene suited up in 19 of the team's final 20 postseason games, beginning with Game 7 against San Jose, a stretch of play in which the Kings were 13-6 against the Sharks, Ducks, Blackhawks and Rangers. He'll never be a player whose worth translates into useful advanced stats, but his possession numbers were well in the black this postseason, when his Corsi relative to his teammates was a strong as it had been in the last three years and was fine for a depth defenseman. There are no surprises in what you get from Matt Greene. A conduit of the team's emotional effort, the veteran, stay-at-home defenseman forcefully clears bodies from the front of the net, gets sticks on pucks, hits, blocks shots, kills penalties and is a battling, bleeding embodiment of the team's will and expectations. Darryl Sutter's hilarious Mystery Valley prognosis also centered around Greene, which has got to be worth something.
The bad: Greene turned 31 in May, and while it's a bit early to start expecting any natural dip caused by an aging curve, Greene has always occupied a role that necessitates some heavy liftin'. He underwent back surgery last year, dealt with a pair of injuries this year, and has played only 43 regular season and 29 postseason games since Los Angeles' first Stanley Cup. His role leads him to taking the inevitable penalty, but a minus-14 penalty differential in 38 games stretched out over a full 82 would represent among the most lopsided negative penalty differentials in the league. He's not fast. He got into only one game between February 27, though that was based more heavily on Alec Martinez's ability to take advantage of an opportunity and produce than any real knock on Greene's game at the time. In the midst of the team's roughest regular season stretch, Sutter offered a sharp appraisal of the veteran's play, saying on January 10, "We went on a trip and didn't have much to show for it when we came home, and Greene played every game. So at the end of the day, when you make changes, you make changes generally in your sixth defenseman and your fourth line. So last night the game before, he was the sixth defenseman, and he went out. Last night, Jordan Nolan went out. That's a fact. That's what good coaches do, and that's what good teams do, and that's too bad. I'm not into feeling sorry for guys 'cause they've been around a long time. I'm in to how they play. Very simple. Either they accept it, or they don't."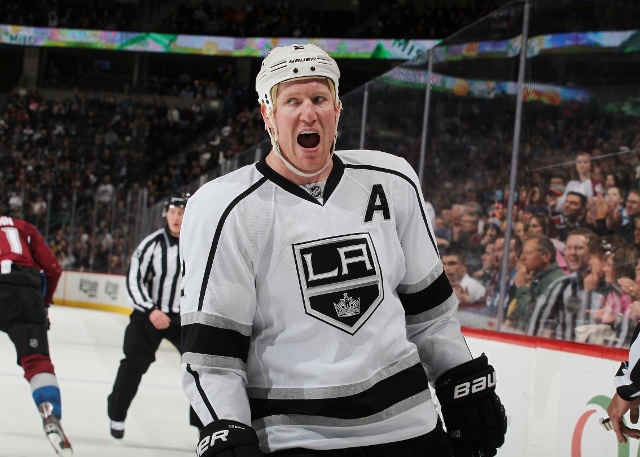 Going forward: If Greene is a sixth defenseman, as Sutter said, he's a fine sixth defenseman to have. Apart from the intangibles that Greene accentuates, he's capable of killing penalties in all one or two-man situations, he's not a drain possession wise, and with righthanded defenders in Drew Doughty and Slava Voynov ahead of him, he'll return to a firmly defined role that the team has certainly found value in in the past. He's also signed through 2018, at which point he will be 35. There's no way to foresee how Greene's body handles the continued NHL workload over the next four years, and as Jewels from the Crown pointed out, there are examples of defensive defensemen who have aged quite well in the league (Willie Mitchell and Stephane Robidas), and those who have not aged as well (Doug Murray, Rob Scuderi, Brad Stuart). At this point, it's fair to expect the same "teen-minutes," as Darryl Sutter says, from an alternate captain whose contributions are reflected both in the expectations he upholds amongst himself and his teammates, and the consistency in his minutes despite some limitations.
2013 Greene evaluation
2012 Greene evaluation
2011 Greene evaluation
2010 Greene evaluation
2009 Greene evaluation