Seventh Round, 209th overall: Spencer Watson
Position: RW
Shoots: R
DOB: 4/25/96
Height: 5'10
Weight: 155
NHL Central Scouting final ranking: 59 (North American skaters)
NHL Central Scouting midterm ranking: 43 (North American skaters)
Stats (OHL – Kingston): 65 GP, 33 G, 35 A, 68 Pts, 16 PIM
Twitter: @swatty96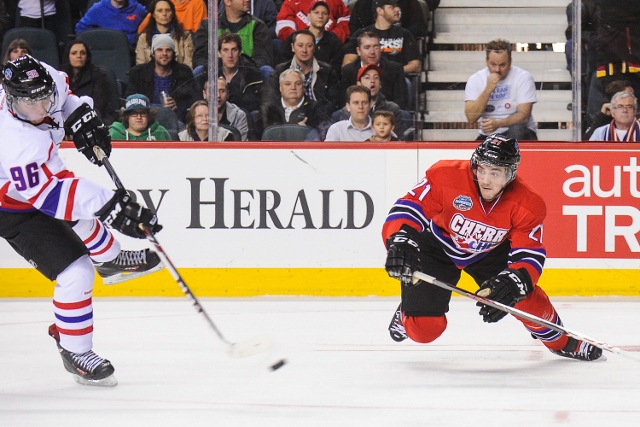 Vice President of Hockey Operations and Director of Player Personnel Mike Futa:
Spencer Watson, I mean, this is a kid that was drafted really high. He's a kid who scored 60, 70 goals in his OHL draft year, and he's been sitting here for two rounds. He's been sitting here for two days waiting for his name to be called, and you didn't see any pout on his face when he came down those stares. That's something that tells me about the kid, and he'll use this experience as a growing experience, and I'm glad he gutted it out. But it's a nice story. I mean, when they said he was here, I was like, 'Wow, good for him'
He's a kid that has a natural touch around the net. I mean, his feet have to improve, but if you look at the history of goal scoring there, his history of goal scoring is unmatched as far as his minor league stats. Again, there was a little bit more pressure on him. I think there were a few guys. Matt Mistele – they didn't have the years that they were hoping to in their draft year, but they weren'y throw away years by any stretch. They were years that you can build on, and they all have intangibles that we completely covet as an organization, and we think our development team can get to 'em to get them back to that level of confidence where they're giving themselves a chance to be an NHL player.
Neate Sager, Yahoo! Canada Buzzing the Net:
Spencer Watson's response is candid and confident when asked to rate his ability to find holes in the offensive zone on a scale from one to 10.
That is, after all, the determining factor between a young player with good tools — agility, the fast-twitch muscle fibres to get off a quick shot within a confined space — and a pure goal scorer. Watson, at a compact 5-foot-9¼ and 166 pounds, is blossoming into the leader for the Kingston Frontenacs, where he plays regularly with fellow lauded 17-year-old Sam Bennett and Tampa Bay Lightning-drafted left wing Henri Ikonen.
Ben Kerr, Last Word on Sports:
"Spencer Watson, LW, Kingston Frontenacs, 5'10″ 157 lbs: Watson may not be as highly touted as his two Kingston teammates, Sam Bennett and Roland McKeown in our first two rankings, but he's a potential first round draft pick in his own right. The pure sniper who plays on a line with Bennett, he is able to find openings in the defence from which to unleash a fantastic wrist shot or one-timer. His shot is powerful, accurate and features a great release. He also has the speed and stickhandling ability to join the rush with his linemate and to create goals on odd man rushes. He's willing to go to the dirty areas to score goals, and has the soft hands to bury rebounds and tip ins close to the net. His playmaking game is underrated at this point because he's such a great sniper, but the passing skills ansd vision are also there. Like Bennett, he must add muscle to his frame. "
Hockey's Future:
2013-14: Watson skated for Canada's gold medal U18 team at the 2013 Ivan Hlinka Tournament in August and was the tournament's leading scorer before returning to Kingston for his second OHL season. In five games for Canada at the Ivan Hlinka tournament he scored 4 goals with 6 assists and had 27 penalty minutes. Watson was selected to play for Team Orr in the 2014 CHL/NHL Top Prospects Game.