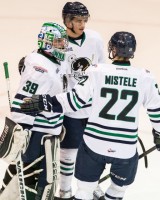 Sixth Round, 180th overall: Matthew Mistele
Position: LW
Shoots: Left
DOB: 10/17/95
Height: 6'2
Weight: 183
NHL Central Scouting final ranking: 88 (North American skaters)
NHL Central Scouting midterm ranking: 51 (North American skaters)
Stats (OHL – Plymouth): 55 GP, 18 G, 19 A, 37 Pts, 59 PIM
Twitter: @mmistele22
Vice President of Hockey Operations and Director of Player Personnel Michael Futa:
If you look at his underage year, I think he scored 40 goals in his first year in the OHL, and this year there were injuries, suspensions, a lot of drop-off. We've got to get him back to where he was. That's our job as a staff, development staff. But this kid's got incredible touch, incredible touch.
Via Pete Krupsky, MLive.com:
Although Mistele put in the work to improve, a large part of his progress can be credited to Whalers assistant coach Don Elland, who works with all of the Whaler pups when they start their respective careers in Plymouth.
"There's nobody that works harder or wants to get better than Matt Mistele," Elland said. "Off the ice, you can't ask for a nicer kid. On the ice, he works hard, takes it seriously and puts in the time. You could really see at the end of last year when he got the opportunity to play in the playoffs against Kitchener how he stepped up.
Couldn't be happier to be drafted by the @LAKings excited to see what happens in future #cali time to celebrate

— Matt Mistele (@mmistele22) June 28, 2014