Phil Knight and the Oregon Ducks might disagree, but a hockey uniform has a broader canvas with which to work than uniforms in other sports. The jerseys are large, logos are clean and bold, and colors are crisp, which allows for added creative interpretation in their design. Football jerseys are dominated by large numbers. Baseball jerseys are mostly white or grey, and the teams' names are preferred over logos. Basketball jerseys don't contain sleeves, and like baseball, often are filled with the script of the city or the team's name.
There has also been an occasional crossover of "hockey art" and street culture, depicted most notably in Snoop Dogg's Gin N Juice video, when the emerging rapper wore a black Pittsburgh Penguins jersey, and in many of the popular photos that depicted rapper Easy E wearing a Los Angeles Kings hat. The discussion of the mesh of hockey and hip hop culture can widely be found on the Internet.
"The Kings apparel goes beyond even just sports fanatics. It went into the fashion world," said Mister Cartoon, the East L.A.-based artist renowned for his street murals, album covers and his tattoo studio.
"It went into the street kids that were rocking different styles and wanted to do something different. I remember the guys from House of Pain and Cypress Hill, they would wear these Kings jerseys on stage. Man, they really fired everyone up to be down with the whole moment."
Cartoon has placed his own stamp on Los Angeles Kings logos with a new clothing line that will offer some proceeds to Para Los Ninos, a 33-year-old non-profit organization and charter school that enhances academic success and provides community outreach and mental health services for children living in at-risk neighborhoods.
The budding partnership between the Los Angeles Kings and Mister Cartoon was represented during a late October pre-game warm-up when Jonathan Quick donned a custom airbrush mask created by the artist prior to that night's action against the Phoenix Coyotes.
"Combining hockey and street artwork together, it's incredible, because the two take a lot of patience. They take a lot time to acquire over the years," Cartoon said. "Hockey really has an edge to it that a lot of other sports don't have. They let the guys sling 'em and fight. It's the greatest. It's really the most hardcore, you know what I mean? It's the MMA of sports."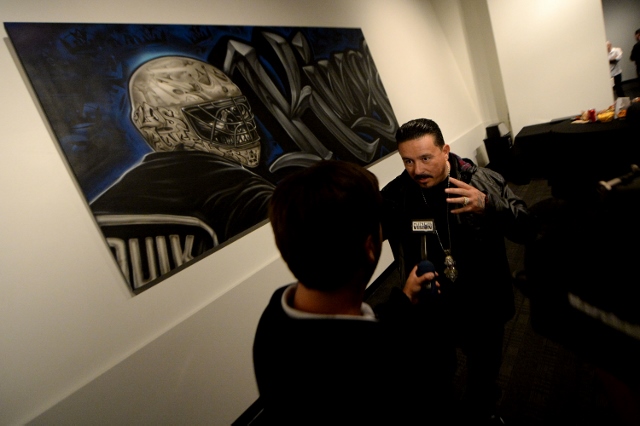 An original meeting that included Luc Robitaille, President, Business Operations, Jonathan Lowe, Vice President, Marketing and Sean Ryan, Vice President, AEG Merchandise was set up roughly three years ago at Cartoon's studios as "a collaborative effort that was going to help us try to bring the Kings and East L.A. together," as described by Ryan. The discussion eventually brought Para Los Ninos on board as a charitable endeavor.
The particulars of Cartoon's interpretation of Kings merchandise then began to take shape.
"We let him run with a lot, because we didn't want to stifle him. He was able to come up with something that working with us and the Kings, because we're sometimes too conservative," Ryan said. "But he was able to bring us and make us a little bit more liberal in what we were trying to accomplish."
There was a clear sense of pride in Cartoon's ability to work with the Kings' symbol and palette.
"When I went in to design it, it was important to me that I maintained the integrity of the apparel and the merchandise that the Kings have always had – very clean, very bold, and hard. It's not soft. It's hard," He said. "Being able to reflect back to those NWA days in the 80's – The D.O.C.'s album cover, he's wearing a Kings hat. So I was really inspired by that. For them to really let me be creative and open, they really let me have creative freedom."
Much of Mister Cartoon's Kings-themed artwork can be found below.
Follow these links for Deborah Lew's LAKings.com feature on Mister Cartoon and Para Los Ninos, which includes the completion of a Kings mural at Para Los Ninos Charter Middle School. Perfect Match: Part One / Perfect Match: Part Two
Here's a close-up of the airbrushed mask that Jonathan Quick wore during warm-ups of the win over Phoenix on October 24: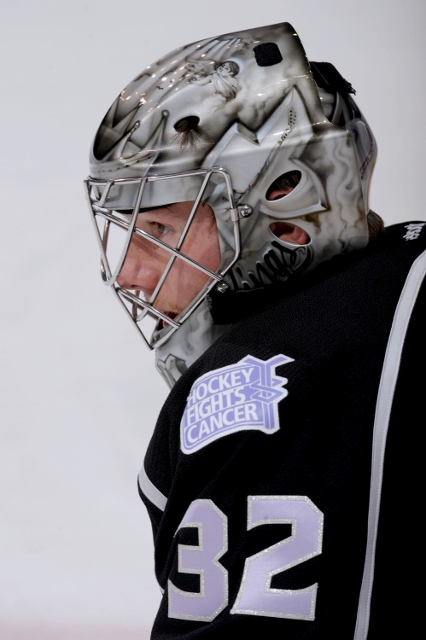 -courtesy Noah Graham / National Hockey League
For individual products designed by Mister Cartoon, and for a closer look at the collaboration between street art and the L.A. Kings, click here.
To purchase items from the Mister Cartoon collection, click here. T-shirts and sweatshirts are available for purchase; hats will be available on December 15.