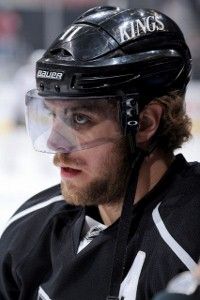 ANZE KOPITAR
This season: 47 games, 10 goals, 32 assists, 42 points, 16 penalty minutes, plus-14 rating
The good: Anze Kopitar led the Kings in scoring for the sixth consecutive season and led all forwards in time on ice with 20:28 per game. With 32 assists in 47 games, he was on pace for 56 assists over 82 games, which would have represented a career high. He received four first place votes and ranked fourth overall in Selke Trophy voting, though there was a large drop off from third place Pavel Datsyuk. His reach and stick checking remained at an elite level, as did many facets of his 200-foot game. Kopitar won 53.3% of regular season and 51.9% of postseason faceoffs and remained among the sturdiest puck protectors in the league.
Said Darryl Sutter on March 18:
He's the best all-around centerman that I've coached, period. Period. Faceoffs, last minute, first minute, penalty killer. Plays against everybody's top player, whether it's a defenseman, a center, a checking role or an offensive role. He plays 20-plus minutes. Doesn't take penalties. It's the whole deal. He can play it whatever way we want. Do you want to come and get me? Come and get me…He can play it any way we want. And you know what? The best thing about Kopitar is he's getting better. And when they do the comparisons with guys that are like that, there's only a handful of them.
He can also weather a hit to create a scoring opportunity:

-courtesy KingsVision
The bad: Given Sutter's evaluation, the expectations placed upon the team's most skilled offensive player, and the point-per-game production experienced during the 2012 postseason, Kopitar's late season drop off is among the team's larger disappointments in 2012-13. After being held scoreless over the season's final 16 games, he scored once in the St. Louis series, once against San Jose and once against Chicago. As Kopitar's offensive production declined, so did that of the team. The Kings ranked seventh in the league, averaging 2.88 goals per game, following a 5-4 win at Chicago on March 25 in which Kopitar scored his 10th and final goal of the regular season. After that win, Los Angeles recorded 2.38 goals per game over the final 16 games of the regular season and averaged 2.06 goals per game in the playoffs. This isn't to pin the team's late season offensive funk on one player; the Kings were beaten up late in the season, and linemate/18-goal scorer Dustin Brown suffered a knee injury against San Jose that compounded the scoring woes. Kopitar's 98 shots on goal translates to 171 shots over an 82-game season, which would have been 22 shots below his previous career low. He suffered a sprained knee shortly before the end of the NHL lockout while playing in Sweden's HockeyAllsvenskan and spent the season in a knee brace that did not limit him or cause much discomfort.
Going forward: Other than his broken ankle in 2011 and the occasional scoring drought, Kopitar hadn't faced much adversity in his stellar career prior to the second half of the 2012-13 season, and it will be interesting to see how the gifted forward responds following his second-half dropoff. Considering he has won a Stanley Cup, will turn 26 in a month and has posted 476 points through his first 522 NHL games, there's really not much concern over any wilt in his career arc. A new wrinkle (and additional travel, wear and tear) will be added to the 2013-14 season as Kopitar will represent Slovenia at the Olympics as the first-time hockey qualifiers will join Russia, Slovakia and the United States in Group A. With preseason, regular season, Olympics and the playoffs combined, Kopitar is likely to play above 90 games should he remain healthy. An alternate captain and tenured member of the team's established core, the upcoming challenge will be in trying to prove that last season's goal scoring funk was only a hiccup in the evolution of a career of one of the NHL's supreme two-way centers.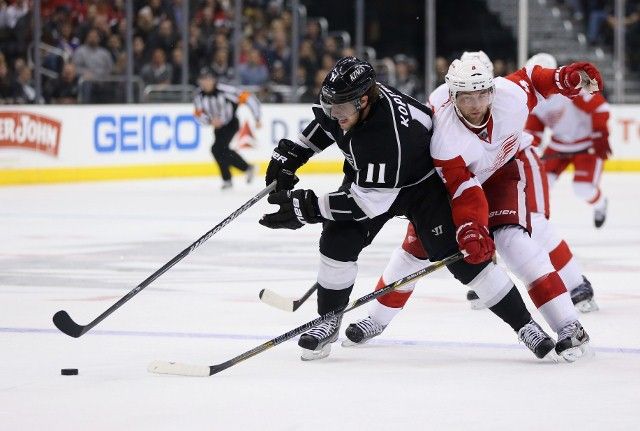 2012 Kopitar evaluation
2011 Kopitar evaluation
2010 Kopitar evaluation
2009 Kopitar evaluation
2008 Kopitar evaluation
2013 Player Evaluations
Jonathan Bernier
Dustin Brown
Jeff Carter
Kyle Clifford
Drew Doughty
Keaton Ellerby
Colin Fraser
Matt Greene
Dwight King