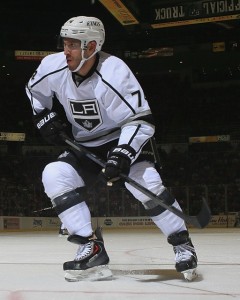 DWIGHT KING
This season: 47 games, 4 goals, 6 assists, 10 points, 11 penalty minutes, minus-3 rating
The good: Dwight King spent a full season in the National Hockey League after serving as a mid-season call-up midway through the 2010-11 and 2011-12 seasons. He continued to use his large body to protect the puck well along the boards and fit in with the team's cycling and puck possession game in the offensive zone. The numbers he produced fell within the range of what one would generally expect from a third line left wing, even if he didn't score until March and was stuck on one assist through 14 games despite entering the season in a rhythm after playing in Manchester during the lockout. He recorded six points (4-2=6) in March and scored twice against Chicago in June to pass Wayne Gretzky as the franchise's goal scoring leader in conference final history. Among players who skated primarily on the third or fourth line, he was the playoff scoring leader with five points (2-3=5), while his 13.5% shooting percentage over the last two postseasons is the highest on the team.
The bad: Remember this play from June 11, 2012? Watch King operate at top speed when he receives a pass through the neutral zone, lowers a shoulder on Mark Fayne and drives to the net to create an opportunity that Trevor Lewis finishes off. I can't recall King using his size and momentum to generate a similar scoring opportunity in 2012-13. It's representative of a team-wide concern as the Kings did not consistently benefit from peak performances from their depth contributors in the 2013 playoff run. At 6-foot-4 and 232 pounds, he's tough to separate from the puck and effective along the boards in the offensive zone, though with one assist roughly every eight regular season games, it's not clear how effective he was in actually generating offense – even if that isn't King's primary objective.
Going forward: Following his contributions in the spring of 2012, were Kings fans' expectations too high for King entering the season? He certainly didn't hit the marks many expected of him with a quiet first half. Still, when looking at the first 118 regular season and playoff games of his career, King's 37 career points (16-21=37) represents a decent haul considering his usage as a grinding and possession winger. Keep in mind King doesn't receive much power play time, and that 34 of his 37 points were recorded at even strength or while shorthanded. Skating opposite Trevor Lewis on Jarret Stoll's line appeared like a more appropriate home for King than platooning with Dustin Penner as the left wing on the Mike Richards-Jeff Carter line; with Matt Frattin's arrival and the possibility for Tyler Toffoli to earn minutes on the left side, King will likely see the majority of his minutes in his more comfortable banging and forechecking role. He'll be an RFA in the summer of 2014.
2012 King evaluation
2011 King evaluation
2013 Player Evaluations
Jonathan Bernier
Dustin Brown
Jeff Carter
Kyle Clifford
Drew Doughty
Keaton Ellerby
Colin Fraser
Matt Greene