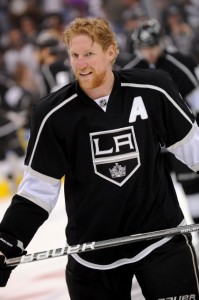 MATT GREENE
This season: 5 games, 0 goals, 1 assist, 1 point, 8 penalty minutes, minus-1 rating.
The good: Greene's rehabilitation from a herniated disk suffered in the first game of the season that required back surgery was completed in enough time to allow him to re-enter the lineup with five games to play in the regular season. He then suffered an injury unrelated to his back and did not play again until Game 4 of the second round. As important as his return to the ice was, Greene's presence in the locker room, at practices, and in daily team meetings provided the team a well-respected voice to go along with his rugged on-ice defensive attributes. He was effective after returning in Game 4 of the San Jose series and provided a very Matt Greene-like take-out of TJ Galiardi in Game 5 after deflecting the puck away from him to disrupt an early Sharks scoring chance.
"He stepped up," Mike Richards said of Greene's performance in Game 5. "When he comes back, I think the things that you don't see – the leadership in the dressing room, that powerful voice, I think – all year we missed him. On the ice, too, just how physical he plays and how hard he is to play against. Even before we got Regehr, too, I think that's kind of what we were lacking on the back end, and we have some skilled guys, guys that move the puck well, but I don't think you can replace somebody who plays that physical, and how hard both of those guys are to play against, and Matt coming back is a big boost for us. I think you can just see how different of a team we are with him in the lineup, just setting the tone physically."
Though Greene missed 43 regular season games, his absence afforded Jake Muzzin an opportunity to grow into an important role with the club.
The bad: Including playoffs, Greene played only 216 minutes in 2012-13. When he returned late in the regular season the time away from the rink was occasionally apparent, though the quality of his minutes improved in the postseason.
Going forward: The 2013-14 season marks the final year of a five-year, 14.75 million dollar contract Greene signed prior to 2009-10. Though there's no room for him to rise above fellow right-handed defensemen Drew Doughty and Slava Voynov, Greene's stalwart defensive attributes and his presence in the locker room and amongst the team's leadership committee should make an eventual contract extension among the team's priorities in the coming season. Greene turned 30 during the 2013 playoffs, and though his style of play leads to inevitable lumps, he remains among the team's most effective penalty killers and shot blockers. It's not hard to envision Matt Greene at 30, or 31, or 32 contributing the same way that he did at 27, or 28, or 29. Considering Rob Scuderi is no longer a King, it's important that Greene remains healthy and able to further the team's defensive identity and strong penalty killing tradition.
2012 Greene evaluation
2011 Greene evaluation
2010 Greene evaluation
2013 Player Evaluations
Jonathan Bernier
Dustin Brown
Jeff Carter
Kyle Clifford
Drew Doughty
Keaton Ellerby
Colin Fraser
Matt Greene is not amused, via @KingsMenPodcast