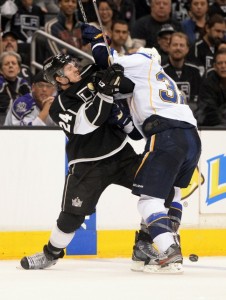 COLIN FRASER
This season: 34 games, 2 goals, 5 assists, 7 points, 25 penalty minutes, minus-4 rating.
The good: An energy line center, Fraser continues to etch out his role in the game's less glamorous moments. Though he was only one point off his 2011-12 production despite playing in 33 fewer games, the offense that Fraser provides is an added bonus, and his responsibility gravitates more towards his ability to create tough minutes for the opposition as he throws his body around while generating energy and momentum for his teammates. He was a physical presence when called upon and recorded a "hit" for every 4:29 he was on the ice this season. Only Kyle Clifford, who registered one hit every for every 3:17 of ice time, logged more hits per minute on the team – even Dustin Brown recorded one hit for every 5:45 of ice time he earned. The Kings are built strongly down the middle, and Fraser's skill set allows him to forecheck and remain useful within the team's heavy identity. He averaged roughly a shift of penalty killing time per game and has succeeded in such situations in the past. There's nothing surprising in Fraser's game; the two-time Stanley Cup winner understands his responsibility well and rarely strays from a north-south effort. Jocular, opinionated and mature, he's well thought of by reporters and broadcasters as much as he's admired by his teammates, amongst whom he has seamlessly meshed with since joining the organization in the summer of 2011. "Leadership" and "support of his teammates" will always be hockey abstracts associated with the former Red Deer Rebels captain who is never tentative in inserting himself into the game's edgier moments.
The bad: As Jewels from the Crown pointed out in their Fraser analysis, the fourth line disproportionately opened shifts against easier competition and in the offensive zone. He took a forward corps-low 19 shots on goal all season – a number eclipsed by Simon Gagne and Tyler Toffoli, both of whom played in a third of as many games. Fraser is not among the high-skill players on the team and won't be associated with an ability to generate much offense, and considering he scored twice on his 19 shots, a significant spike in production isn't likely to come over the course of the next 82 games. His 46.4% success rate on faceoffs was the lowest amongst regular centers (Kopitar, Richards, Carter, Stoll, Fraser). Any negatives associated with Fraser have to be shared with the skaters he shared his time on the ice with, as Los Angeles' fourth line wasn't as consistently effective as it was late in the 2011-12 season and during the 2012 Stanley Cup Playoffs, when it provided the team a significant advantage in head-to-head matchups.
Going forward: Fraser enters the final year of his two-year, 1.65 million dollar contract motivated by his desire to remain in the lineup for the full 82 games and to bolster his NHL stock beyond July 1, 2014. Sutter has praised Fraser's hockey intelligence in the past, and the Kings are generally at their most effective when he pivots the fourth line. There will be competition for ice time even with the removal of Brad Richardson from the rotation, and Fraser will need to maintain the ferocity in his play to remain an effective role player under Sutter's good graces. As a tireless worker who plays the game honestly, Fraser should be well equipped for the challenge.
2013 Player Evaluations
Jonathan Bernier
Dustin Brown
Jeff Carter
Kyle Clifford
Drew Doughty
Keaton Ellerby