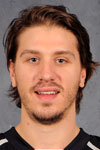 KEATON ELLERBY
This season: 35 games, 0 goals, 3 assists, 3 points, 16 penalty minutes, plus-5 rating (with Los Angeles); 44 games, 0 goals, 3 assists, 3 points, 52 penalty minutes, plus-3 rating (total)
The good: Ellerby stepped into a challenging role with Los Angeles after he was acquired from Florida in exchange for a fifth round draft pick on February 8. There were very few options available via trade at the time, and Ellerby's arrival from Florida represented the acquisition of a low-cost, low-risk player who could inherit minutes in the absence of Willie Mitchell and Matt Greene. Considering Alec Martinez suffered an upper-body injury three days after Ellerby's arrival, the timing of the trade worked well. Ellerby originally skated with Drew Doughty before Jake Muzzin's emergence; the eventual shift appeared to work well for the team, as both Muzzin (alongside Doughty) and Ellerby (often alongside Martinez) played their best hockey throughout March. When Muzzin and Ellerby skated together at even strength in April, Ellerby skated as a right defenseman, which showed some versatility as it took him away from his preferred side. A mostly effective penalty killer, Darryl Sutter always appeared appreciative of Ellerby's contributions and his attempts to play more "abrasive" and move pucks quickly. It often appeared as though Sutter was trying to build up Ellerby's confidence in his praise of the fourth-year player during media availability. The former 10th overall pick from the 2007 NHL Draft brought with him a humble, blue collar attitude and fit in well in Los Angeles' room.
The bad: Ellerby never received as much ice time as he did in the first three games he played with the Kings, and after the arrival of Robyn Regehr, it became difficult to define his contributions outside of the penalty kill. He struggled to defend against faster players and teams, and only appeared in one playoff game after the first four games of the St. Louis series. At 6-foot-4, he adequately used his size, but if we're to grade his performance based on Sutter's desire for him to play "abrasive," it would be tough to assign him a grade above a "B". Though he was occasionally turnover-prone, his ability to quickly step in to fill a need for the Kings while occasionally playing on his off-side in an unfamiliar conference was praiseworthy, and he always appeared to have a good attitude about his role and his contributions.
Going forward: Ellerby did not receive a qualifying offer from the Kings on Tuesday and became an unrestricted free agent. He shouldn't have any trouble signing with an NHL team as a depth defenseman.
2013 Player Evaluations
Jonathan Bernier
Dustin Brown
Jeff Carter
Kyle Clifford
Drew Doughty