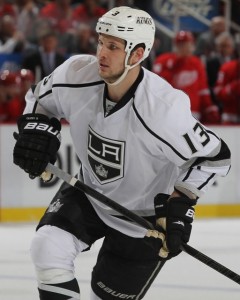 KYLE CLIFFORD
This season: 48 games, 7 goals, 7 assists, 14 points, plus-1 rating.
The good: With the lack of a substantial NHL training camp, power forechecker Kyle Clifford was well-prepared for the 2012-13 season after having played nine games with ECHL-Ontario in the lead-up to the delayed start of the season. Noting that "I just tried to keep my focus on the NHL game instead of being the Sidney Crosby" of the ECHL, the preparation paid dividends as Clifford was one of a handful of players that was able to find his game early in the season and posted five points in the season's first four games. Though his game never changed, he showed versatility and took shifts up and down the left side of the Kings' lineup in the team's everlasting search for production from left wings. He eventually saw the majority of his shifts as the most reliable skater alongside a rotation of Colin Fraser, Brad Richardson and Jordan Nolan as part of a "fourth line" – though we don't like to say those words around here – that was not quite as effective as the line was in 2011-12. A well-liked figure for his approach to the game on and off the ice and for his humble, blue-collar work ethic, Clifford's size and skill set fits in well as a versatile, role-playing forward under Darryl Sutter. Despite the shortened season, he matched his career highs in goals (7), assists (7) and points (14) and took a moderate step forward in his overall development. He can fight.
The bad: Where, exactly, is Clifford's ceiling? How much skill is there that accompanies his net-driving, hitting, agitating, scrapping and 200-foot play? Clifford is still so young, but is it a stretch to think that he could double his goal output in the coming years? He could start by shooting more: Clifford recorded points in all five regular season games in which he took at least three shots, totaling 4-1=5. With seven goals on 56 total shots, he surpassed a 10% shooting percentage for the second time in his three seasons. He received occasional penalty killing opportunities and scant power play time in his 10:36 average regular season ice time.
Going forward: Clifford is already a restricted free agent at the young age of 22, and his re-signing amongst L.A.'s six current RFAs (Lewis, Nolan, Martinez, Muzzin, Ellerby) should be the highest priority of the group. There's nothing surprising about Clifford's north-south game. He has proven to be reliable in the role he inherited when making the team as a 19-year-old out of the Barrie Colts' program. The main question in his continued development is whether he tops out as a third line left wing, or whether there's enough unearthed skill and production that could justify an eventual top-six role. There's also the question of how his style of play will impact his health over an NHL career that began when he was a teenager. Though he has missed only seven total regular season games since joining the Kings, injuries have taken him out of the lineup in each of the last two playoff runs. Given his rugged attributes and willing and eager defense of his teammates – plus the Kings' tendency to play deeper into the postseason – it wouldn't be surprising to see the injury concern raised again.
2012 Clifford evaluation
2011 Clifford evaluation
2013 Player Evaluations
Jonathan Bernier
Dustin Brown
Jeff Carter
Drew Doughty