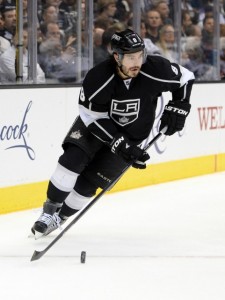 DREW DOUGHTY
This season: 48 games, 6 goals, 16 assists, 22 points, plus-4 rating
The good: The Los Angeles Kings' blue line opened the season with a significant challenge when it became apparent that stalwart veteran defensemen Matt Greene and Willie Mitchell would be sidelined with long-term injuries. While the Kings shifted players around, acquired Keaton Ellerby and Robyn Regehr and eventually welcomed Greene back to the lineup, Drew Doughty had inherited – and eventually excelled in – the surplus minutes afforded to him as a rebuilt defense finished the season ranked tied for seventh in the league in goals against. Doughty logged just shy of 1,267 minutes this season; only Ryan Suter and Brian Campbell registered more time on ice. His 26:23 TOI average during the regular season was over four minutes than the Los Angeles skater with the second-highest TOI average, Slava Voynov. His playoff TOI grew by over a minute and a half to 27:57. That he put up respectable numbers while logging extraordinary amounts of ice time alongside multiple defensive partners – often against the opposition's top players – and still maintained quality possession and scoring chance metrics is an indication of how balanced and useful in all situations the dynamic 23-year-old defenseman is. Though he began to put up points consistently beginning in late March, the pairing with Regehr allowed him more freedom to join the rush and chip in offensively; over the final 21 games of the regular season he had six goals, six assists, 12 points and a plus-6 rating. After he opened the season without scoring on his first 62 shots, he scored six times in his next 43 shots. Very few players have hit Pavel Datsyuk like this.
The bad: Doughty started slowly. It wasn't a significant concern; Dean Lombardi likened his improved conditioning and continued maturation to the process that all great defensemen have had to go through in a defense-oriented chat with LAKI in February. Still, the "So what's up with Drew Doughty?" discussion began to creep into the national hockey conversation when he opened the season by registering a minus-2 rating in five of his first 13 games and had not yet scored. The occasional questions raised over Doughty trying to do too much were mostly forgotten during his outstanding second half of the season. He suffered an ankle injury in the San Jose series that did not appear to affect him on a shift-to-shift basis when viewed from the press box, though he was held without a point and was a minus-6 in the Western Conference Final.
Going forward: Doughty is a gem of a defenseman and should be considered a perennial Norris Trophy candidate. Though he hasn't replicated his offensive production from 2009-10, his decrease in scoring can be written off as a byproduct of the advancements in his all-around game that came into light when Darryl Sutter took over as Los Angeles' head coach. The strides that Doughty has made in his own end were illustrated during last season's Stanley Cup run and sustained for most of the 2012-13 season, though there were occasional hiccups that are fully understandable when analyzing the overall development of a defenseman who will not turn 24 until midway through 2013-14. If you were to poll general managers around the league which defensemen they would want to build a blue line around, count on Doughty drawing the most votes.
2012 Doughty evaluation
2011 Doughty evaluation
2010 Doughty evaluation
2013 Player Evaluations
Jonathan Bernier
Dustin Brown
Jeff Carter