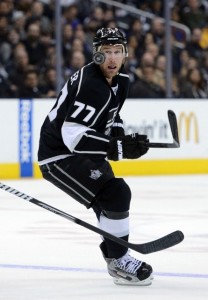 JEFF CARTER
This season: 48 games, 26 goals, 7 assists, 33 points, even plus/minus rating
The good: Jeff Carter scored 26 goals in 48 games. Only two players scored that many goals in the previous three seasons – Anze Kopitar scored 34 times in 2009-10, and Dustin Brown tallied 28 in 2010-11 – and they had 82 games to work with. Carter averaged .54 goals per game, which equates to a 44-goal season if stretched across 82 games. For a team that struggled to score consistently prior to his arrival, Carter significantly impacted Los Angeles' leap from 29th in the league in 2011-12 goals per game (2.29) to 10th in the league in 2012-13 (2.73). He scored 18 even strength goals, a total only one goal off from the 19 even strength goals shared by Stamkos, Jonathan Toews, John Tavares and Jiri Tlusty to lead the league. With eight-game winning goals, he became the first King to ever lead the league in that category. He possesses an excellent release on his wristshot, which he is able to unleash at high speed off the rush. It wasn't only the goal scoring that defined Carter's season, as his 200-foot game and backchecking ability fit the Kings' identity, while his average of 1:12 of shorthanded time on ice per game helped reinforce a strength of Los Angeles' game. In addition to the statistics, his versatility allowed the Kings some flexibility when it was needed. He was effective at center when Mike Richards was dropped down a line earlier in the season and found success in the playoff series against Chicago alongside Dustin Penner and Tyler Toffoli while Richards was injured. He won 52.6% of faceoffs in the regular season, regularly taking draws on his strong side and forming an effective duo with Richards at the dot. In the ethereal, he also has the ability to teleport pucks to some alternate dimension. If you search the Forest Moon of Endor, you might find that puck.
The bad: Shall we nitpick? He scored only once over a 10-game span from March 11-25 (and then scored in six of the eight games that followed). His only power play goal in the playoffs came in the Kings' lone road win, the 3-2 overtime win at St. Louis in Game 5 of the first round. It's not necessarily a bad thing, but Scott Cullen pointed out this morning that his 26:7 goals-to-assists ratio (with a minimum of 20 goals) was the most goals-heavy of any player since Peter Bondra had 34 goals and nine assists in the lockout-abbreviated season of 1994-95. He won only 45.8% of faceoffs in the postseason. Duncan Keith cracked several teeth and accounted for roughly 20 stitches when he slashed Carter in the face in Game 3 of the Western Conference Final.
Going forward: Carter was terrific in 2012-13, and he's going to have to be terrific again in 2013-14. And then 2014-15, and 2015-16, and all the way to 2022, when his contract (and 5.27 million dollar cap hit) expires. Looking so far ahead matters little in the Kings' current window, which will still be wide open when next season begins. Assuming Los Angeles keeps its lines mostly intact heading into 2013-14, it will be interesting to see who skates opposite Carter on the Mike Richards line. Tyler Toffoli and Matt Frattin will be in the mix, though both are natural right wings. Dustin Penner could be resigned, though that prospect appears murky at this point. Dwight King could also see time there, if needed, while Tanner Pearson will be given a long look for what would likely be a depth role with the club. Regardless of who he skates with, a regression back towards the mean is likely on tap for Carter, whose 19.5% shooting percentage in 2012-13 is a full eight percentage points above his career average of 11.5%. Assuming he stays healthy, reaching 30-something goals next season seems to be a fairly safe bet.
2013 Player Evaluations
Jonathan Bernier
Dustin Brown