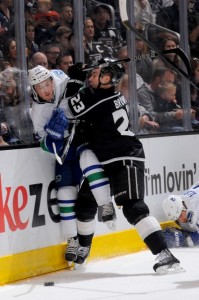 DUSTIN BROWN
This season: 46 games, 18 goals, 11 assists, 29 points, plus-6 rating
The good: Dustin Brown was consistently Dustin Brown in 2012-13. His numbers across the board were within the range of markers he had achieved in previous years, and for the fifth straight season since he was named team captain, he did not miss a game due to injury. His 18 goals ranked second on the team and calculate to 32 goals if applied to an 82-game season. This goal-scoring pace is a reflection of an increase in his shot output – his 142 total shots calculate to 253 total shots over 82 games, which would represent the second-highest shot count of his career – and a sturdy 12.7 shooting percentage, the second-highest single-season rate of his career. Brown's shooting percentage over the last three seasons is 11.6%. He was also nominated for the Mark Messier Leadership Award and presented the President of the United States with a Kings jersey.
The bad: Brown suffered a torn PCL in Game 6 of the San Jose series and though he admirably played through the injury, he did not register any points in the six games that followed. His postseason production prior to the injury was below his regular season pace, having accounted for four points in the team's first 12 playoff games. Though Brown's hit total appeared low in the regular season – he ranked eighth in the league in hits after finishing in the top-three in the category for the six previous seasons – if applied to a full, 82-game season, there's hardly any difference between this season's hit total and the total from previous seasons. That there were seven players that were credited with more hits than Brown is more likely a reflection of a subjective statistic being applied more liberally around the league in 2012-13 than any changes in Brown's game. He was also dinged with a two-game suspension – the first of his career – for an elbow to the head of Minnesota's Jason Pominville during the final week of the regular season.
Going forward: The 2013-14 season is a contract year for Brown, and once the team has completed its pre-July 5 budgetary maneuvering, coming to terms on an extension for the team captain should be high on Dean Lombardi's checklist. "Once we get through this, I think it's safe to say that it would behoove us to start looking at that real close," Lombardi said on Sunday. With a cap hit of 3.175 million dollars, Brown is currently playing below his market value in advance of the expiration of a six-year extension that was signed early in the 2007-08 season. Considering he's a reliable conduit for the team's focus and identity, is currently Los Angeles' only consistent scorer from the left-side, and was the first King to raise a Stanley Cup above his head, a hefty pay raise is deserved – even before the 2014-15 salary cap ceiling is identified.
2012 Brown evaluation
2011 Brown evaluation
2010 Brown evaluation
2013 Player Evaluations
Jonathan Bernier