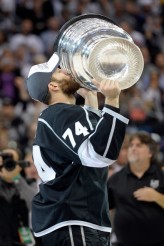 DWIGHT KING
This season: 77 games, 15 goals, 15 assists, 30 points, 18 penalty minutes, +16 rating, 15:03 time on ice
The good: It is a good sign in the development of a young hockey player when a good team widens his responsibilities and the player responds by performing well in the broader role. Such is the case with Dwight King in 2013-14, who earned well over two minutes of additional ice time per game and made the most of it, riding a 13.5% shooting percentage to 15 goals and 30 points in what represented an encouraging response to a 2012-13 season that didn't sustain the trajectory he had built through an impressive run the previous spring. The secondary scoring that King provides is also a secondary example of his all-around and defensively aligned skill set, and speaking of the widened roles, Darryl Sutter entrusted additional penalty killing responsibilities to the now-25-year old, who averaged 1:16 of shorthanded ice time per game after accumulating two minutes and seven seconds of total shorthanded time through his first three NHL seasons. King's possession stats are all very positive. Boasting a 58.5% Corsi rating that ranked 10th in the NHL, King was +2.0% above the Corsi mean of the league's top possession team. It's an accomplishment made all the more impressive considering King's broader usage came in a more challenging role. In essence, King was receiving more minutes and tougher minutes, and that's a good thing. According to ExtraSkater.com, his quality of competition percentage was identical to those held by Dustin Brown, Mike Richards and Jake Muzzin. And in his first year with added penalty killing duties, he led the team with two shorthanded goals.
He recorded the 183rd hat trick in club history (including the postseason) with a three-goal performance against Phoenix on October 24 and by the turn of the new year had posted 10 goals and 19 points through 41 games. He's a hulking but durable body capable of forechecking, protecting pucks along the boards and sustaining possession in the offensive zone. He can get to the net, is extremely strong and deceptively quick on his skates as he leverages position on his opponents. He's also quite versatile and can slot up and down the lineup as a left wing and is at his best when getting in the tough areas and winning puck battles. As noted by Nick at Jewels from the Crown, Anze Kopitar and Jeff Carter's possession numbers were better with King than without him.
The bad: King's value isn't measured by his offensive output, though he did see his scoring rate decrease in the second half of the season. He posted 11 points over the final 36 games before rebounding with a typically sound postseason performance. Though he's an underrated asset in pushing the play forward, he's not a skilled forward, and there have been occasional drop-offs in his offensive output through the first 157 games of his career. His shooting percentage was more than double his 2012-13 rate, so there could be some regression in the frequency in which his shots find the back of the net (though he does have a healthy 11.1% career mark).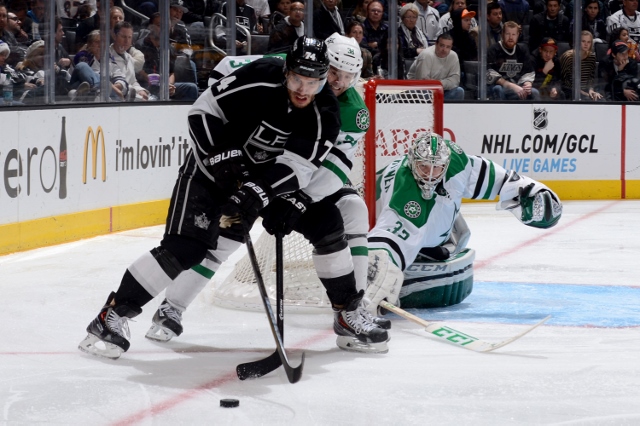 Going forward: The Kings reaffirmed that King is squarely in their plans heading forward when they signed him to a three-year, $5.85M contract in late July. Though he saw the plurality of his ice time with Kopitar and Carter in 2013-14, that's not likely to continue given the club's improved offensive depth (which includes much improved depth at LW). The versatile forward is more likely to see the greatest percentage of his minutes in a third line role, though he is capable of moving up and down the left side when needed. That he hit career highs with added responsibility in growing minutes is a plus and is counterweighed by the fact that his shooting percentage isn't likely to be matched. He's still very young, and while there is still some room for growth (including in his scoring totals), he's more likely to replicate his numbers than deviate from them by any meaningful amount. With two Stanley Cups and 64 career playoff games under his belt, he has proven himself to be a winner and a low-maintenance workhorse whose 200-foot game and total package have proven to be complementary and underrated elements on a championship caliber team.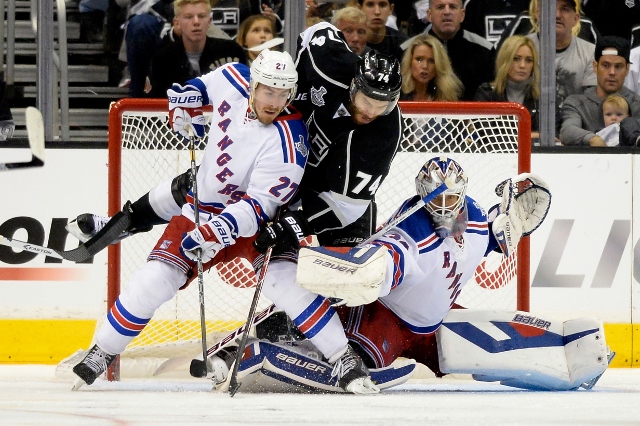 2013 King evaluation
2012 King evaluation
2011 King evaluation
#2 – MATT GREENE | #6 – JAKE MUZZIN | #8 – DREW DOUGHTY | #10 – MIKE RICHARDS | #11 – ANZE KOPITAR | #12 – MARIAN GABORIK | # 13 – KYLE CLIFFORD | #14 – JUSTIN WILLIAMS | #22 – TREVOR LEWIS | #23 – DUSTIN BROWN | #24 – COLIN FRASER | #26 – SLAVA VOYNOV | #27 – ALEC MARTINEZ | #28 – JARRET STOLL | #31 – MARTIN JONES | #32 – JONATHAN QUICK | #33 – WILLIE MITCHELL | #44 – ROBYN REGEHR | #55 – JEFF SCHULTZ | #70 – TANNER PEARSON | #71 – JORDAN NOLAN | #73 – TYLER TOFFOLI