Day 3 is in the books, the third of the three, extended camp days this weekend. Today's skate followed two days that consisted of four sessions apiece, with the next three days occupied by either a formal exhibition game, or an internal showcase event contested amongst Kings players exclusively.
Today's structure consisted of Group A starting things off with a practice day, before scrimmaging against Group B on the main sheet. Group B then held their own practice session, before Group C concluded the day with their own practice skate.
Here's how the Kings lined up for today's practice –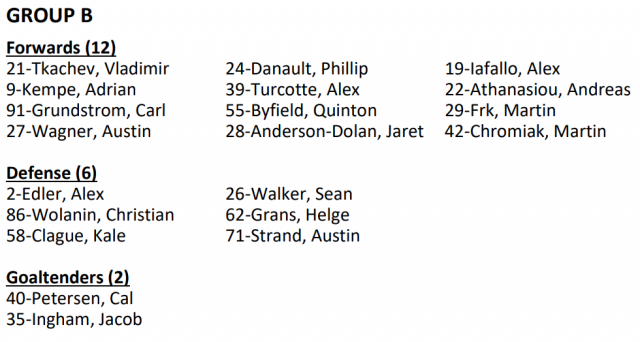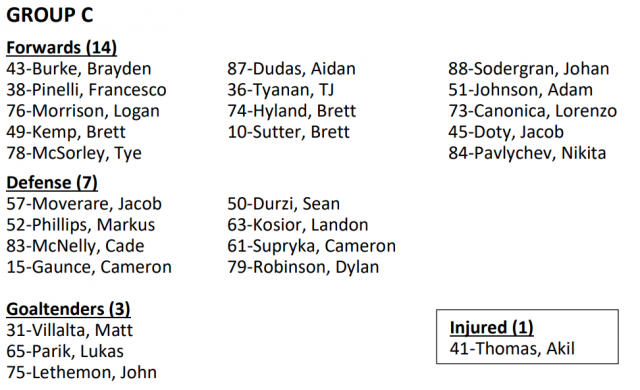 The Kings today returned to a similar look from Thursday's skate, with Groups A and B consisting of more veterans, and Group C consisting of more players on AHL contracts and training camp invitations.
The first half of today's scrimmage saw no goals, but a clear emphasis on stretching the ice and creating opportunities. We did see perhaps the largest number of chances created from the three days in the first half, but no goals, with Jonathan Quick putting in a good effort between the pipes for Group A. Group A also had two penalty shots in the first half, through Gabriel Vilardi and Rasmus Kupari, with Vilardi hitting the post.
The second half saw the Kings, on both sides, continue to create chances, with each team scoring once. Alex Iafallo buried a wrist shot from the slot around eight minutes into the second half, with Drew Doughty crashing the paint and tying the game inside two minutes to play. The nicest play of the second half was from Vilardi, who danced through three on his way to the net, but in the first drama of the season, his finish was ruled to have stayed out. The game ended at 1-1.
The higher number of offensive chances was interesting, when combined with Todd McLellan's post-practice assessment. McLellan was happy with the way the players have competed throughout the beginning of camp, and as a result he felt that the level fell off a bit today towards the end of the scrimmage periods, as the players got a bit tired.
"Four days in right now, there's some fatigue setting in," McLellan said. "I don't know if you could tell or not, in the scrimmages, it fell off. We have a black and white game, abbreviated, tomorrow and back-to-back games, there's going to be some tired guys. It may sound strange, it may sound soft to some people, four days in, but they've gone hard, its been competitive. Thats a good thing."
Freshmen Becoming Sophomores
There's an obvious transition for players who undergo their first, full season at the NHL level. There's another for players from Year 1 to Year 2.
The Kings had a quartet of first-year players last season who spent the majority of the campaign with the big club – Tobias Bjornfot, Mikey Anderson, Jaret Anderson-Dolan and Gabriel Vilardi. Others such as Quinton Byfield played their first full professional seasons, split between the NHL and AHL. All of the above experienced their fair share of success last season, and all four experienced their share of growing pains. As is such for NHL rookies.
The interesting thing for that group today was the agreement that this coming season feels like a re-run of their rookie campaigns, rather than a true sophomore season, in some ways.
Whether it be the condensed training camp, the 56-game schedule or the fact that the Kings only played against seven opponents last season, it obviously wasn't a true NHL season. Still though, with the experience that they gained, it was interesting to hear several players.
Jaret Anderson-Dolan – I think still probably [I classify myself as] a rookie. I think I got a little bit more experience last year, but definitely not a lot of experience. I still have that mindset of continuing to learn and continuing to grow my game, watch the older guys. It's definitely a little bit more comfortable, but I still have a lot to prove and a long way to go.
Gabe Vilardi – It was a little weird, it wasn't a full travel year, so it's like a re-run of your rookie year almost. How you play every other day is different than the AHL, when you play maybe 1, 2 games a week and here it's 3, 4 games, every week. It's more conditioning, you have to really take care of your body and I think that will help me this year for sure.
Mikey Anderson – First and foremost, the schedule and the way it works. We don't practice a whole lot and when you do, you might get 2 or 3 reps max in every drill, so when you're in practice, you have to make sure you're getting enough and you're ready to go for the games. Game to game, it's knowing who you're out there against, knowing what team you're playing, how they like to play. As you're playing different teams every night, you have to stay dialed in mentally to know what's going on.
Quinton Byfield – We had a shortened season last year, we didn't get as many games in, so it's definitely a full season for a rookie year this year. I'm excited to get back into training camp.
When asked a similar question, Todd McLellan took it in a different direction. While yes, there is still learning for these players, that's the case for any player on the Kings roster. At the end of the day, this group of players will be counted on to fulfill the roles they are assigned, while continuing to learn and develop in the process.
"They're no different than Kempe or Iafallo now, they're still learning, even Kopi is still learning, what he can or can't do at his point in his career," McLellan said. "You may have played 1200 games and you're still evolving as a player. The young ones are, the old ones are and everyone in between. The balance is wins, losses, we're in the NHL. We are developing players, but we're trying to win as many games as possible, so you better have your game, you better bring it, regardless of your experience level and give us the best you have."
Building On Byfield…
Quinton Byfield, touched on in the last section, had his most impressive showing of training camp today, in his first opportunity to play in one of the intra-squad scrimmages. Byfield centered a line for Group B and was noticeable throughout the 60-minute game, catching the eye of Head Coach Todd McLellan.
"It's good that he's confident and he showed it today," McLellan said. "Today, he was prepared and he showed that he's prepared and he's ready to play in the NHL."
McLellan did, however, include in his answer that he felt that Byfield didn't necessarily show that same NHL-readiness at the Rookie Faceoff last weekend in Arizona. McLellan took in the games against Arizona and Vegas, in which Byfield totaled four periods, with the 19-year-old's best performance against Colorado coming in the game prior.
"I'm not sure that he did that at the rookie tournament," McLellan expanded. "There's a lot of games left and he's a young player, for him to have that confidence is great, and for him to use that, and expose it like he did today is even better. Let's keep evaluating him one day at a time."
The response came to a question where Byfield was asked point-blank if he believes he is ready to play in the NHL, to which he said he believes that he is.
For his part, Byfield believes in continuing to do the things that have made him successful in his career thus far, while acknowledging the obvious that the NHL is a different beast. Amongst a competitive group of motivated and able players, vying for roster spots at the forward position, Byfield
"I think just doing what I did to get here, in those situations," he said. "Playing the game that I usually play and hopefully it's good. Just doing a little bit extra and doing whatever it takes to get there……every level is a little bit stronger and faster and once you get used to that, you get more comfortable and I think that's what happened towards the end of my six games. I definitely feel comfortable at that level."
As he progresses, Byfield is a part of a large group of forwards with a legitimate shot at cracking the NHL roster. With 19 forwards on the camp roster possessing NHL experience, not to mention a few additional players knocking on the door, the competition will be pretty fierce, with Byfield hoping to emerge from that pack.
Team Canada Memories
Hockey Canada had a trio of Kings on their gold-medal winning roster at the most recent edition of the World Championships, held in Riga, Latvia.
After beginning the tournament 0-3, Team Canada went on to run the table, coming all the way from the bottom of Pool Play to the gold medal at the end of it all. The three LA Kings players – Anderson-Dolan, Vilardi and defenseman Sean Walker – that participated in the event to represent their country for the first time on the senior international level. The trio shared their experiences at the international level over the past couple of days.
Gabe Vilardi – It was really cool. We had a lot of new guys and we got to play a different system with Gallant. It was fun. Obviously, we won, it was a cool experience for sure, going to Latvia.
Jaret Anderson-Dolan – It was amazing. It was a little bit of a weird tournament, we were in the hotel the whole time, but I think when you talk about taking the positives, we were all together as a group, no one was off doing their own thing, we were all in the lounge together. I think that's what brought us together and turn things around after the 0-3 start. Amazing experience, great coach, great older guys we got to learn from like Henrique, similar to Kopi he's just a responsible player. It was a great group of guys and winning it makes it a lot more special.
Sean Walker – I think the biggest takeaway is the relationships that you built with people, guys that you wouldn't otherwise get the chance to meet. I think, at the end of the day, we're all good hockey players and good people, so getting to make some new relationships around the league was pretty cool and obviously to win was an amazing experience, it was pretty fun.
While Team Canada of the past was a good thing to look back at, we've also got the thought of Team Canada of the future, and that's the 2022 Winter Olympics. Drew Doughty, who spoke earlier in training camp, is highly motivated to make that team and believes he's put himself in a position to do so over the summer.
"I was very excited," Doughty said, of finding out NHL players would go to the Olympics. "I obviously would do anything to be on that team again. I worked my butt off this summer to get my game in order and my body in shape, firstly to help us compete and get back to the team we were in the past, but secondly to be on that team. I think it's a great decision…I think the whole world is looking forward to seeing the top guys play."
A Team Canada-level Doughty would be a great thing for the Kings.
The schedule for tomorrow will be the first real change of training camp, with the Kings slated to participate in the Kings vs. Kings event in Ontario, at 3 PM. Players skating in that event will head directly to Ontario, not holding a formal practice in the morning, while the non-playing group is scheduled to skate at Toyota Sports Performance Center at 9 AM, though that is subject to change.
More on Kings vs. Kings HERE.