Drew Doughty has agreed to sign on for an additional eight seasons past this upcoming season, the Kings announced Friday. The extension, per a source, will come with an $11-million average annual value and extend through the 2006-27 season, when he will turn 37. July 1, 2018 represents the date Doughty may officially sign the contract, and as the date has grown closer, the likelihood that this would be a largely painless and perfunctory transaction grew clearer. The longer lead-up to this moment was not without "incident" – there were call-ins to Leafs Lunch, intimations that he and Erik Karlsson would communicate prior to free agency, and general Toronto visits on the schedule – but both Doughty and the Kings, with interests in concert, came to an agreement smoothly.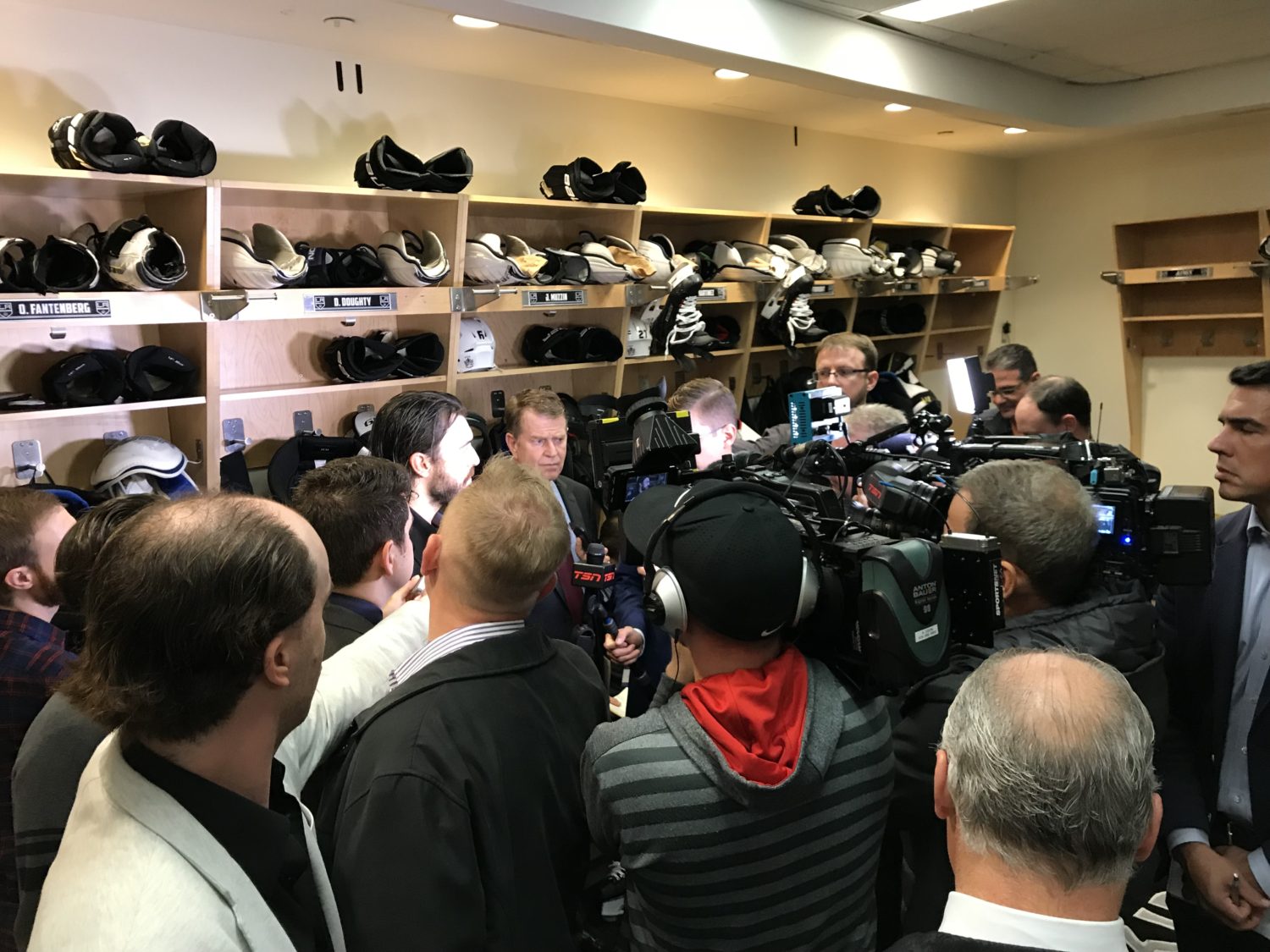 Doughty wanted to remain in Los Angeles. He loves his teammates, he loves the team culture, the staff. He grew up a Kings fan and has already built up his own legacy and clout both with the team and across the league. Though associated with the city of Toronto – and a Jays fan he most certainly is – he has always seemed most at home in London, Ontario, a medium-sized city, rather than the Torontos, Chicagos and New Yorks across the league. Los Angeles is essentially the definition of a large city, but Doughty has always been comfortable in the quiet beachfront enclaves of the South Bay, where he's never more than a few steps from his teammates and goes without the same degree of public attention players on the Maple Leafs or teams in other northern markets face.
Lifestyle is certainly an attribute that works in the team's favor, but Doughty, as competitive as he is, wouldn't re-sign if he didn't think the Kings allowed him a shot at another Stanley Cup. "I know that Rob Blake and Luc Robitaille, they took this job because they want to win," he said in April. A four-game loss in the first round of the playoffs left everyone stunned and angry when they dispersed, but a 12-point rise in the standings amidst career years for several icon stalwarts told of a higher ceiling, and as the neutrinos would indicate, unity, energy and a more harmonious aura returned to the rink.
Though Doughty comes with a hefty – and earned – price tag, that the Kings' most important player was locked up at the earliest possible date represented a nice win for Rob Blake (and Jeff Solomon and company), who referred to Doughty as both the "number one priority" and "priority number one" during post-season media availability. This stands in some contrast to a wider gulf in negotiations at this time three years ago with Anze Kopitar, or Doughty's prior negotiations (and holdout) as a restricted free agent that bled well into the preseason before he signed a new contract shortly before the start of 2011-12.
In 2019-20 he'll join Connor McDavid ($12.5M), Patrick Kane ($10.5M), Jonathan Toews ($10.5M), Carey Price ($10.5M), Jack Eichel ($10M) and Kopitar ($10M) as players whose cap hits equal or exceed $10-million. That year, the Kings already have 15 players approximating $64.09M worth of cap space, according to figures provided by Cap Friendly. It's important, as the team ages, that younger options such as Gabriel Vilardi ($925,000 through 2020-21) and Adrian Kempe, Alex Iafallo, Daniel Brickley and Mike Amadio – all eligible to become restricted free agents one year from now – become viable, cost-effective skaters that can be wedged around the team's more lucrative contracts.
With all members of the core signed to extended contracts, what you see with the LA Kings is likely what you're going to get – for a while. Doughty, Anze Kopitar, Jonathan Quick, Jeff Carter and Dustin Brown are all signed through at the very least 2022. There's also some mileage on the books in the later years of a number of contracts, such as in 2020-21, when a 33-year-old Kopitar, 34-year-old Quick, 35-year-old Carter, 36-year-old Brown, 37-year-old Ilya Kovalchuk, 35-year-old Dion Phaneuf and a 33-year-old Alec Martinez could combine for $42.45M.
But as the team navigates a tight but growing salary cap, there is a clear Win Now emphasis placed on a core that combined for a Jennings Trophy, a Selke Trophy, and Hart and Norris Trophy nominations in 2017-18 and has two Stanley Cups this decade. Doughty is – to a fault, at times – an emotional and explosive leader and revered teammate who is likely the most able player in the league to evade forechecks with the puck and close on defenders without it. His angles as a point of attack towards the puck carrier are the very best in the NHL. He is coming off his best year statistically as a First Team All-Star and is a future Hockey Hall of Famer.
There's also a fun, go-lucky side to Doughty that, in its essence, encapsulates a profound love for the game. I was happy to find a Mayor's Manor piece shortly after Doughty ended his holdout in 2011 that was just the example, That fall, Doughty's negotiations on an eventual seven-year, $56M extended into October – nearly all the way to Frozen Fury. Before the team embarked on a Las Vegas-Hamburg-Stockholm-Berlin-Maryland-Newark-Philadelphia road trip that included an NHL Premiere opener followed by a trip to the Eastern Seaboard, Doughty was asked in his first media availability after signing his contract who he'd prefer to avoid on the long flight to Europe.
"Mitchie, because a lot of us are going to want to be sleeping," he said, referencing Willie Mitchell. "He's just going to want to give us lectures and talk a lot, not allow us to get that shut eye." Three years later, when reporters shared with the players after an early season practice that Mitchell had been named Florida's captain, there wasn't anybody in the room who was as happy to hear the news as Drew.
He's a player who carries significant weight, whether in notoriety, ability, camaraderie or contract size, and it was imperative that Los Angeles bring him under contract without liberal or superfluous approximations of market value. That they did so with great ease is a reflection of the desire of the players to remain in Los Angeles and continue to add to the team culture they've built.