Jaret Anderson-Dolan
Position: Center
Shoots: Left
DOB: 9/12/99
Height: 5'11
Weight: 191
Hometown: Calgary, AB
NHL Central Scouting final ranking: 21 (North American skaters)
NHL Central Scouting midterm ranking: 40
Bob McKenzie's final ranking: 36
Stats (WHL-Spokane): 72 GP, 39-37=76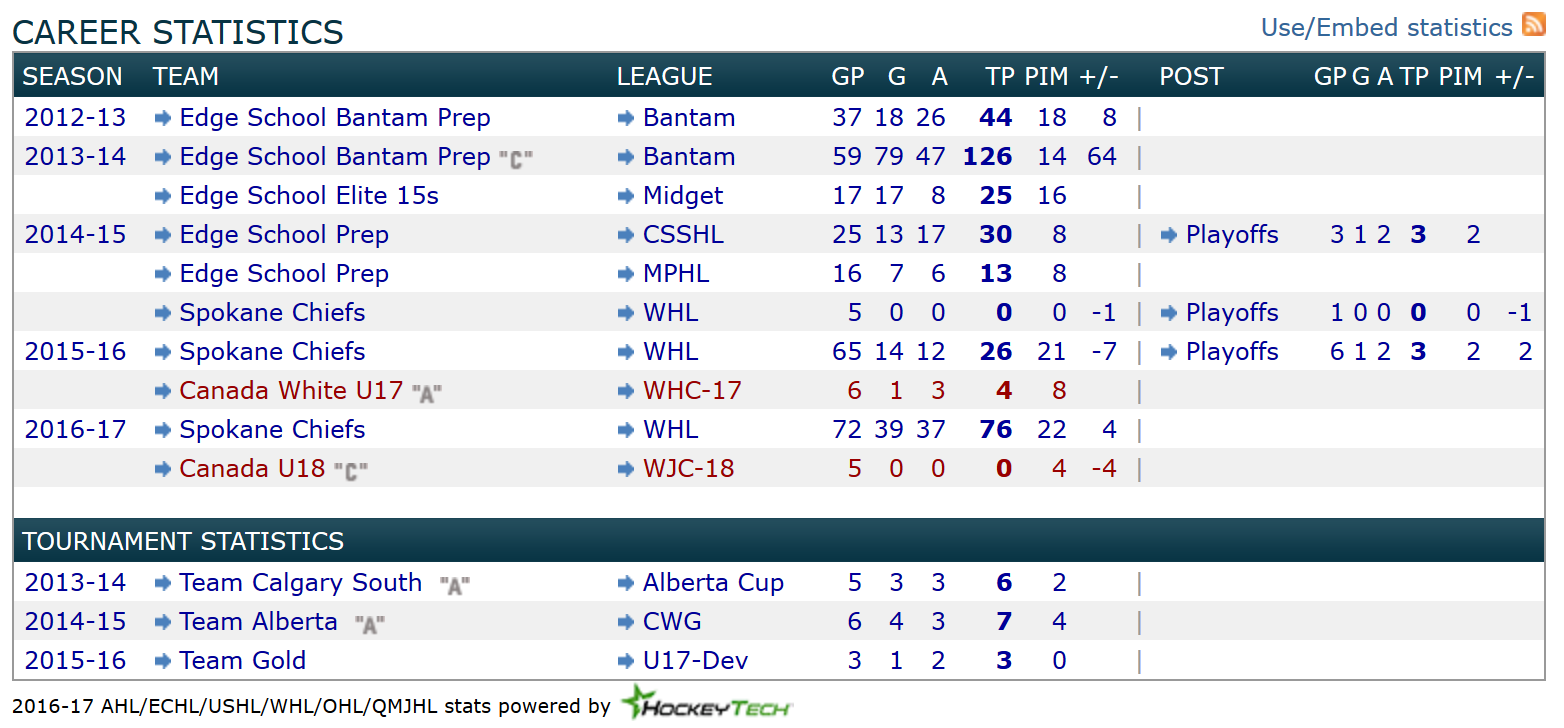 On his excitement of hearing his name called by the Kings:
Honestly, it's hard to put into words. It's a moment you've been dreaming about your whole life. You grow up watching the draft and watching guys get drafted, and now that it's happened and you're drafted, it's hard to put into words, but definitely a dream come true.
On testing well at the combine, and his conditioning regimen:
I think I've always taken a lot of pride in the conditioning side of hockey. I think its very important that anything you can do to get an advantage on you opponents, I'm willing to do. I think that's just willing to put time in in the gym and work hard, but for me, I take a lot of pride in that.
On joining former coach Don Nachbaur with the Kings organization:
Yeah, absolutely. Snack was great for me in Spokane. I learnt a lot from him not just as a player but as a person as well, so I learnt a lot from him, and to be able to join a team where he just got hired as well, it's really exciting.
On growing up with two moms:
For me, growing up it was really normal. Obviously I don't know any other way of growing up. Even though people may say obviously it's a little bit different, but for me it's completely normal. For me it kind of gives you a little bit of perspective, just how much the world is changing. I think it's come a long way in the past couple years, so it's really cool to be in this situation and have a voice in the community that way.
On his parents' excitement of hearing his name called:
Yeah, it's super exciting. They've done a lot for me over the years, and Fran was crying when I hugged her, so it was really cool to see. Both of them were crying, actually. They put a lot of work into it. It's not just me that puts in work. They drove me to practice when I was younger, everything like that, so it was really emotional, and I cant thank them enough for everything they've done for me.
On eating healthy:
Growing up, Nancy, she has her own business with food addiction treatment, so I was raised in a house where we eat well and eat organic food and things like that, so for me, it's just kind of a habit, just talking about things you can do to get an advantage of your opponent. If I'm disciplined with that, then maybe it'll give me a little bit of an advantage. I was raised in a house where we eat right, so it's pretty easy for me.
On his style of play:
I'd say a hardowking two-way forwad. I love the offensive side of the game. I want to contribute as much as I can offensively, but also take a lot of pride in the defensive side of the game. I think it's important – if you're good in your D-zone, you're going to have the puck more and you're going to be able to create more offense.
On having captained Canada at the U-18 Championship:
It meant a lot. Just to represent Canada is a huge honor. Being named captain was a huge honor, and it was something that was really exciting. I think you learn from your parents. Fran was a leader on almost every hockey team she played for, so I think just being raised right, a lot of credit to my parents. For me, I just try to lead by example.
Via the Spokane Spokesman-Review: Nothing about Chiefs' Jaret Anderson-Dolan is ordinary
Via Corey Pronman of ESPN Insider (Subscribe to ESPN Insider here):
Anderson-Dolan is one of the youngest prospects available in this year's class — he was three days from heading into 2018 draft eligibility — and he was one of the top draft-eligible performers in the WHL this season. He isn't an elite skill type of player, but he does a lot well, and he was always noticeable during games. I like the first few steps, speed and hustle in Anderson-Dolan's game. He isn't a player who gives up on a play on either side of the ice. He's always putting pressure on defensemen or grinding to get the puck back on the defensive end of the ice. His skill is slightly above-average, but he makes plays because he's quick. Quick feet, quick twitches in his hands, quick decisions and a quick shot — yes, there's a particular adjective that defines this player. I wish there were an element of his game in which he took over the offense more, but he's still effective — and quick.
Via McKeen's Hockey (Subscribe to McKeen's Hockey here):
The Spokane center had an explosive second full season in the WHL, nearly tripling his point production, and showing himself to have a strong game in all three zones. While he lacks ideal size, there is no part of his game that projects to less than average at the highest level. It is somewhat unfortunate that he was blanked playing for Canada at the U18 tournament, but the lack of points was not for lack of an effective game. The relative absence of flash highlights that he is aggressive through all 200 feet, doing everything in his power to regain possession of the puck for his team. While he may need to curb his defensive enthusiasm somewhat, it is easier to get a prospect to fine tune his defensive IQ than it is to get an uninterested player to care about the other side of the puck. It is that commitment to the defensive game that should ensure that Anderson-Dolan will be able to carve out a role on the bottom six if his NHL team does not require his services in a more traditional scoring role. That said, he can certainly score, as his 39 goals last year for a non-playoff team attests. His skating and shooting are both plus tools, featuring speed and agility for the former and power and a willingness to shoot from everywhere for the latter. He could be drafted anywhere from 25-45 and provide value quickly.
Second Round, 41st overall: