I'm not sure if there's any instructional manual towards approaching a Darryl Sutter media session, and if there was, I wouldn't be the one to write it. There are several guidelines, though: Don't reference a line by the "first" or "second" or "third" or "fourth" line. Avoid elevating individuals above their lines or pairings. Make your questions pithy, and don't wax poetic.
Though the Kings did not advance deep into the playoffs, where so many outstanding Sutter quotes are born, there were still roughly 100 or so quotes that received consideration for this year's list, which will be divided into five parts: Insightful/Appreciative, November 24, Freeway Faceoff Sarcasm, The Top 30 and Honorable Mentions.
INSIGHTFUL/APPRECIATIVE
Sutter's evaluation of Sidney Crosby and the Penguins' season on December 4 was prescient, and in reading other comments he made about Pittsburgh, it's clear that he saw the Penguins as a team capable of a deep playoff run, even during the club's inconsistent play leading up to a coaching change. And though the Kings lost in Denver on January 4, Sutter was still on hand to see Jarome Iginla score his 600th goal. If you ask Darryl about particular aspects of hockey history or pageantry, there's a good chance he'll share recollections from his own memorable playing and coaching experiences.
December 4
On Sidney Crosby:
Maybe he's playing a more complete game, even more so. Their lineup is deep. It's like four good lines deep, the way have guys spread around. They have Hornqvist playing the third line, and Eric Fehr and Matt Cullen are on the fourth line with the Russian boy, so pretty deep. Everybody's talking about it because Crosby's numbers are down, but the team's not getting enough credit for goals-against. It's probably one of the best they've ever had. They're playing a game that's more suited for success.
December 17
On whether it's special to play in Montreal and win a hockey game:
It's always special. Count the Stanley Cups and the championships. It's still one of the Original Six teams. It's the very same as Ottawa the other night. You forget about how many Stanley Cups they've won. It's good for our players, being a California team, to come and see these Canadian cities and feel what's going on around. It matters. [Reporter: Do you tell them to look at the banners, or do you look at the banners?] I always do. I remember – I was talking to Blakey, sitting up there today – I remember the first game I played in the old Forum, and it was one of the few games I remember, just because of the history of it. As tough as those teams were, I liked playing in the old Forum more than Maple Leaf Gardens, for whatever reason. It's special. Special place. And this building, they recaptured enough of that feeling of the old Forum. It's special to look up there. You see all those banners, and you count all the players, and you count how many of them are on those Cup teams. You try and remember how many guys that you'd played against, how good they were. It's pretty special. The reason I remember that first game in there, it was opening night, so it had to be a Saturday night. We won 8-7, Chicago, and I think LaFleur had a hat trick.
January 4
On whether it was good to see Jarome Iginla score his 600th goal, despite the loss:
Yep, I said it this morning. I was talking to somebody. He's a guy that, what'd he go, three or four without a goal? Usually he'll get three or four in a game. There's not many guys – think about it, 600 goals. Just put it in perspective. That's – how long he has played? So he's averaged 30 goals a year. Over 30. When you think about it, there's guys playing in the league now that won't score five, or we have guys that don't have a goal yet. It's pretty spectacular when you think about it. [Reporter: Is he the best forward you've ever coached? You've coached some good ones.] Obviously he's one of, for sure, one of them. I'm just trying to think, even today, some of those guys who've scored a lot of goals, the guy who was comparable to Jarome was Michel Goulet. Even though he was a lefty and Iggy's a righty, but they were similar type guys in terms of goals. [Reporter: It's tough for a guy when this goes on for a while and people are flowing him around. He said he wanted to get it over with, I think.] He's still a guy, if you look at him, he's out on the ice early this morning, how hard he trains. He's probably go another hundred in him, if he wants. It's really not that far out.
February 18
On Drew Doughty "getting a lot of Norris hype":
He should. Best defenseman in the league. Hey, if they're just going to give it to the defenseman with the most points, then change the award. Change it. He's the best defenseman in the league. Easy. Not even close. In every situation, he's the best defenseman I've seen. And I've said this before, I don't jump on guys wagons because I coach 'em or because we're playing against them tonight. It's pretty honest, and he's the best defenseman in hockey.
NOVEMBER 24
Of Darryl's September-to-April media availability, there were two stranger scrums that stick out. Both were on the road: The November 24 practice day media scrum at Amalie Arena in Tampa Bay, and the conversation after the morning skate at the Verizon Center in Washington, DC on February 16. One quote from the availability at the Verizon Center made the Top 30 list below, but there were three outstanding observations from the scrum in Tampa Bay, which came one night after Los Angeles defeated Florida in a game that featured a Kings goal controversially called back as Al Montoya suffered an injury. These quotes would have made the top-10 but are instead listed in their own category.
On Rule 69.7:
I don't know if that's a speeding ticket, or what.
On Nick Shore's disallowed goal:
So, first off if he's going to wave it off, he's going to go check to make sure because the rule is that we can throw our shoe out, right, if we think it's the wrong call. So he made the right call by going over there and checking and saying, 'the puck was in the net before the net was off.' The net came off, too, so that's what they reviewed. So that's not a coach's review. He goes over and checks. OK, just in case there is a coach's challenge, was the puck in the net before the net comes off? So that's what it is. Then they come over. They did everything right. It's very standard protocol. … So they came back, asked if we were going to challenge, I said, 'yes.' They went up, and still, it was discretion. He looks at it. Reviewed. The guy's hat was off – the goalie's hat was knocked off – and they had to call the wagon to get him off the ice, so it was tough to go the other way. It's a goal. You know what? That's their interpretation, but I'd throw it every time on that, for sure. Why wouldn't you? The score's one-nothing. It's better to have a two-goal lead than a one-goal lead.
On the delay during the goaltender interference review:
They probably sold 500 more beers. Had a six-minute intermission there.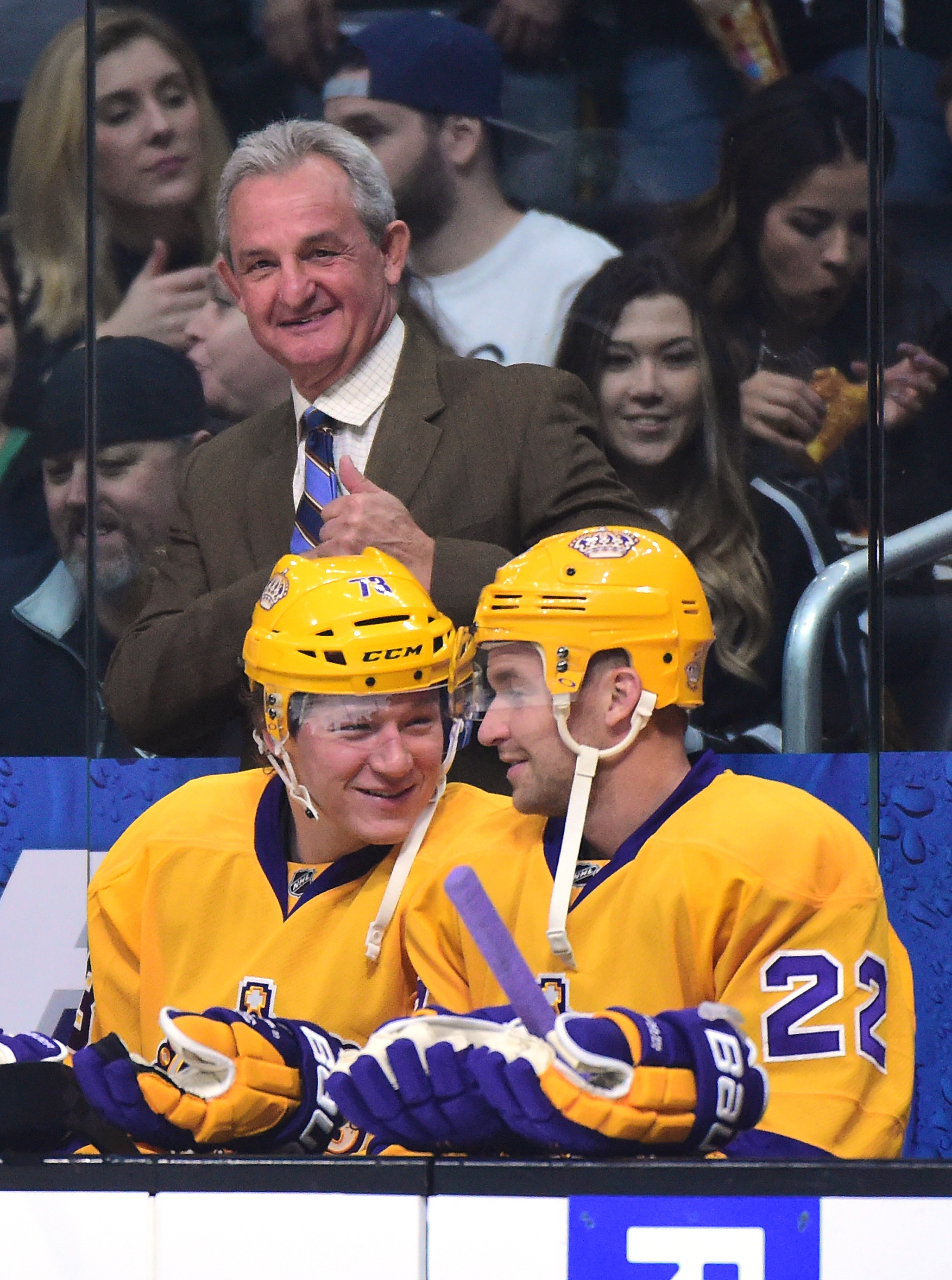 FREEWAY FACEOFF SARCASM
Los Angeles and Anaheim didn't meet until January 17, which meant that there were plenty of conversations about the Kings-Ducks rivalry over the final three months of the season. Given that the teams were jockeying for Pacific Division control for much of the late winter and early spring, there were also references towards watching common opponents during their California swings.
January 16
On Sunday's game in Anaheim:
It depends. Are you covering the Kings or the Ducks? Did you ask them today? We haven't played them this year. I'm not very familiar with them. I haven't seen them play. Don't watch them very much, haven't seen them play, so I can't tell you much about them.
March 9
On his takeaways from Monday's Capitals-Ducks game:
I was enamored with your team.
April 9
On whether he'll watch Sunday's Capitals-Ducks game:
No, I'm not really a Ducks fan. I'm sure there are some here. Some people in here are, but I'm not that crazy for 'em.
The quotable Darryl Sutter, 2012 (stick tap to Rich Hammond)
The quotable Darryl Sutter, 2013
The quotable Darryl Sutter, 2014: Part I
The quotable Darryl Sutter, 2014: Part II
The quotable Darryl Sutter, 2015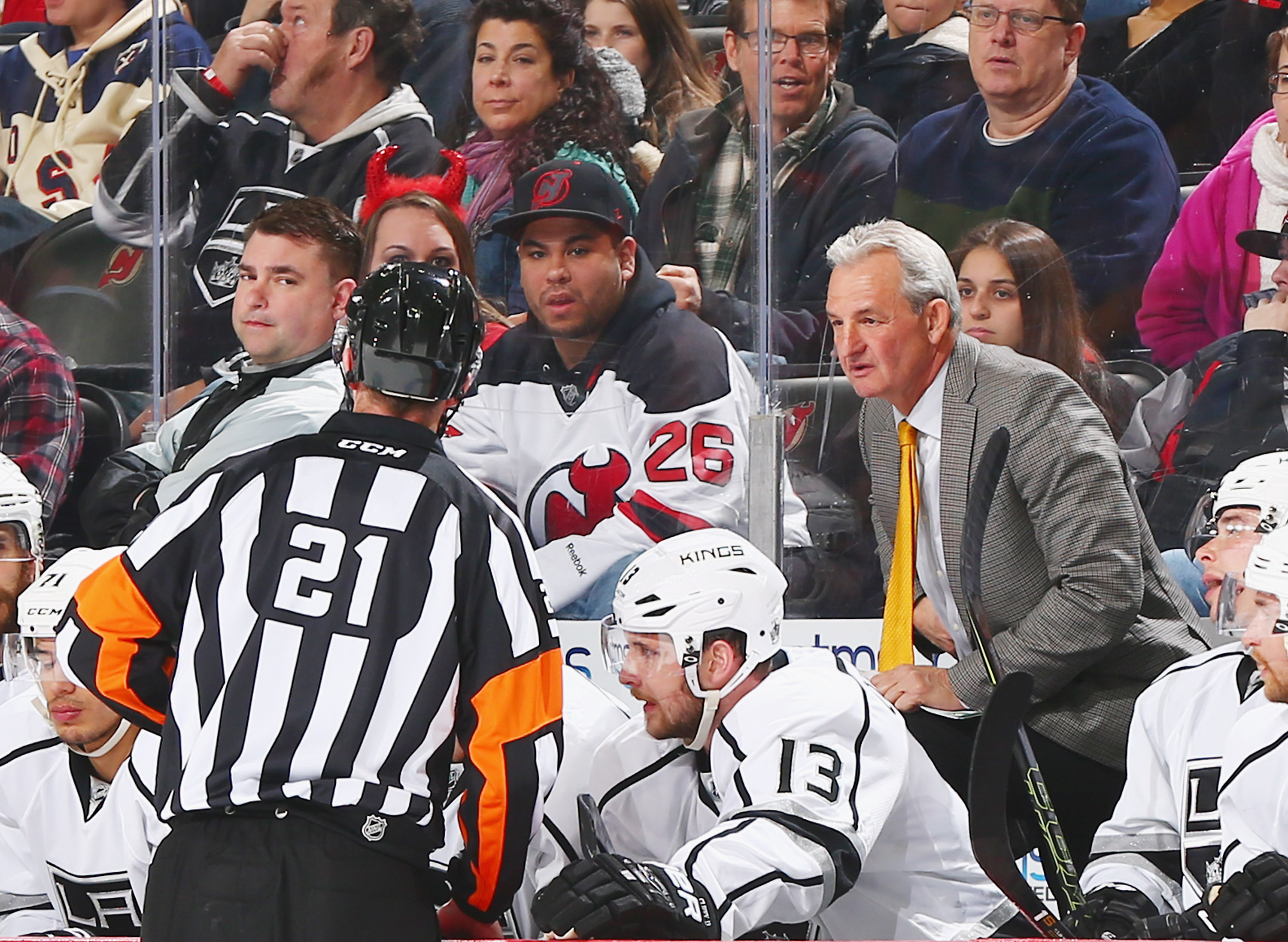 30
February 9
On how special the team's 50th anniversary is:
Well, the first 40 weren't that productive for the organization. … Say, since they hit since probably about what, 2009, I think the last 10 years have been pretty productive for them. Everybody has a 50-year anniversary at some point.
29
December 21
On what Dwight King will have to do to make himself "immediately available" for selection:
He can't do anything to make [himself] immediately available to play for us because he's not immediately available. Talk to the Mayo Clinic. Got nothing to do with me.
28
October 7
On how long it should take before the new players gel with the team:
About eight hours. That would be a good time, right? That'd be a perfect timeline.
27
December 8
On Drew Doughty and Anze Kopitar's heavy minutes:
Gotta watch Drew's minutes. He's getting older now.
26
January 11
On personnel:
It's pretty easy to figure out, obviously. Supply and demand. They've got to supply it, and we've got to demand it.
25
September 24
On gaining an upper hand on off-side reviews:
I mean, all of a sudden my eyesight's not going to get better. I've also told backup goalies, you guys on the bench have just as good of a read as anybody. You guys, you're not doing nothing. A lot of times they're closer to the blue line, and a lot of times they know if it's goalie interference better than anybody else.
24
October 25
On looking to "cultivate" more production from the Shore and Andreoff lines:
'Cultivate,' for a farmer, means work. So, if you're talking about anybody else, cultivate is work.
23
April 9
On whether a division title matters:
I think there are 14 teams that would just love to be in our position, and in our division there's what, four, five, six, seven that would just love to be in that position, too. Just to think that we've played 81 games and we're we're right there with the team that's the big favorite and the runaway division winner and all that, so we did a hell of a job just to be right with them.
22
April 21
On whether he communicates with the officiating supervisor of the series:
I talk to him every day. That's part of protocol, that I talk to him. It's not in a bitch mode, or a correction officer mode. It's just 'what'd you think,' or 'should've that been.' We've seen some funny ones this series, if you look at it.
21
April 4
On the confidence in Jamie McBain:
He's played really well for us this year, and we've used 11 or 12 defensemen, and very seldom do you make the playoffs or go play after the tulips are up without using that many.
20
February 2
On Dustin Brown's play:
We should play Arizona more often, he would have 70 goals this year. Coming into today's game three of his five goals were against Arizona. He has five in five, so he is on an 82-goal pace against Arizona.
19
March 7
On the penalty kill:
Our penalty kill's been good other than two games against Anaheim. I know there's critics, but those critics weren't very good penalty killers, either.
18
January 17
On the improvements between the Ottawa and Anaheim games:
I mean, the big thing last night was Kopi's contract. Well, how many times has the media asked Kopi, and he said the contract will get done when the same numbers that all the geniuses were reporting are what he signed for. One of the biggest problems last night with our game was he had to get interviewed before he came off the ice about his new contract between periods. So, how much did that impact the game? Maybe that's why we lost the game. Breaking news. Got to get to it first. Hard to believe, right? What do they call that? Echo journalism? Drives me nuts.
17
March 19
On whether there's pride in winning the division:
We're trying to make the playoffs. It was the goal, and that's our goal. Make the playoffs, and then we'll have a parade for doing that. Heck, just think, we're keeping pace with Anaheim. It's got to be frustrating that they're not 20 points ahead of us by now.
16
December 17
On getting a practice in while in Mont Tremblant:
Yeah, that's what hockey players do between games.
15
March 19
On whether winning the division is important after having qualified for playoffs:
It's important to play well. The only time I've answered or even thought about that is when you guys ask about it. That's it. If it was so important, then how come it hasn't been important for 50 years?
14
February 16
On whether it's special to face players who previously meant so much to the team:
No. You guys writing a book about all the players who used to play in Los Angeles, a 50-year thing, or what's going on here?
13
April 22
On referees calling games differently:
More games, you need more officials. They're learning, also. It's like putting young players in your lineup. Hey, I think part of the job as a senior coach is to help those guys. Very seldom do you give them [—-].
12
October 15
On who the best baseball player on the team is:
Take out the European boys, and they probably all played some. That would've been a good question 20 years ago because the NHL used to have the Molson slow-pitch tournaments, so you could've gone there and been behind the screen. Figure out who the best one was. Remember those? Niagara Falls. They had a team. Big fundraiser.
11
December 4
On Matt Greene's shoulder surgery:
Home resting. Sore. Real sore, yeah. They had to shave him. He'll be sore.
10
April 19
On whether he was nervous heading into overtime:
No, I just remind our players that there's no shootouts and it's not three-on-three.
9
April 22
On whether he'd want Milan Lucic to return, if Dean Lombardi asks him:
Why wouldn't I want Milan Lucic back? I mean, if you were playing with him, he'd probably protect you. It's a dumb question, jeez.
8
December 21
On what Arturs Irbe is doing now:
I don't know where he is. … Maybe he's a prime minister or something.
7
October 15
On relying on the club's leadership core:
It'd be hard to come up with a player in the NHL that hasn't lost three games. If you know that one, you should write about it.
6
September 25
On whether the Kings are looking for a "bounce-back season":
That would be good, yeah. [Reporter: Where are you at the moment?] Where are we at the moment? We're trying to bounce back from last season.
5
December 4
On Drew Doughty's minutes:
It's driving a couple minutes away from him, going over to that rest box. I used to tell my son when he was little, I said, 'Brett, why do you always go over to that penalty box?' He said, 'I can see good from there.'
4
September 18
On whether he's seen Robyn Regehr recently:
He just sent me a picture a couple days ago when he was harvesting. I noticed his brother – they were out in their big trucks and combines. [Reporter: So he's keeping busy.] Yeah. His line was something like, 'Barley's off. Starting on wheat tomorrow.' Big red machines.
3
October 12
On whether he can notice changes in the quality of the ice when it's hot outside:
Yeah, the ice is [road apples], so if it's warmer, then it's just warmer [road apples]. That's a fact.
2
December 26
On what he saw on Jake Muzzin's match penalty:
Muzz's ass on Boyd's face. It was a hockey play. It's not even a penalty.
1
April 12
On Marian Gaborik's availability:
I'm not God. I'm not a doctor. I'm closer to a veterinarian than a doctor.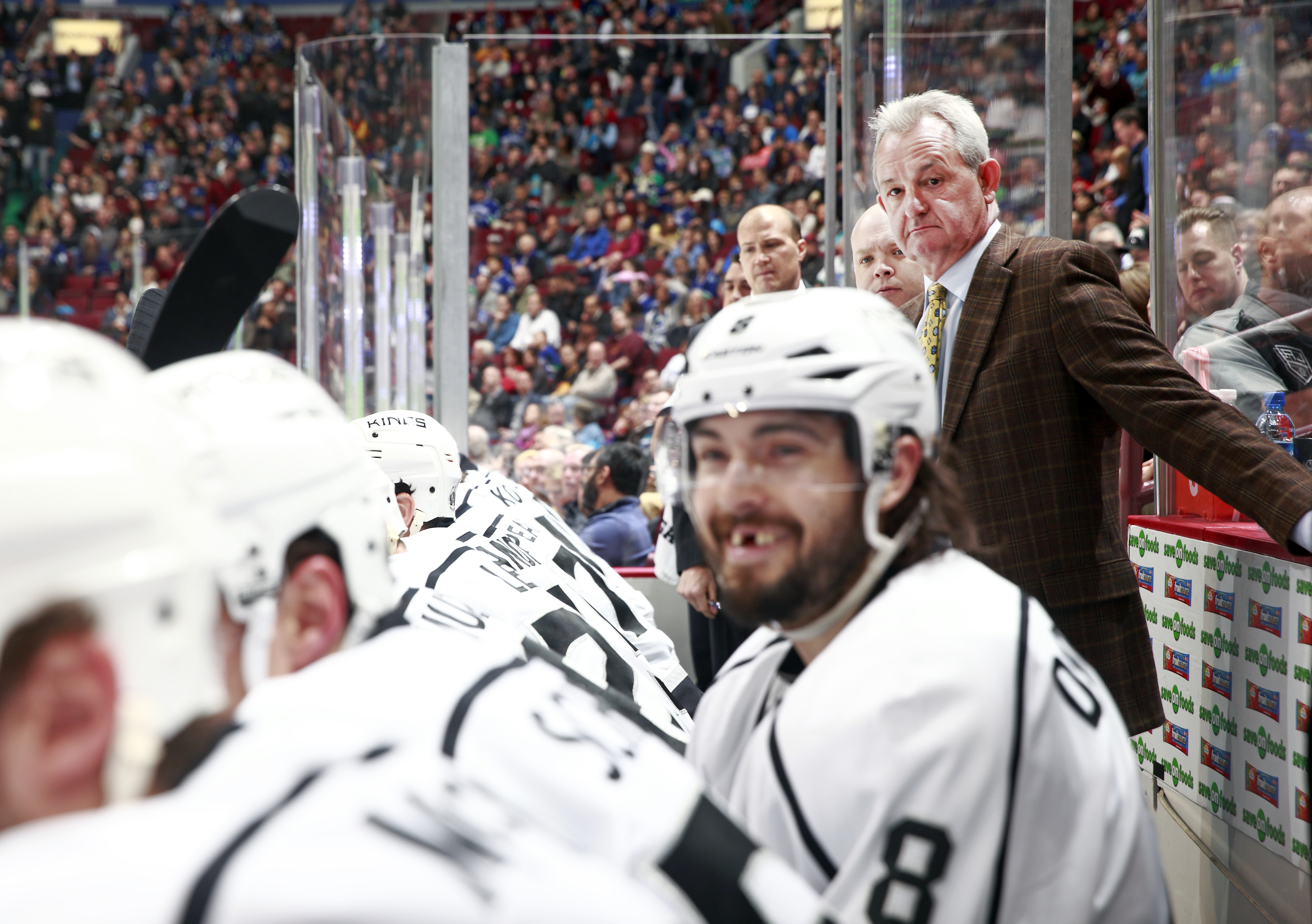 HONORABLE MENTIONS
September 25
On whether Patrick Maroon's goal was scored with a high stick:
Well, there's no reviews in preseason, so I guess you could hit somebody over the head with your stick and get away with it, too. It was a high stick.
October 7
On whether he expects Martin Jones to hold down San Jose's goaltending position:
Yeah. He comes from a good program.
ed: We heard this quote in some form two or three times.
October 15
On Los Angeles and Anaheim's scoring struggles to open the season:
Tough to win nothing-nothing. Still not a rule for that.
November 24
On the challenges following an extended run, and the parity in the league:
There's no difference in any of the teams. If you make the playoffs, you can win the Cup. The toughest part is making it, and then it's a marathon once you get there. You play to the middle of June. The guys that are in the Mediterranean league, the middle of April. So you play 'til the middle of June, it takes its toll. Really good teams play in June. That it carries over to the next year does not mean that they're still not a really good team. It's tough to make it. You've got to be close to a hundred-point team to make it. I know firsthand we didn't make the playoffs year last year. We had a hell of a year. If we'd have made the playoffs and won the Stanley Cup, then we'd have all these guys who can't wait to spit on you, say that they were the difference, the reason you won it. [laughs] Think I've been down the road, eh? I don't even like talking about it.
December 6
On the team's penalties:
The penalties? Those all should've been announced as slow-moving violations. Every one of 'em.
December 8
On strong performances on the last road trip, and home / road splits:
I threw out the first three games of the year and moved on. Everybody else was sinking the ship.
January 4
On the loss to Colorado:
I think we got out of the first period all right. I think we had some penalty trouble and we had to use a really short bench. We had some guys with that 'Slow Moving' sign on.
January 7
On whether he worried about playing Lecavalier and Schenn without a practice:
Well, I can talk, and they can talk back, so you do communicate and ask them if they want to play and if they're available to play, so that would be logical.
January 19
On how the team can improve:
I don't have to tell you everything, do I? Aw, we're not very good. I don't think we're good. We're just kind of spinning our wheels.
January 24
On whether he has been impressed with Milan Lucic's ability to channel his emotions positively for the team, despite Saturday's incident:
I've been very impressed. I think last night he got axed, x-rayed and had a hearing all in 24 hours
February 19
On the end result of the overtime loss in St. Louis:
I didn't like the call on Quick. That's a bad call. That's what I told those referees. Our goalie's been run over in the Boston game. Even though it's not a penalty, the goalie gets run over. The Washington game, the goalie gets run over, last night a couple times, and then you guys call – print this – chicken____ stuff like that. I'm sure Jonathan Quick was trying to trip him [sarcasm]. It's hockey, not basketball. And they scored on it. You know what? It's a big difference in the game. It's a one-nothing game, and something we've been talking about, hey, it's really difficult.
March 22
On whether he considered a change when Jonathan Quick allowed a second goal:
No. He should've been well rested. He got a couple periods in last night.
March 24
On whether he gets asked frequently about Drew Doughty's Norris candidacy:
I have lately. I don't know if there's something going on or a bandwagon or what.
April 1
On when he realized that Jonathan Quick was a "special" player:
Oh, I think I knew that coming in. Part of being a good coach, there's three things that are really important to being a good coach – having a really good goalie, having a really good defenseman, having a really good centerman. Those three were in place here with Jonathan, Drew and Kopi.
April 19
On after-the-whistle fracases:
It's not good to be engaged after the whistle, because that's when the guys with the stop signs get involved. It's not good. You go whistle-to-whistle.