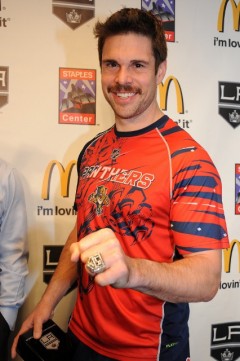 On the ovation he received:
I'll be honest, that was a little bit easier. I was actually skating out for warm ups for the first time and you see a few signs around, and you're like, 'Oh, this is real, I'm not playing here anymore'. What I'm [in Florida] to do is win, bring out the best in the young guys, and bring out the best in me, and when you come back to the organization that gave so much to you, and you had so many good times there, it kind of brings you back to that moment. So like I said, you're heart kind of goes back over there, it's like bouncing back and forth a little bit, just being brutally honest with it. It was nice to get the [ring] with Darryl, they did that early which was perfect for me, so I could settle in and do what I'm supposed to do to be a great teammate to these guys here.
On dealing with emotions:
I think I was OK with everything, I just tried to play a simple game, not do anything outside of my element. My job's always the same – you know, try and slow down the top players on the other team.
On whether the second period was "the killer":
I was really proud of the way we came out in the first twenty. That's a good hockey team over there. We're a young team learning to do things the right way like that hockey club over there. We played very, very well in the first. In the second, we didn't manage the puck well, we didn't finish our checks like we did in the first period, and they scored four goals because of it. To beat great teams, championship teams, you need to play 60 minutes, so it's a little bit of a lesson for us.
On whether the Panthers put a "little scare" into the Kings in the third:
I like how we responded, but these are things that we need to learn as a group. To beat great teams, you've got to be great yourself. We were below average in the second, and teams like that will make you pay because they're well coached, they play tight, that's what happens.
Willie Mitchell: "I'll be honest, a lot of days I hated Darryl Sutter when I played for him. But he sure got the best out of players."

— Greg Beacham (@gregbeacham) November 19, 2014