Fifth Round, 138th overall: Drake Rymsha
Position: Center
Shoots: Right
DOB: 8/6/98
Height: 6'0
Weight: 187
Hometown: Huntington Woods, MI
NHL Central Scouting final ranking: 118
NHL Central Scouting midterm ranking: N/A
Bob McKenzie's final ranking: N/A
Stats (USHL-Ottawa and OHL-Sarnia): 65 GP, 35-27=62
His father, Andrew, was drafted in the fourth round by St. Louis in 1987 and played six NHL games with the Quebec Nordiques in 1991-92.

Links: Ottawa 67's deal Rymsha to Sarnia Sting, receive four draft picks in return (Ottawa Citizen) | Sarnia Sting's Rymsha optimistic for NHL draft (Sarnia Observer)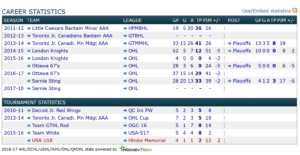 On the feeling of hearing his name called and putting on a Kings jersey:
It's hard to put into words. You grow up playing the game for your whole life and your one goal is to make it to the NHL, and to be one step closer to that goal and then to put on an NHL jersey, it's truly a dream come true.
On a terrific late-season performance with Sarnia:
The coaches believed in me. They put confidence in me and I finally just trusted my abilities and just stopped thinking and went out and played and I had a really good finish to the season.
On having a "versatile" game:
Yeah, I'm a very versatile player. I'm a full, 200-foot centerman. I can play pretty much any way. I like to finish checks and be hard to play against, and I can also be an offensive player at the same time. My versatility as a player is what I pride myself on.
On being born in Michigan at the beginning of the Red Wings dynasty:
Yeah, it was cool to see. I was pretty young when the dynasty happened, but them making the playoffs for 25 straight years and being a season ticket holder for the Red Wings, I was lucky enough to go to almost every home game. To grow up and see an organization like that and see how the game's played and to be drafted by an organization like L.A. where they're proven winners, it's a dream come true.
On whether the evolution of the game towards speed and pace is evident at the OHL level:
Yeah. I mean, if you think about it, the people in the NHL now are the people who were in the OHL. The game's always changing, and the speed in the OHL is always ahigh pace game, and there's a reason why it's one of the best junior hockey leagues in the world.
On whether he had any expectations over where he might fall in the draft:
No, no expectations because you never know in a draft like this. Just coming in with a positive mindset, and I was hoping for the best.
On whether he had any expectations of being drafted by Los Angeles:
I had a meeting with L.A., so I had a good feeling coming into the draft that maybe L.A. would be one of the teams that was thinking about me, and for them to take me, it's a dream come true.
On joining OHL-Sarnia and having a strong conclusion to the season:
I can't thank them enough – guys like Derian Hatcher and David Legwand are proven NHL players. There's a lot of NHL games combined between the two of them. They run a pro system over there, it's a professional organization, and to have two guys ike that running the organization, helping you every day, it's really helping my development.
On any advice Derian Hatcher and David Legwand gave him:
Yeah, just enjoy the moment, and you only get drafted once. Enjoy it with your friends and family.