This season: 82 games, 4 goals, 30 assists, 34 points, 14 penalty minutes, +5 rating, 22:18 time on ice
The good: Since he was recalled to Los Angeles in conjunction with the Jeff Carter/Jack Johnson trade in February, 2012, Slava Voynov has played in all 215 possible regular season and playoff games and after a two-goal, nine-point postseason now has his second Stanley Cup in tow. It was a long distance traveled before Voynov was able to end his 2013-14 season with a win and a parade. The 24-year-old righthanded defenseman appeared in all Kings preseason, regular season and postseason games, and traveled to Sochi in February to represent his home country before Russia's tournament ended after five games. The Kings' number two minutes-eater received heavy rotation – his 22:18 regular season time on ice jumped up to 23:08 in the playoffs – and proved plenty durable as a six-foot, 194-pound defensemen playing regularly against the likes of the Western Conference's elite. His playoff minutes were awfully tough. Consider Voynov's (48.0%) and Willie Mitchell's (47.6%) offensive zone start percentages with those of Matt Greene (56.9%), Alec Martinez (60.2%), Jake Muzzin (59.5%) and Drew Doughty (60.3%) during the 26-game marathon. He has a hard and accurate shot:
The bad: Voynov's scoring rate decreased in 2013-14, a trend likely stemming from his team's 26th-ranked offense and the natural recalibration of a shooting percentage that checked in at 9.3% in 2011-12 and 7.6% in 2012-13. Those are high numbers for defensemen; consider Shea Weber's career rate of 8.1%, and those of the offensively capable Erik Karlsson (7.1%), Oliver Ekman-Larsson (6.4%), Zdeno Chara (6.4%) and Ryan McDonagh (6.3%). In the 2013 playoffs, Voynov scored six goals on 34 shots. If there wasn't going to be some regression over 82 games from a 9.3% shooting percentage over his first 140 NHL regular season and playoff games, then we'd be sitting here today talking about a player emerging as one of the accurate sharpshooters in the league. Instead, Voynov shot 2.8% in 2013-14 and scored a career-low four goals. It appeared as though he was playing himself into shape after Darryl Sutter mentioned early in the season that he "Probably could've done more work this summer, and he's going to have to do some more work to get his minutes back." There's likely a correlation between that and the fact that Voynov played in all six possible preseason games. Like any player, Voynov faced challenges in the postseason; his may have been more pronounced given his heavy minutes and defensive zone gravitation.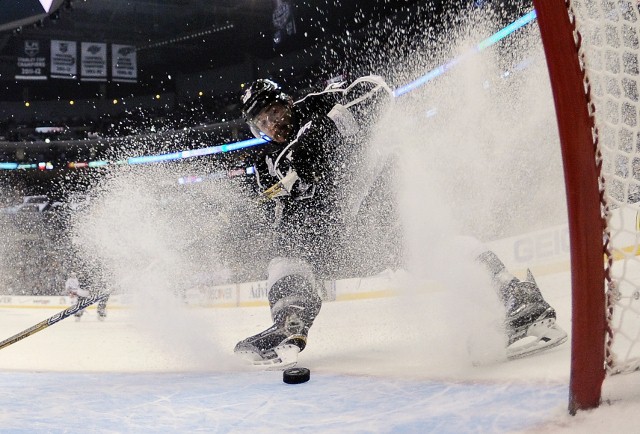 Going forward: Voynov completed the first year of a six-year, $26-million contract that should still provide the team very good value despite a 2013-14 season that some would call lukewarm. There's no doubt about his durability and his special teams importance, and there's surely a committed willingness to battle as part of an underrated defensive component. Voynov's shots attempts per game have risen each season he has played, as has the percentage of attempts that result in a shot on goal. It's very possible that from an offensive standpoint, the pucks just weren't going in for him. Perhaps Alec Martinez, who shot 13.9%, had some sort of voodoo device. Because his shooting percentage should rise, and because the Kings' offense was more balanced following Marian Gaborik's arrival, Voynov, who plays heavy minutes in all situations, should see his production improve in 2014-15. Offense obviously doesn't tell the entire story with Voynov, the versatile and low maintenance minutes-eater who has now spent six seasons in North America. It's remarkable to think that he's only going to turn 25 in January. With the added experience, and with his first 82-game season evolving into a 119-game test of endurance and will, the young and balanced Voynov is in a strong situation to continue to develop in all facets and should be able to improve personally upon his 2013-14 season.
2013 Voynov evaluation
2012 Voynov evaluation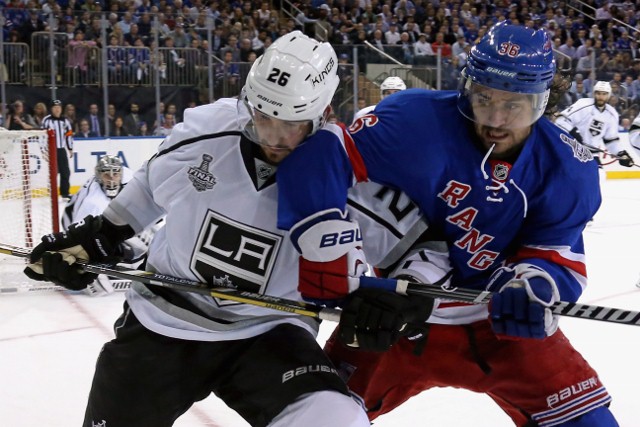 2014 Player Evaluations
#2 – MATT GREENE | #6 – JAKE MUZZIN | #8 – DREW DOUGHTY | #10 – MIKE RICHARDS | #11 – ANZE KOPITAR | #12 – MARIAN GABORIK | # 13 – KYLE CLIFFORD | #14 – JUSTIN WILLIAMS | #22 – TREVOR LEWIS | #23 – DUSTIN BROWN | #24 – COLIN FRASER